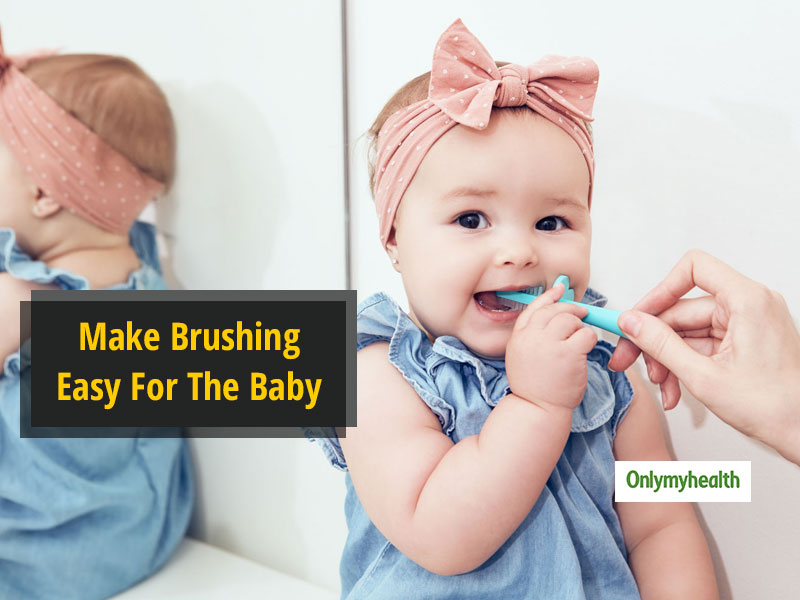 If you believe that it is the right time to introduce your baby to dental care, you must read this informative piece. The time to baby brushing starts as the first tooth of the baby pops up(don't babies look extremely cute with a tooth!) However, you do not need to rush to brush until the baby has got some teeth to clean. Till then, you can just gently clean baby's gums with a damp cloth to eliminate germs and bacteria.
What is the right time to start brushing baby teeth?
Oral hygiene of kids is equally important as adults. Cultivating good dental habits right from early childhood helps them maintain oral hygiene for a lifetime. Also, there is no right as such to begin oral hygiene. It can start as early as you can. Babies can get cranky if you brush their teeth late. Thus, start dental cleaning right after six months so that they get accustomed to this practice and adopt brushing with ease. This would also ease their teething pain and allowing smooth tooth eruption.
Clean the gums with a wet soft cloth about 3-4 times a day. Alternatively, you can also use a finger brush.
When teeth start to appear, introduce toothbrushes to your child. They may not be able to brush themselves and therefore you need to do it for them.
Get them a tiny cute baby toothbrush with ultra-soft bristles to not harm their tender gums.
Make sure you brush them twice a day especially before going to bed. Rules are the same as adults.
How to Choose the Perfect Infant Toothbrush?
Finding the right toothbrush for your tiny tot isn't easy as getting one for yourself. You need to keep in mind these factors: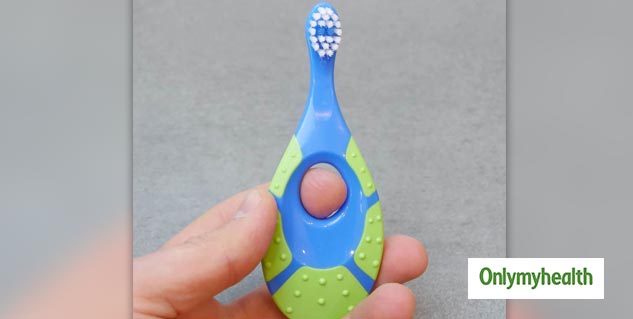 Age is one of the most important factors while buying a baby toothbrush. For infants, get a finger brush or a washcloth can also work.
For toddlers, who have started eating and love to try out all delicacies are exposed to germs and bacteria. They require proper brushing to keep their teeth clean. Buy them a teether-style brush or toothbrush with nubs. These are tiny but apt for the size of your child's teeth. You would find endless kids brushes in different shapes to excite them.
For children who have fully developed teeth shall be given a proper toothbrush and toothpaste. But the size of the brush should be apt for the child's mouth size.
Also Read: How To Remove Hair From Baby's Body
How much toothpaste to use?
This is one of the common child brushing queries as most parents do not know how much paste to add on the brush. Some parents even go overboard with it as they cover the bristles with toothpaste! Make sure you are not committing this mistake. Let's make it easy for you to understand: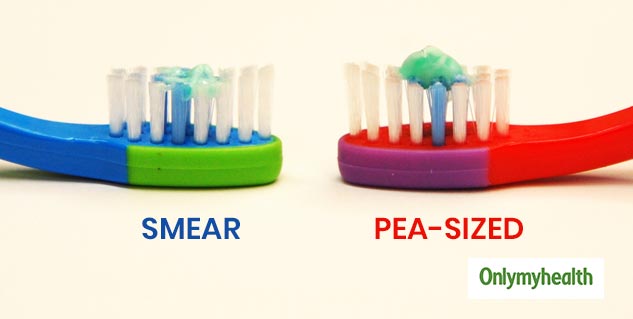 For small kids with only a couple of teeth, use a smear of toothpaste.
For toddlers, increase the amount a little.
For children with fully-developed teeth, use a pea-size paste.
The quantity of the paste is very important. As we know that kids aren't sensible enough to spit out all the paste. They unknowingly consume some of it. Most toothpaste contains fluoride which is not good for their dental and intestinal health. Some babies do suffer from diarrhoea during teething. Therefore, checking their toothpaste quantity is a must. If you check all the things mentioned in this article, your child would develop good oral hygiene and you won't be happier seeing him grow smart and sensible.
Read More Articles in Children's Health