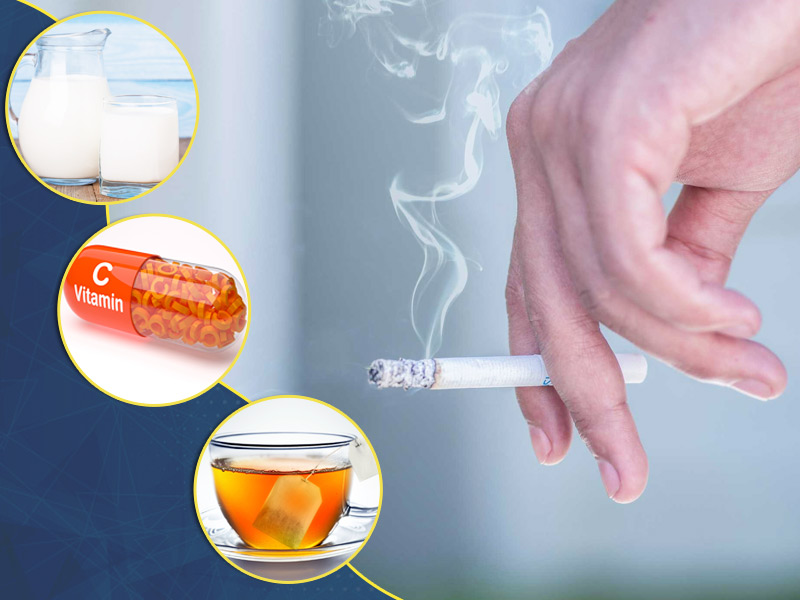 No Smoking Day has just gone by but it is not one day of no smoking. There are many people pledge to quit smoke as a New Year's resolution or set it as a health goal. At the time of covid pandemic it was the most searched topic on search engine "if smoking increased risk of covid 19 mortality"? Did you know with Every single puff you take- you are inhaling 7,000 chemicals into your body! So how can inhaling chemicals, increase your immunity? How can it improve our health in anyway? But let me share some good news, the very fact that you are reading this article or are interested to know about nutrition ways to quit smoking shows that you want to help yourself or someone who wants to quit smoking. And there are some evidences that consuming these foods below will help you quit that puff.
Vitamin C
Smoking just about that 1 smoke reduces your vitamin C in the body by 25mcg. On an average, we need about 100mg Vitamin C a day. We need that vitamin c for immunity, for flawless skin, lustrous hair and many other metabolic functions of the body. But consuming Vitamin c will also help you quit smoking. Yes, you read it right. When you consume foods like oranges, mandarin, amla, guava, lemon or lime, coriander, mint, it improves taste buds and reduces the urge to smoke. Consume a glass of fresh orange juice with some fresh coriander or mint or moringa leaves or just have 1 orange or a glass of lemon water whenever you have an urge to smoke. Guava is 2 times richer in vitamin C than orange. Boil ½ kg guava leaves in 1.5 liter water and simmer till it is reduced by half, strain and sip through the day. Drinking this decoction will flush nicotine out of your body.
Also Read: These 5 Signs Show That You Are Having A Vitamin Deficiency
Milk
A recent study found that when you drink a glass of milk, it reduces your urge to smoke. Isn't that interesting to know? It is like saying "consume 2 glasses of milk a day, to keep that cigarette away". Milk also has tryptophan which helps in uplifting your mood. Add some rose petals, saffron, turmeric, pistachios to uplift your taste buds and mood. These spices also add immense health benefits. Holi is around the corner, so why not try a thandai instead. This will not only help you quit smoking but will also add nutrients in your body
Anti-smoking tea
This ayurvedic tea helps in the withdrawals from nicotine. To prepare this tea, mix equal parts of jatamansi, chamomile and brahmi. Take 1 teaspoon of this mixture in a cup of hot water and sip. Sip it slowly, to reduce cigarette cravings. Jatamamsi is believed to increase serotonin in the brain and is well known for its anti-stress benefits . Brahmi helps to flush out the toxins from the body. Chamomile flowers reduce stress and assist in flushing out toxins as well. Combination of these 3 herbs will reduce your urge to smoke.
Apart of above tips, get some plants in your diet. Plants contain phytonutrients like carotenoids, ellagic acid, resveratrol, flavonoids etc which helps in eliminating toxins from the body. Green leafy vegetables, spinach, broccoli, carrots, purple carrots, mango, melons potato, sweet potato, mushrooms, cauliflower, cabbage all help in removing toxins from the body.
Also Read: Black Tea: Health Benefits And Side Effects Of Consuming This Beverage
Do not forget to taking sips of water through the day. More water you drink, more it will help to eliminate nicotine out of the body. If you dislike the taste of water, infuse it with mint leaves, coriander leaves or herbs of your choice. You can also drink liquids like milk, herbal infusions, plain water, lemon water to increase your fluid intake. Avoid coffee and alcohol during the withdrawal as this may drive you to smoke. And do not forget to Exercise regularly as it will help to flush out the toxins from the body.
As long as you are determined, you can quit smoking. All the best
Read more articles on Healthy Diet