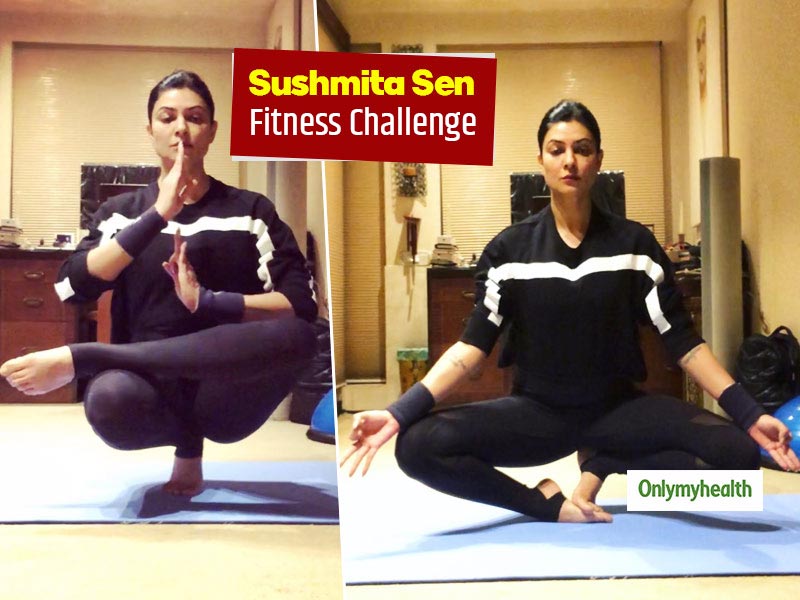 The entire country is under lockdown. All the celebs are inspiring their viewers by taking up various fitness challenges to promote active living. During this time, some celebrities are seen cooking at home, while some are doing workouts. Recently, Sushmita Sen posted something similar. Although Sushmita Sen has always been seen giving major fitness goals, with her boyfriend, Roman Shawl. Her recent post was a challenge by her prince charming, where she shared a picture of her doing a yoga pose. She was seen balancing her body weight on her one leg. Her caption said - Roman Shawl challenged me to pose this balancing yoga. Believe it; you can try. He further wrote in it, Hint: Straighten your back and tighten your core.
Also Read: Watch Madhuri Dixit's Workout From Home Video: Stay Fit And Healthy With These Simple Exercises
Sushmita And Her Love For Fitness
Sushmita sen is known to be active and for her love for fitness. She also challenges herself by setting various fitness goals, which she certainly completes. Sushmita has attracted the attention of millions of Indians on social media. Sushmita Sen is spending quality time with her family at the time of lockdown. Along with this, she is also seen doing Couple Yoga with Roman these days. Known for her fitness, Sushmita works hard to keep herself fit. Sushmita changes her workouts every week. She also enjoys running, cardio and doing aerial exercises. Along with this, she keeps herself fit through yoga and dance. Know some other things related to Sushmita's workouts:
Also Read: Mandira Bedi Birthday Special: Know What Makes Mandira A Female Fitness Icon
Sushmita changes her workouts every week. She recites the Shiva mantra during the exercise. She says that this gives him strength.
Sushmita keeps herself fit through running, cardio, aerial exercise, yoga, swimming and dance.
Sushmita likes to do regular workouts. When it comes to the workout schedule, she becomes very serious and strict towards it. With this, she never misses her fitness session.
Read more articles on Health News