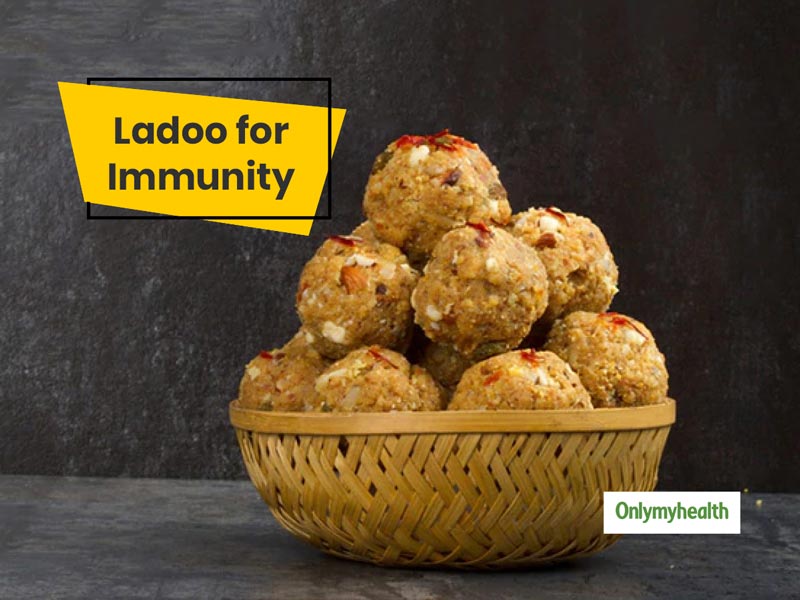 To curb your sweet cravings in the winter season, have sonth and methi ladoos. Apart from being tasty, they are supremely healthy.
What is the first thing that comes to your mind when you think of ladoos? Sweet, right? Laddus are Indian sweet balls of yumminess. To make an occasion special or to celebrate an achievement, we bring and eat laddoos. There is n number of types of laddus that can be made from various ingredients. Considering the high amount of sugar which is unhealthy for the body, many healthy ladoo variants are invented. However, the taste you get in a traditional laddu recipe with ghee(clarified butter) and sugar cannot be compensated from any other recipe. But what if we say that you can have traditional laddoos that boost immunity and great for health? Yes, there is a laddu recipe perfect for winters.
Saunth-Methi Ladoo
This is quite a popular winter sweet that is made in a lot of Indian households during the winter season. One of the main reasons that these are apt for the cold season is because of the warming effects of sonth(dry ginger powder) and methi(fenugreek). Eating one laddoo daily would keep you protected from the chilly winter waves. Besides, these also boost immunity. Let us tell you the benefits of dry ginger and fenugreek combination first and then move to the recipe.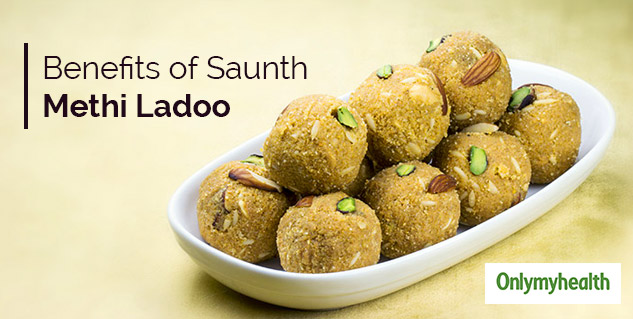 Benefits of Dry Ginger and Fenugreek Ladoo
Dry ginger powder is anti-inflammatory, antiviral and antibacterial in nature.
The ginger and fenugreek combination keeps the body warm by producing heat.
Consuming saunth and methi ladoo in inters prevent common winter illnesses. Sneezing, coughing, cold, congestion, sore throat, etc. are common issues that people suffer from during winters.
Ginger powder improves digestion and keeps several stomach-related issues like acidity, constipation at bay.
Adding sugar-free to these laddus would make them best for diabetics as they also aid blood sugar regulation.
Saunth Methi Laddoo Recipe
Let us tell you how to make these healthy and tasty laddus to gorge on during the winter season.
Ingredients Required:
Whole wheat flour – 1 cup
Ghee or clarified butter- 60gms
Brown sugar or jaggery sugar- 3/4th cup
Dry ginger powder or sonth – 1 tablespoon
Fenugreek seeds or powder- 1 tablespoon
Fennel seeds or saunf – 2 teaspoon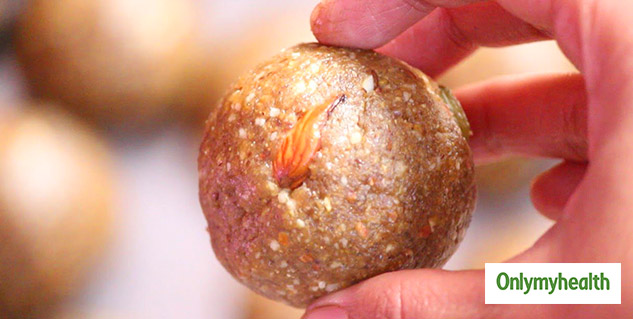 Method:
In a heavy-bottomed pan, add ghee.
Now put all the wheat flour in it.
Roast the flour on low or medium heat. Roast and stir continuously until it turns light brown. It may take 20-30 minutes.
Transfer the roasted flour to a plate and allow it to cool.
In the pain, add dry ginger powder, methi and saunf. Dry roast all the ingredients and grind them.
In the roasted flour mixture, add the grounded spices and then add jaggery sugar to it.
Mix all the ingredients well using your palms.
Shape them into laddoos and ensure that they are hard.
Your sonth methi laddus are ready.
To make them tastier, add chopped dry fruits to them.
Garnish laddoos with almond flakes and pistachios.
Store them in airtight jars and eat one laddoo daily.
This was an easy laddoo recipe. You must try these in the winter season to boost immunity and keep the body warm. It is found that those who consume these in the cold season stay protected against seasonal illnesses.
Read More Articles in Healthy Diet