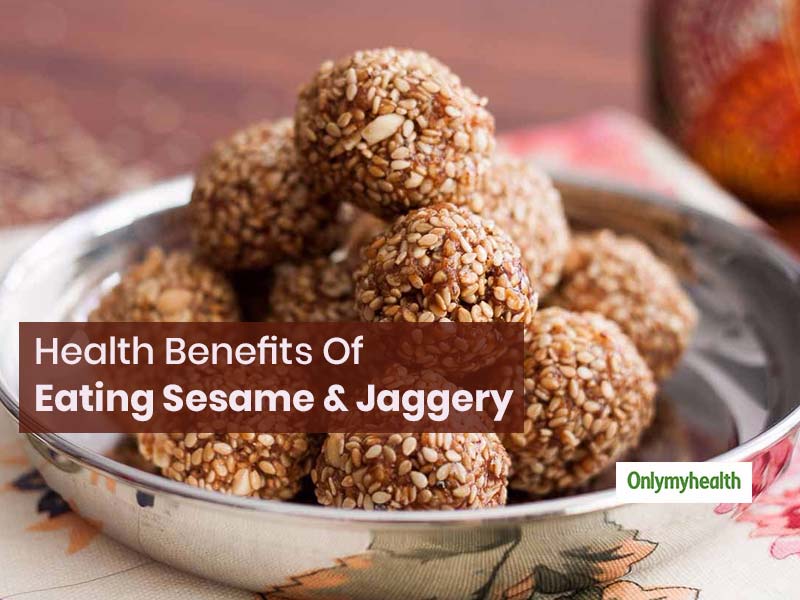 This is the harvest time of the year. Lohri, Makar Sankranti, Pongal all are harvest festivals that are celebrated all across the country but with different names. To celebrate the joy, various dishes are prepared. Consuming til(sesame) and gud(jaggery) are said to be auspicious on Makar Sankranti. Sweets are prepared in every household with these two ingredients that the family savors and also distribute to friends & relatives.
We all relish these sweets but what's the significance of eating these two foods in Makar Sankranti? Get all the details along with their benefits and recipe in this article.
Why sesame and jaggery are consumed on Makar Sankranti?
There is a scientific reason behind consuming sesame and jaggery on Makar Sankranti. In winter, when the body needs heat, then these sesame and jaggery laddoos work well to provide heat and energy. Sesame is rich in oil and contains protein, calcium, B complex and carbohydrate, etc. Also, jaggery has a hot nature. The laddoos that are made by mixing sesame and jaggery, bring necessary heat to our body in winter. That is, sesame and jaggery give warmth to the body and keep the body healthy. This is the reason why sesame and jaggery laddoos are cooked on the occasion of Makar Sankranti.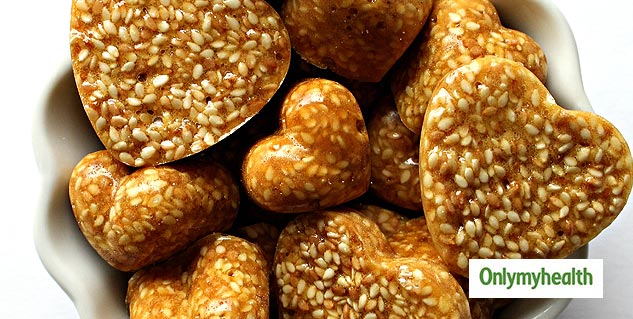 Upasana Sharma, Head Nutritionist, Max Hospital, Gurugram, says, "Sesame and jaggery can be consumed together or by making different recipes. Its consumption keeps blood pressure under control, strengthens bones, improves the digestive system and relieves arthritis pain in the winter season. Besides, it contains many nutrients that reduce the risk of diseases."
Health Benefits of Jaggery
Consuming jaggery as an alternative to sugar is more beneficial.
It helps to improve digestion and cleanse the body's dirt.
It is a powerhouse of vitamins and minerals such as calcium, zinc, potassium, etc.
Due to its anti-allergic properties, it prevents respiratory problems.
It is a good source of Vitamin C.
Health benefits of sesame
Since it is a rich source of fiber, it helps to improve digestion.
Studies show that it helps reduce LDL and high triglycerides.
It is a rich source of polyunsaturated fatty acids and monounsaturated fatty acids.
Proteins and essential amino acids such as methionine abs cysteine, which legumes lack
Due to the high amount of magnesium in it, it helps in reducing BP.
It provides calcium for about 22% of the daily needs, making the bone strong. It has anti-inflammatory properties, which relieve arthritic pain as well as inflammation.
Nutritional Facts Per 100gm Sesame and Jaggery
This chart explains the nutritive values(in mg) for both jaggery and sesame.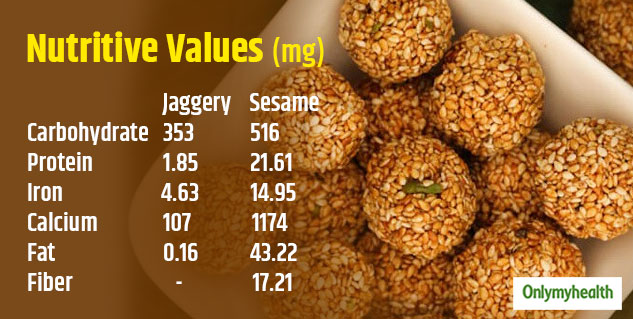 Also Read: Know the nutritional aspects of winter-favorite Gajar Ka Halwa
Makar Sankranti Special Til-Gud Laddoo
Ingredients
White sesame seeds - 1 cup
Jaggery - 1 cup
Cardamom - 2
Water - half cup
Recipe
Fry the sesame seeds in a pan on low flame until they turn golden brown.
Now take them in a plate and set aside to cool.
Meanwhile, heat water in a pan and add jaggery to it and make a thick syrup.
Now add roasted sesame seeds, grounded cardamom and mix them.
When the mixture cools down a little, make laddoos.
Take your sesame and jaggery laddoos ready.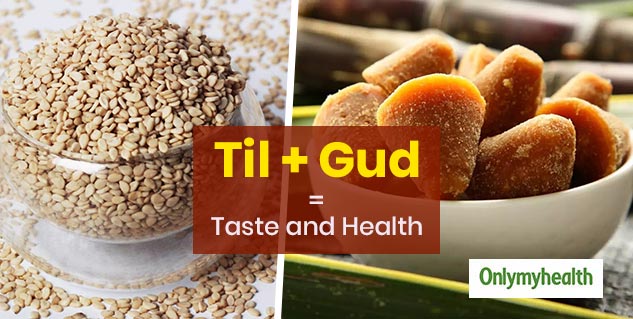 Other means to consume jaggery and sesame
You can consume jaggery and sesame as different dishes or you can also make a special dish from its mixture.
Many people make ragi and eat jaggery and sesame seeds.
Dry fruit mixed with jaggery and sesame powder can be consumed in milk. It gives strength to the weak body.
You can also make them by mixing them in Malpua.
Read more stories in Healthy Diet