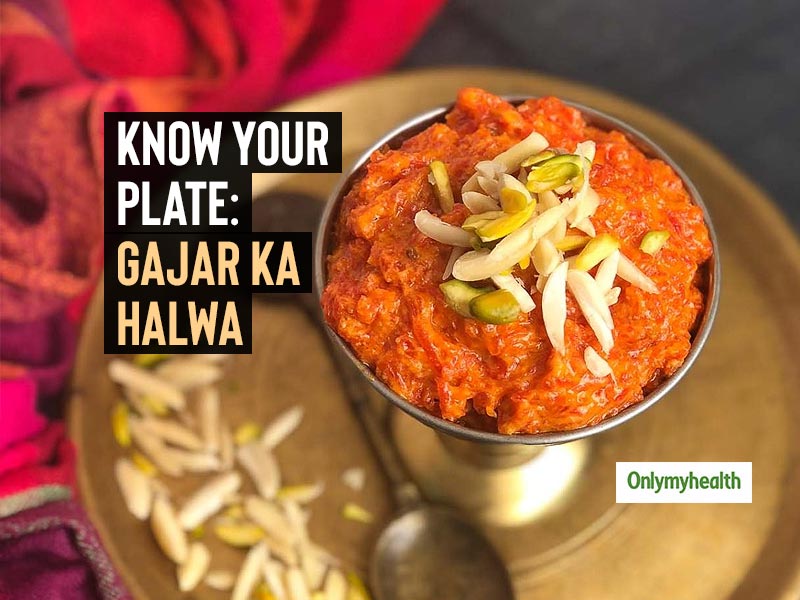 Gajar ka Halwa is an indulgent winter staple that is hard to resist in chilly days. Carrot Halwa or Gajar ka halwa has emotions attached to it where we just cannot stop ourselves from devouring this mouthwatering sweet dish. In India, winter season comes with delectable recipes where carrot pudding tops the chart. These warm dishes help us survive the dropping temperature.
History of Gajar Ka Halwa
Carrot pudding is probably one of the most popular sweet dishes. But do you know the basic history of carrot halwa? Carrot pudding is actually a Mughal dish. It was first served to Mughal emperors, and the word 'halwa' which means 'sweet' is also taken from the Arab. Mughals left our country but they also left behind some of their delectable dishes such as Gajar ka halwa which is relished in all parts of the country.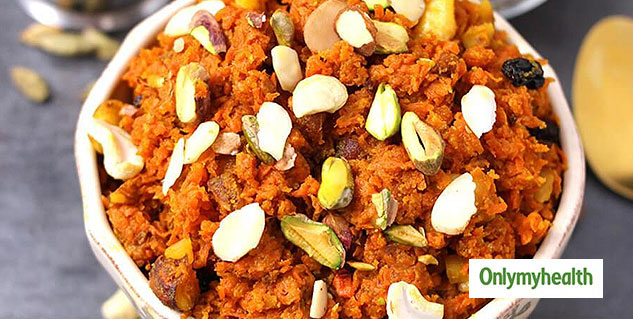 Carrot Halwa Recipe
Carrot pudding is basically made from carrots, milk, ghee and dry fruits, etc. but nowadays it also includes many other ingredients like mawa (khoya). This is one of the most traditional ways of making it. Its warm effect helps to protect you from cold and cold. On the other hand, if there is a carrot, then it contains nutrients called vitamin-A and beta-carotene, which help in increasing eyesight, constipation and low blood pressure.
Calorie Count Of Each Ingredient
Onlymyhealth spoke to Dietician Dr. Deepika Chaudhary, to know the nutritional aspects of this sweet dish.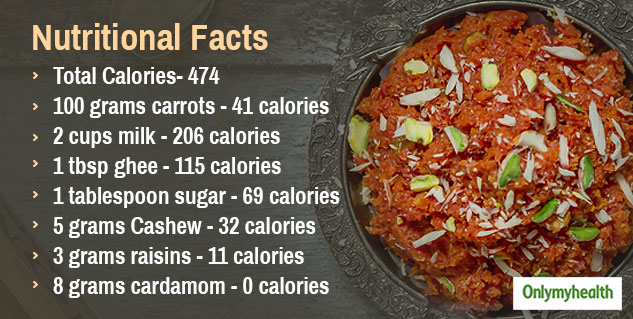 Total Calories- 474
100 grams carrots - 41 calories
2 cups milk - 206 calories
1 tbsp ghee - 115 calories
1 tablespoon sugar - 69 calories
5 grams Cashew - 32 calories
3 grams raisins - 11 calories
8 grams cardamom - 0 calories
Health Benefits of eating Gajar ka Halwa
According to Dr. Deepika, there are many benefits to eating carrot pudding.
Eating it increases the amount of vitamin-A and fiber in your body which is good for your stomach health.
It keeps blood pressure normal.
It also contains Vitamin-B1, which is an antioxidant and helps the body fight against many harmful bacteria.
It contains a good amount of calcium and phosphorus in the form of milk and dry fruits, which are considered very beneficial for the health of your bones.
Burn Those Calories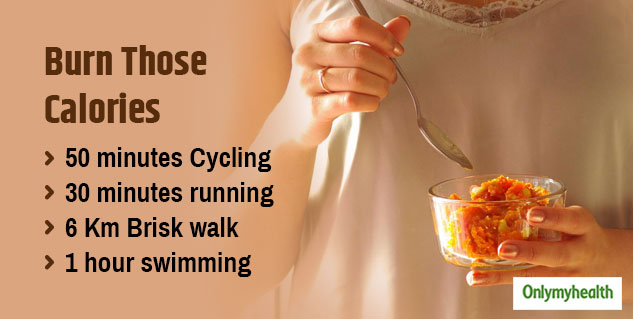 As per Dr. Deepika, you can burn off the calories by practicing these exercises:
50 minutes Cycling
30 minutes running
6 Km Brisk walk
Downsides
At the same time, you eat about 386 to 474 calories or more by eating one bowl of gajar halwa. It also means that you have gained a large part of your entire day's calories by eating it. All these things may not be completely healthy for you. This much fat can make you fat. Also, it becomes quite unhealthy for people suffering from diabetes and blood pressure. For the people who are losing weight, it is completely harmful. Therefore such people should reduce some things on this plate.
Also Read: Know Your Plate: A Sinful Plate Of Steamed Veg Momos and Spicy Chutney
Make Your Gajar Ka Halwa Healthy
Here are some tips to cook a healthy version of Gajar ka Halwa
Instead of full cream milk, you should use low-fat milk.
Do not use ghee, cook carrots directly in milk.
Instead of sugar, you can also grind sugar free and dates and use it for sweetness.
Read More on Healthy Diet