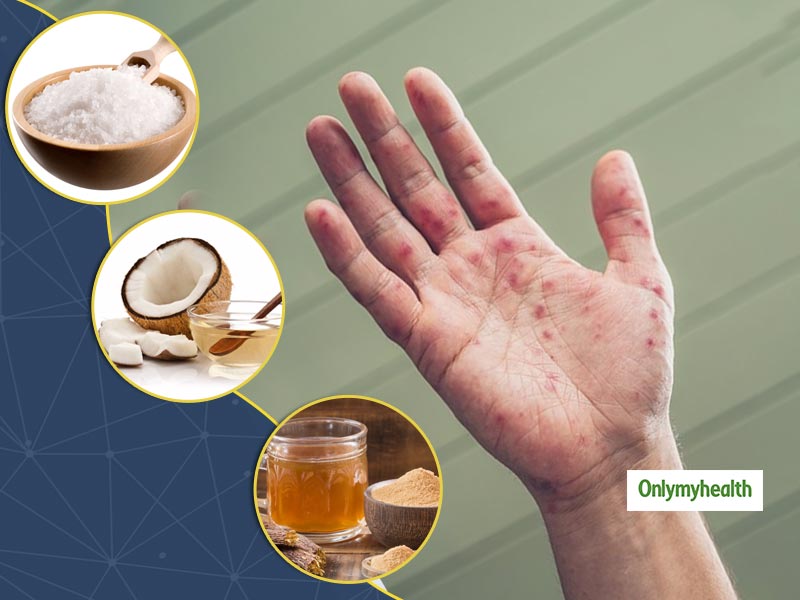 Hand, foot and mouth disease is actually a viral infection that is commonly seen in toddlers. This infection is contagious and a healthy person may also get infected after coming in contact with the infected person. Since this virus is likely to stay in the person's body for weeks, it increases the risk of transmission. To cut down the risk, lifestyle modifications and some home remedies can help. These would help in eliminating the virus sooner for the increased recovery rate and decreased chances of infection.
5 Home Remedies For Hand-Foot-And-Mouth Disease
Nothing works like natural remedies in easing and treating any skin condition. Here are some home remedies to soothe the inflamed skin and mouth ulcers during hand, foot and mouth disease.
Coconut Oil
Coconut oil has analgesic and anti-inflammatory properties that can effectively treat rashes and blisters on the skin. Also, coconut oil pulling can ease the blisters in the mouth.
For skin:
Take a cotton ball and drop some coconut oil on it.
Gently pat it on the affected area. Don't rub or else it would cause skin irritation.
This would not only keep the skin moisturized but also prevent inflammation.
Coconut Oil Pulling:
Swish coconut oil in your mouth for a couple of minutes.
Spit the oil and clean your mouth with water.
Doing this before your morning oral routine is advised. For better results, do twice a day.
Also Read: Hand, Foot And Mouth Disease: Symptoms, Causes And Care Tips
Baking Soda Bath
Baking soda is good to treat itchy and inflamed skin as it possesses anti-inflammatory properties. Taking a bath with baking soda would ease skin discomfort.
Fill your bathtub or bucket with water.
Add half a cup of baking soda to it and allow it to dissolve.
Bath with this water. It will soothe the blistering skin.
You can also make a baking soda rinse to soothe mouth blisters.

Epsom Salt Bath
Epsom salt has magnesium which can prove to be a great soothing agent for rashes and blisters as it inhibits the production of inflammatory cytokines in the body. Make DIY Bath Bomb At Home.
Add one cup of Epsom salt in the bathwater and allow it to dissolve.
Now bath with this water. It is better to soak the infected area in this water to promote recovery.
Oatmeal Bath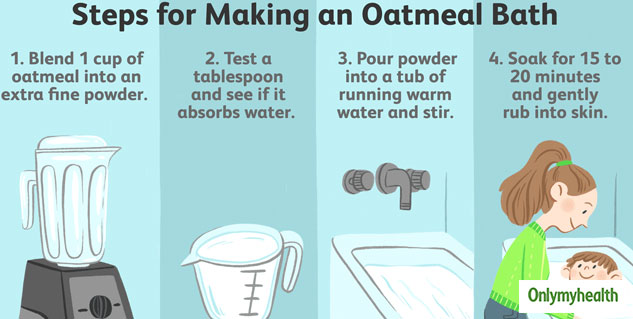 Not many people know about the medicinal properties of oatmeal and how it can ease skin conditions. Here is how to prepare the oatmeal bath for hand, foot and mouth disease:
In one tub of water, add one cup oatmeal.
Stir it so that it gets dissolved completely.
Bath with it and pat dry the skin.
Also Read: DIY Milk Bath: Make Your Milk Bath Mixture For Softer Skin
Licorice Root Tea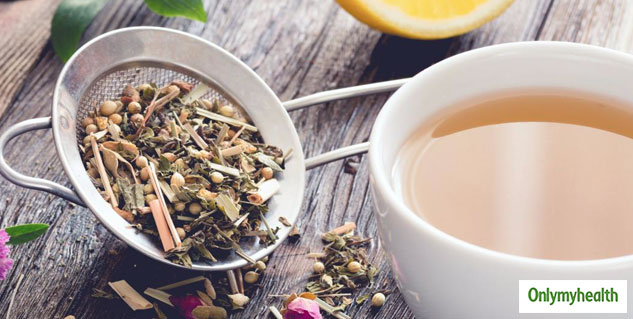 Licorice root is an ancient herb that is widely used in the treatment of several illnesses. It possesses antiviral properties that can effectively aid hand, foot and mouth disease.
In a pan, add one cup of water.
Now, add one teaspoon of licorice root powder to this and bring it to a boil.
Keep it aside for five minutes.
Sieve the tea and drink warm to soothe blisters.
Read more articles on Home Remedies