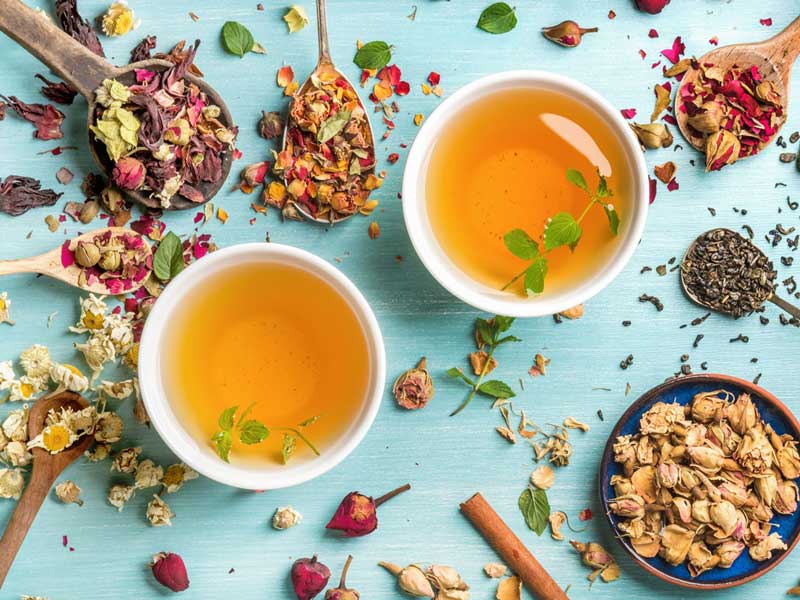 Most of us are in the habit of starting our morning with a warm cup of tea which might be with some relaxing breeze on a holiday or with a rush while going on for work. Tea has become an important aspect of our daily lives specially in Indian households and over the years we have come across many different types of teas and their health benefits like green tea, chamomile tea, white tea and what not. Although we are well versed with the health benefits of all these different types of teas, it's time to take a step ahead and learn about the wonders all these teas can do to your skin. Tighten up your seat belts, read along and enjoy the ride as we are going to learn about the wonderful skin benefits of 7 different types of teas from around the world with our expert Dr. Vibhuti Dhaundiyal, Cosmetologist, Skincare Advisor.
View this post on Instagram
7 Types Of Teas And Their Benefits For Skin
We all do try many different things to achieve that so-called perfect glass skin that's acne free, soft supple, smooth, radiant and what not. Honestly we have tried almost everything to achieve that from commercial creams to chemical peels and from messy DIYs to strict diets. Here is a simple way by which you can get the skin of your dreams just by sipping a cup of tea. Let us take a closer look at the skin benefits of all these different types of teas from around the world.
1. Chamomile Tea
A soothing cup of tea which comes along with some relaxing properties Chamomile tea is great to cure red and irritated skin. As the presence of quercetin in chamomile tea promotes relaxation and protects your skin from sun damage due to its antioxidant properties.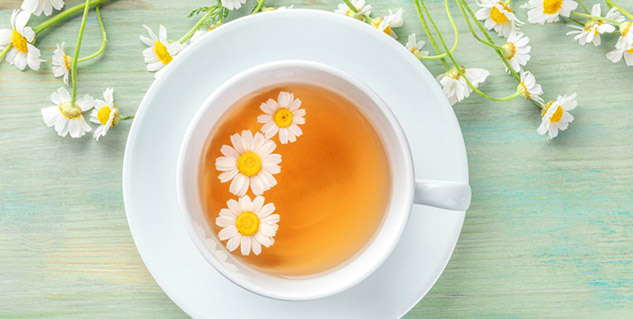 Image credits- Recipes.net
Also Read: 7 Types Of Teas You Must Try For A Healthy Body
A tea so relaxing that it would not just help you to take away the stress and help you fall asleep but will also help to cure the under eye bags or those dark circles caused due to overexertion or lack of sleep. Pull out those chamomile tea tea bags the next time you see those under eye bags and place them around your eyes to get rid of dark circles and puffy eyes.
2. Black Tea
A tea rich in antioxidant properties which helps to fight the free radical damage of the body and helps to slow down the early signs of aging such as wrinkles, fine lines, drooping brows, etc black tea comes with many beauty benefits. Due to its rich anti-inflammatory properties black tea helps to reduce blemishes and puffiness, prevent skin infection, accelerates skin rejuvenation and protects your skin from harmful ultraviolet radiations.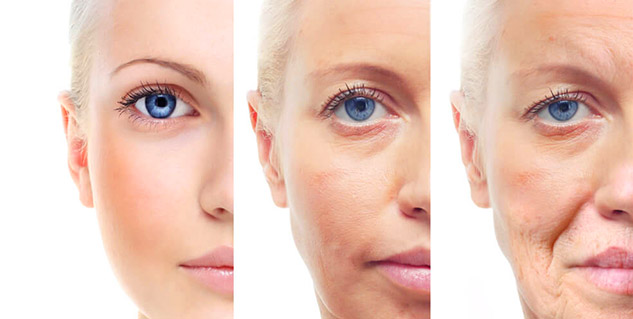 Imagr Credits- Shutterstock
Drink a cup of black tea along with some raw organic honey in the morning in order to keep skin conditions like herpes psoriasis and lesions at bay.
3. Green tea
What would be a better way than starting your day with the cup of the healthiest beverage that is not just good for your health but can do wonders to your skin as well. Enriched with anti-inflammatory, antimicrobial and antioxidant properties green tea has been proven to prevent acne and oily skin along with unclogging the pores. An easy and inexpensive anti-aging treatment, drinking green tea can actually help you to get rid of early signs of aging like wrinkles and fine lines.
Also Read: 5 Health Benefits Of Drinking Green Tea Everyday
Apart from all this, green tea is a miraculous drink which also helps to soothe skin and reduce any kind of itchiness and redness.
4. Ginger Tea
Well as a healthy gut is the way to healthy and glowing skin, it is important to keep your digestive system on track to avoid various dermatological conditions such as pimples and acne. Rich in anti-inflammatory properties ginger tea has the power to aid digestion and keep your gut healthy.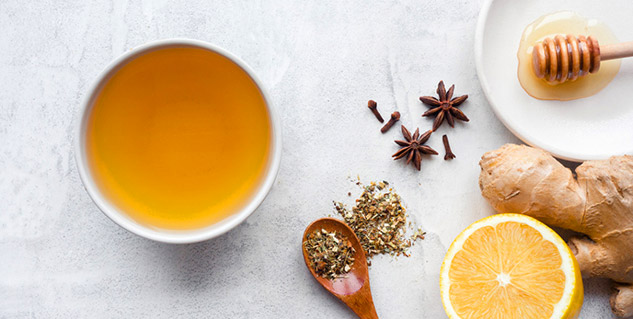 Image Credits- Organic Authority
Moreover ginger tea also helps to reduce inflammation, pain and soothes irritated skin. It helps to preserve the skin's collagen and prevent wrinkles and fine lines by acting as a natural anti-aging agent.
5. Matcha
A variant of green tea originating from Japan, matcha comes in a bright green colored powder and is packed with many health benefits. Moreover this magical green powder is now being used by the beauty industry in almost every product from facepacks to creams and masks. Known for its skin detoxifying properties matcha is rich in catechins, chlorophyll and antioxidants which helps it to fight any kind of infection.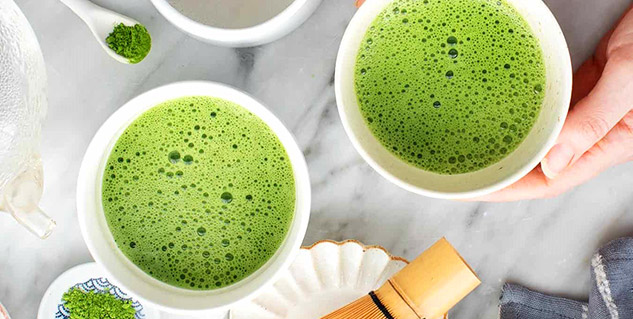 Image Credits- Love and Lemons
Also Read: Matcha Vs Green Tea: What Is The Difference?
Matcha is enriched with various skin benefiting properties and hence helps you to achieve clear skin, get an even tone, fights hormonal acne, protects skin against sun damage and environmental stress such as dust, dirt and pollution.
6. Jasmine Tea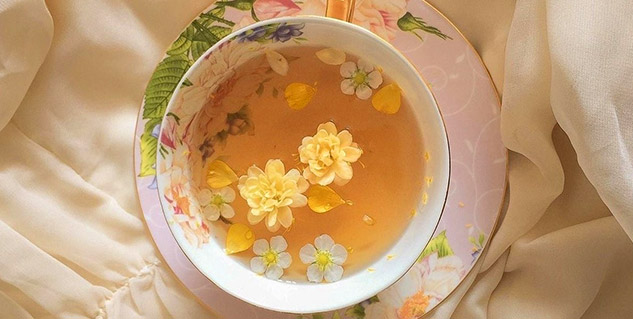 Image Credit- We Heart It
A sweet smelling tea with an even beautiful appearance, jasmine tea is not just a treat to your eyes and nose but for your skin as well. Jasmine tea helps to dilate and relax the blood vessels which brings the blood rich in nutrients to the skin and provides you with a healthy glow. With its antibacterial and antioxidant properties that helps to keep your immune system healthy. Jasmine tea treats various skin conditions like acne, helps in healing the wounds and prevents the early signs of aging.
7. Peppermint Tea
A perfect choice for people with oily skin, peppermint tea helps to slow down the production of oil in the skin and encourages the overall cell turnover. To make your skin glow it also helps to get rid of the dead skin cells.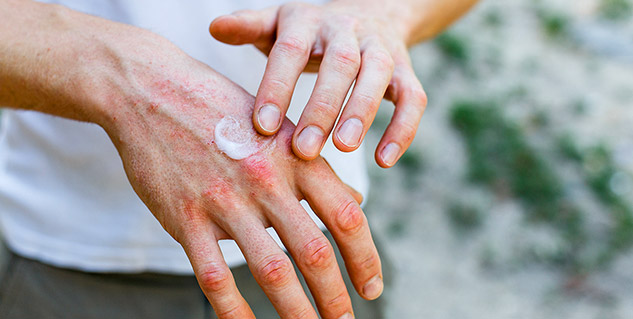 Image Credits- Apex Skin
Rich in antioxidants, peppermint tea helps to control acne and prevents the early signs of aging. Moreover it is proven to be useful for treating itchiness, redness, rashes and various skin conditions like dermatitis and eczema.
This article has been created based upon the post by Dr. Vibhuti Dhaundiyal, Cosmetologist, Skincare Advisor on her instagram account.
Read more articles in Skin Care