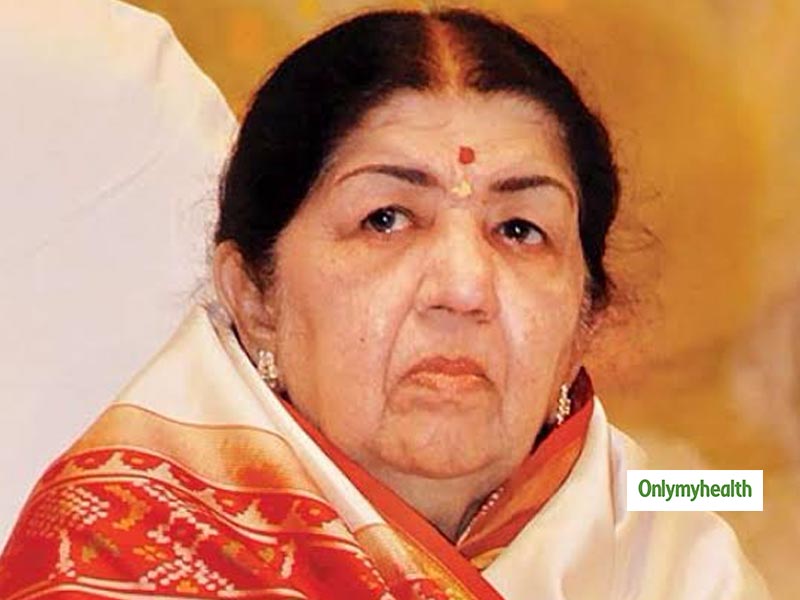 Lata Mangeshkar's condition is still critical! The legend continues to be on life support.
Lata Mangeshkar Health Update: Lata Mangeshkar, the singing legend continued to be critical on Nov 12 (Tuesday). However, the doctors said that her condition had not worsened further. On Monday (Nov 11), after suffering from acute breathlessness, Lata was admitted to Breach Candy hospital. Doctors have diagnosed her with a left ventricular failure and pneumonia.
The veteran singer who turned 90 on September 28, is on heavy medication to clear the infection. However, her X-ray has shown slight improvement. As per the doctors, Lata is on ventilator support in the ICU (Intensive Care Unit) under the supervision of Dr Pratit Samdani.
नमस्कार.आज भारत के राष्ट्रपति आदरणीय श्री रामनाथ कोविंद जी,उनकी पत्नी श्रीमती सविता कोविंद जी और कन्या स्वाति कोविंद जी तथा महाराष्ट्र के राज्यपाल सी विद्यासागर राव जी और उनकी पत्नी विनोदा राव जी और महाराष्ट्र के शिक्षामंत्री श्री विनोद तावडे जी ने हमारे घर आकर हमें कृत-कृत किया. pic.twitter.com/vso6Xc17qj

— Lata Mangeshkar (@mangeshkarlata) August 18, 2019
However, on Tuesday, the PR team of Lata Mangeshkar said that she was "stable". The statement read that Lata Mangeshkar's parameters are functional and she is coming out of this setback. Lataji is genuinely a fighter (as she has fought so well) and her lung capacity has pulled her through, being a singer.
Also Read: 5 Tips To Safeguard Your Family From Diabetes, Shares Dr Ram Ashish
They further stated that they would share updates whenever Lataji gets discharged and will be coming home. They requested to give the family the space they deserve (at the moment)
Namaskar. Aaj mashhoor Photographer aur story writer Gautam Rajadhyaksha ki jayanti hai. Main unki yaad ko abhivadan karti hun.Gautam ke dwara khinchi hui meri ye ek tasveer. pic.twitter.com/Lx3P03DS6h

— Lata Mangeshkar (@mangeshkarlata) September 16, 2019
Also Read: 6 Signs That Your Child May Have Diabetes
Namaksar.aap sabko deepavali aur Laxmi pujan ki hardik Shubhkaamanayein. pic.twitter.com/2ZkmzyLv3F

— Lata Mangeshkar (@mangeshkarlata) October 27, 2019
Also, Lata Mangeshkar's niece Rachana Shah stated that her aunt's condition is "stable". Moreover, when asked about the discharge (of the singer) from the hospital, she said, "In a few more days."
Namaskar. 1971 Bangladesh mukti yudh samapt hote hi hum Bangladesh gaye the aur Sunil Dutt ji ke group ke saath humne kaafi karyakram kiye,us waqt hum Army ke plane se hi sab jagah jaate the. pic.twitter.com/IAgiVWOAhb

— Lata Mangeshkar (@mangeshkarlata) September 14, 2019
Lata Mangeshkar has given her voice to several varieties of songs in regional, Hindi, and foreign languages. Her last full album was for 2004 film Veer Zaara, directed by the late filmmaker Yash Chopra. Lataji's latest song was recorded this year, titled 'Saugandh Mujhe Is Mitti Ki', it was a tribute to the Indian Army released on March 30. Lata didi was awarded the highest civilian honour, i.e. the Bharat Ratna, in the year 2001.
Read more articles on Health News