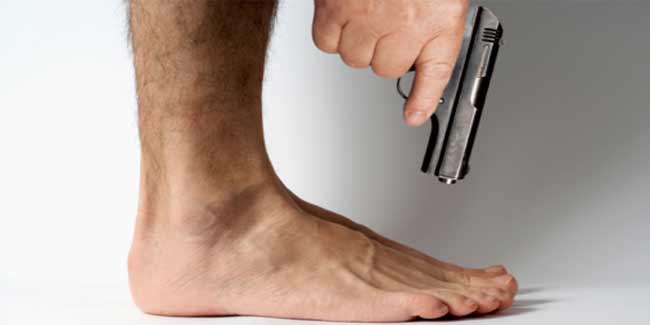 Michael Jackson, Amy Winehouse, Lindsay Lohan, and Fionna Apple are famous cases of self-destruction. The entire world wanted to know about their personal issues and inner conflicts. But, self-destruction is not a character flaw found in just celebrities; ordinary people are just as likely to beget this dark personality trait.

A behaviour that is harmful, injurious or destructive to oneself especially in the face of failure might be dealt with self-acceptance. When a person faces failure, they tend to put on a denial and avoidance mode. Self destructive behaviour accompanies this coping strategy in confidence-deficit.

Deliberate self-injury is common in young people worldwide when they face failure. The most widespread forms of self-destructive behaviour are eating disorders, alcohol abuse, drug abuse and gambling addiction. The most direct form of self-destruction is deliberate physical self-injury or self-harm, the ultimate manifestation of which is deliberate suicide.




However, Northwestern University researchers found through several experiments that self-acceptance could help people avoid these bad behaviours. They published the details of their study in the Journal of Consumer Research.
Self-acceptance v/s Self-esteem
Researchers also found that self-acceptance is a better option than self-esteem. An undeserved praise can be disguised as self-esteem which can give people/students unrealistic beliefs and expectations about their traits and abilities.

"Unlike self-esteem, self-acceptance is inherently unconditional and therefore may better buffer individuals' self-worth against inevitable failures and hence serve as a less volatile alternative to self-esteem for promoting well-being," the researchers wrote in the study.
The Research
During their experiments, researchers asked their 300 participants to both read an article about self-acceptance and write a follow-up about a time where they had to practice self-acceptance, or write about their last grocery trip.




After this experiment, some participants were asked to recall a time where another person over-powered them; meanwhile, others had to write about the room they were in.

The third activity included showing the images of a luxury travel magazine to some participants, while others were shown a "Power and Influence for Dummies" book. It was followed by a session where participants expressed how likely they were to pay for the reading material.

It was encountered that people who had written about their last grocery trip and not about self-acceptance, were more likely to say they'd spend more on the luxury travel magazine when asked to think about a time a person overpowered them.

"This finding provides support for our account that self-acceptance leads to an appraisal of self-deficit information as relatively benign to self-worth, thereby allowing individuals to act to improve in the area of deficit via adaptive consumption rather than to deny or avoid it via compensatory consumption," the study said.

Image courtesy: Getty

Read more articles on Stress Management.