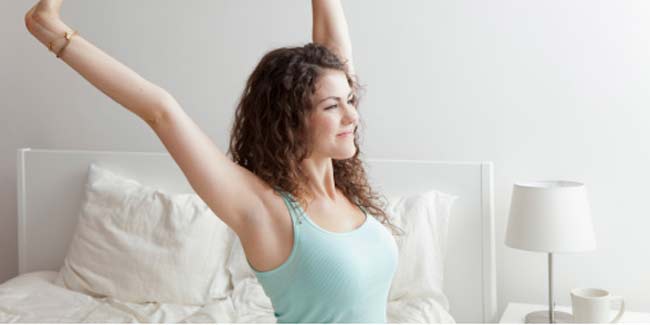 Starting your day on a positive note is as essential as any other task you perform throughout the day. When you feel upbeat and enthusiastic right in the morning, all your worries take a back seat.
How you start your day, lays the foundation for how you are going to spend the rest of it. Probably this is why the famous Roman philosopher Marcus Aurelius once said, "When you rise in the morning, think of what a precious privilege it is to be alive -- to breathe, to think, to enjoy, to love''.

Most of us either wake up to the worries of the forthcoming day or simply damn the sun to have come up so early. Now, instead of these negative thoughts, imagine yourself waking up to a brightly lit up room by the sun's rays and you sipping a cup of freshly brewed coffee by the window side. Fresh, isn't it? Surely, this is a way much brighter and optimistic way to start your day.

So, following are four such ways that will help you start your day on a more constructive and blissful note.
Think of the Goals to be Accomplished
As soon as you wake up, think about the important meeting that has been lined up for the day or the deadline which has to be met by end of the day. A research has revealed that when you think about your goals early in the morning, you tend to boost your happiness levels.
Let the Feeling of Gratitude Take Over
Your life may be filled with troubles but, there are people who always stand by you. So, starting your day with feeling gratitude towards their moral support can be a fantabulous start for the day. If you are more on a spiritual side, then nothing could be better than thanking almighty for letting you live another day.
Think about People you Love
A study has shown that if the first thing in the morning you do is think about the person you love the most, your chances of having a happy day are much higher. This makes your day start on a pleasant note, making you more likely to have healthier relations with the person.
Lie Down in Peace
Stay silently on the bed thinking about nothing. Try to establish a connection with nothingness and this would develop stronger focus abilities, enhance your creative skills, and be a highly therapeutic way to start your day.

Whichever way suits you the best, try to follow it religiously so that everyday adds a new meaning to your life.
Image courtesy: Getty Images
Read more on Mental Health.