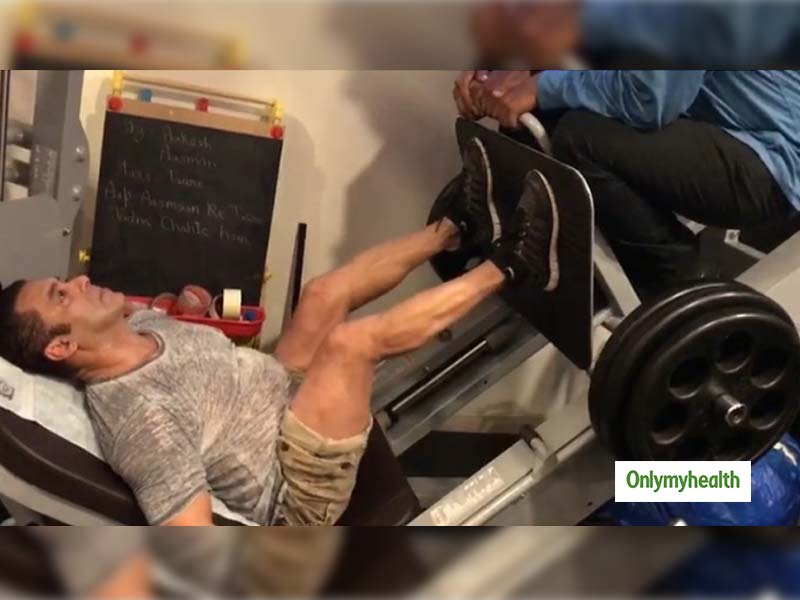 Salman Khan latest news: Bharat actor Salman Khan is one of it's kind, he never fails to disappoint his fans. His charming smile and exceptional acting skills are enough to 'woo' the audience. But who doesn't want more? The 53-year-old actor, also known as the 'fitness god' of the Bollywood industry, is strict towards his gym regimen. Wait! Have you guys watched his latest workout video? The video is nothing but an immense power-play of Salman's fitness routine. In the video, the 'kick' actor is seen doing leg press with his two security guards. He shared the video on his social media account. Watch the video below:
After experiencing the highs and lows my security has finally realised how secure dey r wid me .. ha ha pic.twitter.com/DVAG0dbjzy
— Salman Khan (@BeingSalmanKhan) June 17, 2019
READ: Disha Patani Workout, Training, Diet and Fitness Routine: Know how Disha keeps herself fit
From 'Jab Pyar Kiya to Darna Kya' to his latest film 'Bharat'! Do you feel that Salman has crossed the age mark of 50? I guess 'no'. And it's just because of his diet and gym schedule. Race 3 actor never fails to follow any of these. The trend of 'body-building' was actually initiated by him. Young actors like Varun Dhawan are also seen exercising with him and naming him as the 'guru' of workouts.
Salman's recent twitter posts depicted that the actor celebrated his nephew's birthday with a bash. We are talking about Sohail Khan's son Yohan, who was seen enjoying with Salman. Fans must have noticed that Salman is always seen spending time with his family and especially with children. Whether it is Arpita's son or Sohail's, the 'ready' actor is always seen having fun with the kids.
READ: Jacqueline Fernandez Fitness Routine: Know the Secret Behind the Bollywood Diva's Fab Body
Watch the Video:
Happy bday Yohan... dad's got ur back and I got ur front .... but don't fly too high pic.twitter.com/UNQqtQY4dk

— Salman Khan (@BeingSalmanKhan) June 17, 2019
Speaking on Khan's work front, his last movie Bharat is a hit and expected to cross Rs 200 crore mark. The movie had phenomenal actors like Jackie Shroff, Katrina Kaif. Meanwhile, Nora Fatehi, Sunil Grover and Disha Patani were also seen in the film. The movie plot revolves around the life of a person named Bharat and the journey of our country Bharat together. However, Salman's next project Dabangg 3 will be releasing in December. It will feature Sonakshi Sinha, Arbaaz Khan, and Dimple Kapadia.
The 'wanted' actor always goes through hilarious workouts, as per the demand of his characters and roles in the movies. His Instagram and Twitter accounts are always filled with his gymming videos. Moreover, fans also demand the 'Bhai vali body' from their respective gym trainers. So from now on, follow this leg press technique in your gym routine to get toned legs.
Read more articles on Exercise and Fitness