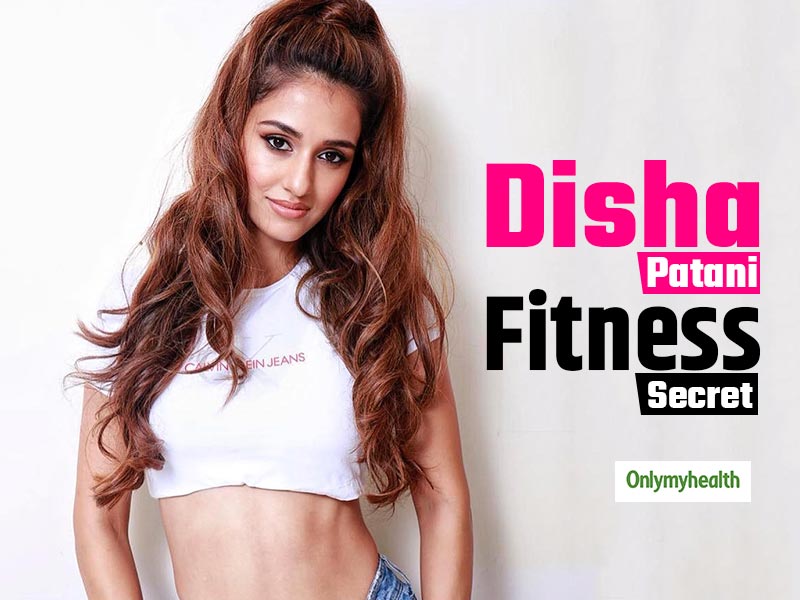 Actress Disha Patani is the raging fitness sensation of Bollywood. She made many headlines after her role in the movie M.S. Dhoni: The Untold Story. The actress hits a hat-trick of 100 crore plus club with her recent release Bharat. The Baaghi-2 actress is very careful about her fitness regimen. She is a true inspiration for all the fitness freaks. She has mentioned her size so well that her abs can never go unnoticed. Disha's fans are always eager to know her fitness secret. So, here are the answers to all your questions. Read on to know Disha Patani's diet, fitness secrets, workout, training sessions and other insights.
Disha Patani Fitness
Fitness requires punctuality towards the routine you are following and dedication for the same. You need to strict about the workout along with the perfect combination of diet. Disha also mentioned that she works out every day. She never misses the gym and makes sure that she completes her workout routine daily. A gloomy weather also fails to stop Disha from hitting the gym. She mentioned that - working out is the way of life and it keeps her going. She prefers a fast workout routine during monsoon which keeps her moving throughout the day. If you are looking for some motivation to sweat it out these videos of Disha will make you move.
Also read: Salman Khan Workout, Training, Diet and Fitness Routine: Know how Salman keeps himself fit
Disha Patani Workout and Training
If you are looking for the exact workout routine of Disha Patani to achieve that fitness level then here is the answer. Her workout routine is a mixture of all the things. Disha starts her day with cardio exercises like dancing, kickboxing or gymnastics.
View this post on Instagram
In the evening she chooses weight lifting. Disha also mentioned in one of her interviews that women today are working out in the gym as men. "The general assumption is that women working out involves cardio, not weight training. But we all work out and do heavy weights; I come across so many girls in the gym training really hard. At the end of the day, it isn't about the gender, but about working on your body and becoming your fittest self," Disha said during an interview with a magazine and motivate all the female fans who are working her on their fitness.
Disha also mentioned that she does not like monotonous workout regimen. She is always ready to try something new. She loves to expand her horizons and is always eager to learn new ways to workout.
When asked about her secret behind toned abs, Disha explained- "There is no secret as such. It's all about an intensive ab workout and a strict diet. Maintaining abs is the most difficult thing as one day you have them and the next day they may disappear. So I strongly believe a rigorous workout and a healthy diet are the only ways to maintain abs."
Disha Patani Diet
For such tones abs, Disha follows a strict diet which involves a restricted amount of every nutrient in the right quantity. For a meal, Disha includes a mixture of carbs and protein- mainly rice and chicken. Whereas, the dinner is loaded with a protein-rich meal like a bowl of eggs.
During an interview, Disha confessed that she has a habit of not munching anything before working out. But she advises her all the fitness enthusiasts to consume a pre-workout meal. " I have fallen into this bad habit where I don't eat anything in the mornings before working out because I feel very full while exercising if I do. But, it is definitely advisable to cram in a small meal before a workout, consisting of some protein, like eggs. After exercising, it is good to add protein again, either through chicken, eggs or paneer," she said in an interview with a magazine.
Also read: Meghan Markle Fitness Secrets: 5 tips you must try
View this post on Instagram
What about the cheat meals?
Well, it is not just you, Bollywood celebrities with toned abs also cheat their diet many times. Disha is one of them. She absolutely loves cheat meals. She said that she waits for the cheat day the whole week. On her cheat days, she eats once a week she eats all the delicacies required to fulfill her every craving.
She also revealed that she is a dessert person and cannot live with a sweet treat. She enjoys a dessert once a week and also gives it the credit to work harder throughout the week. "I believe that's one of the motivators that keep me going and [makes me] work harder towards maintaining a fit body," Disha said.
Is meditation a part of Disha's routine?
The answer is no! Disha once mentioned that she is more of a workout person. She hates sitting in one place for longer. The Baaghi 2 actress says that she is very impatient and prefer moving over meditation. So, Disha is completely a workout person.
Some other takeaways from Disha's routine:
Disha says- stay hydrated. She can never miss her water bottle and it is an essential part of her gym bag
Disha enjoys her favourite music while working out
She also advised her fans that you should buy shoes according to your feet
Read more articles on Diet and Fitness.