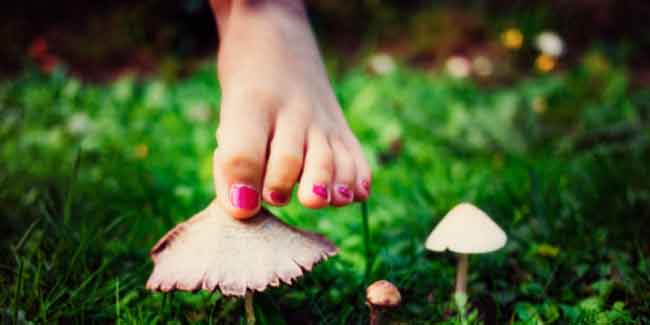 An itchy toe, especially if it changes colour to yellow indicates a serious trouble. If the foot fungus progresses and thrives, you must seek help from your doctor.
Have you been feeling an irritating itch lately in your toes or is the skin of your toes cracking a little bit? You may not seem to be worried about these signs at all but, it is a problem that needs to be addressed as soon as possible. You may be suffering from fungus.

The fungus on your toe can rapidly spread to the entire foot and make the skin of your feet to crack open deeply leading to pain and bleeding sores. Foot fungus progresses with time and it can make the toenails wither and eventually stop them from growing after which it can die.

However, fighting this problem on time can prevent these conditions. So, the following are a few remedies that can help you get rid of foot fungus and have healthy feet.


Change your Footwear
Your footwear plays a significant role in the development of foot fungus. There are many shoes designed in a way that do not let air pass though properly preventing your feet from staying cool. This creates heat around the feet leading to sweat which is an ideal environment for fungus to develop. If you want to protect your feet from fungus attack always opt for breathable shoes. Avoid synthetic material and stay barefoot as much as possible.
Keep Toes Dry
It happens so that even after you have wiped your feet properly, the place between your toes remains wet. This is where foot fungus grows well and leads to cracking and pain. The best way to overcome this problem is to put tissue papers between your toes before wearing shoes. Change these tissue papers several times a day.
Make Immune System of your Body Stronger
Sometimes, foot fungus may develop because the immune system of your body is not healthy enough to fight or recognize the problem. Eat a healthful diet and make sure that it contains enough vitamins and minerals to boost the immune system.
Exercise Regularly
There are high chances that your feet suffer from poor blood circulation which can give birth to fungus between the toes. It is not easy for the blood to reach the feet properly hence, it makes it easy for the fungus to thrive here. But, when you exercise a little more than usual, it will increase your blood circulation and keep problems at bay.
Use Garlic Fungus Treatment
Garlic contains a compound called ajoene which has been found to be highly effective in treating foot fungus. Take some cloves of garlic and crush them. Add few drops of olive oil and put them into a foot soak. Keep your feet soaked in it for at least 30 minutes and do this twice a day.

Foot fungus can lead to severe problems but, combating it is no task. Several precautionary measures clubbed with few treatments can cure the trouble.
Image courtesy: Getty Images
Read more on Feet Care.