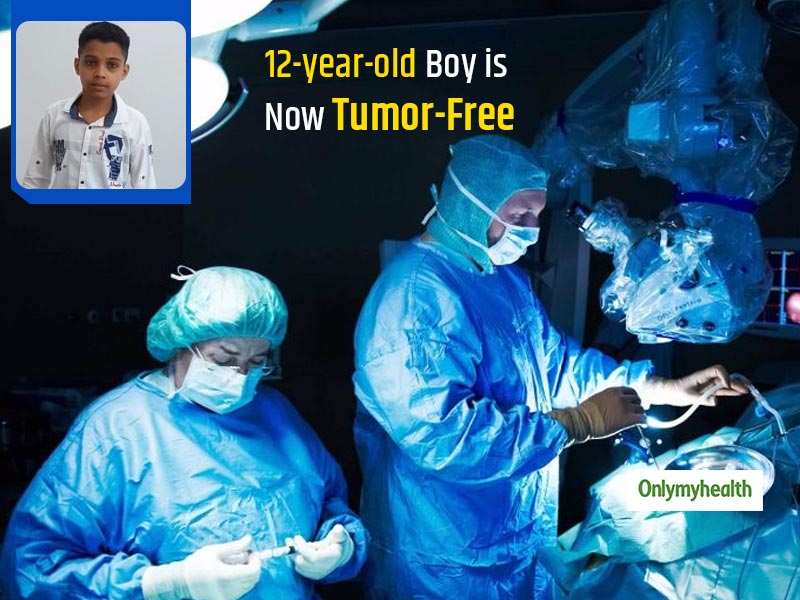 Tumor in the brain is a life-taking complication. It needs to be treated critically or else the patient might lose his life. While handling is better in adults as their brain is fully-grown, it is risky in children due to their developing brain. This article is based on the case study of a 12-year-old boy who was diagnosed with a tumour in his brainstem. Doctors operated him and successfully removed the tumour. Read his story and understand the risk factors that can cause brain tumour.
12-year old boy Rudra Pandey from Varanasi was successfully operated on for a life-threatening tumor attached to his brain stem at Artemis Hospital, Gurugram. Brainstem, which is often called the fourth ventricle is one of the most sensitive areas to operate upon, and the complete tumor was successfully removed through the advanced microsurgical procedure.
How was the tumour diagnosed?
The boy had developed increased headaches and imbalance while walking, and upon diagnosis in Varanasi, the reports revealed a tumor in the backside of the brain (attached to the brainstem). In a fear of complications, his parents immediately rushed to Dr. Aditya Gupta in Artemis Hospital, Gurugram.
"Detailed investigations revealed a benign tumor (non-cancerous) attached to the brain stem, and his parents were explained about the timely need for a micro-surgery. Since the location of the tumor was very sensitive, the case was very carefully and closely monitored. With the use of the latest microsurgery procedure with advanced techniques, the tumor was completely removed. Being a non-cancerous tumor, the patient does not require any life-long treatments like radiotherapy or chemotherapy and is now completely back to his normal life." Said Dr. Aditya Gupta, Chief of Neurosurgery at Artemis-Agrim Institute of Neurosciences, Artemis Hospital, Gurgaon.
Also Read: Know The Warning Signs Signalling Tumor Growth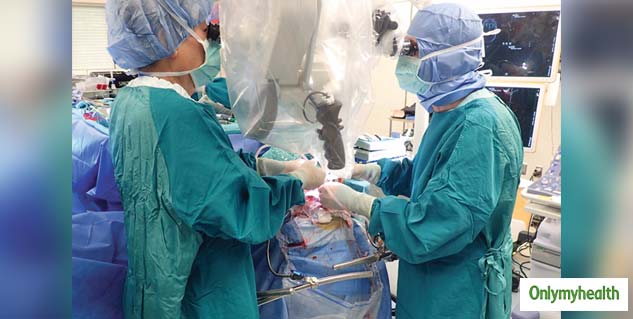 How was the surgery conducted?
With the surgical expertise and advanced technology available, even the most complicated and hard to access, sensitive tumors can be removed without any risk involved with positive outcomes. Around 50% of the brain tumors are non-cancerous and if treated properly, enhances the outcomes with patients resuming to normal life as before.
Dr. Gupta explains: "The patient responded very well and made a quick recovery, gained consciousness within 2 hours of surgery and was able to walk the very next day. Since he had no signs and symptoms of imbalance while walking, he was discharged immediately. The recent MRI done showed a completely normal situation. Rudra is completely back to normal life, going to school and playing with his friends."
Also Read: First Time Ever Doctors Removed Hydatid Cyst Without Chest Surgery Through Cryotherapy
Why timely treatment is important?
In such cases, timely surgery is very important as this can lead to fatal complications if timely action is not taken. At times parents fear the complications of surgery and opt for alternative methods of treatment which may end up in worsening the condition. Since his parents understood the situation very well and clearly, opted for the timely surgery and the patient was discharged on the third day after surgery. Upon his follow-up, MRI has revealed no signs of tumor and since the tumor was non-cancerous, the minimally invasive surgery has given him a permanent cure.
Read More Article in Other Diseases