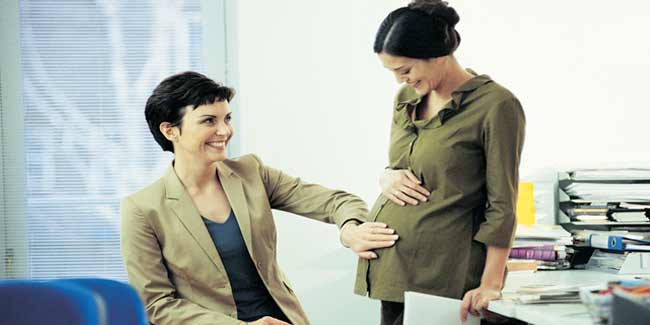 Work issues can crop up for pregnant owmen if they continue working in their condition. The need of the hour for pregnancy and work issues is to know one's option and consult one's immediate boss for the addressal of issues.
From time immemorial, or more correctly, from the time the first career woman stepped into her workplace, women have suffered from inequality with their male counterparts.


Today women have moved up the power ladder, broken the glass ceiling and proved herself to be every bit as competent as her male colleague, but gender issues still remain; almost everywhere. Each and every professional woman should be prepared to deal with gender-specific problems in the workplace. And the best way to do that is to be aware of relevant laws and other legal issues, together with individual company policies. For a working woman, pregnancy is an important period of her life which she has to fit in comfortably at her workplace.
Tell your Boss
This is entirely a matter of personal choice. Some may want to wait until after the first trimester, when the risk of miscarriage is lower. Others will be too excited and dying to share the good news with friends and well-wishers. Whatever you choose, certain things should be considered. Your working relationship with your boss may be friendly or strictly business, but you should be the one to break the news to your boss directly, rather than her/him hearing it from the rumour mill.
Create a Work Plan
It would be ideal if you could come up with some solutions for how your responsibilities could be managed while you are on leave. If there are projects on the pipeline, you should be able to assess how much you can accomplish before baby arrives, and offer suggestions on how your work could be handled in your absence. These suggestions and solutions should be in place in your mind before you tell your boss. You should also plan to tie up loose ends as much as possible before you go off on your long maternity leave, so that people who take over have an easier time. It is also practical to remember that in spite of having a general idea of when you will begin your leave, it may change as you get closer to your due date.
Know your options



Barring broad outlines, every company has its own maternity leave policies. You should have a talk with your human resources manager or your boss about questions that might occur to you. Frequently asked questions in this regard will be
Does the company offer paid maternity leave, and is the pay rate at par with your current compensation?
What is the length of paid maternity leave available to you?
Does your company health insurance cover pregnancy, delivery and treatments/procedures for any complication that may occur?
Once baby arrives, will it be necessary for you to change your health coverage plan?
While you are on maternity leave, will your benefits continue as before?
After the delivery, and when you are ready to return to work, will your company offer flexible time or telecommunicating to help you transition back into the workforce?
Are there any other additional benefits or resources that your company offers to new mothers?
Most working women can keep working throughout the term, sometimes right up to the due date. If you do plan to work throughout your pregnancy, it is important to plan ahead.
Read more articles on Pregnancy and Work.