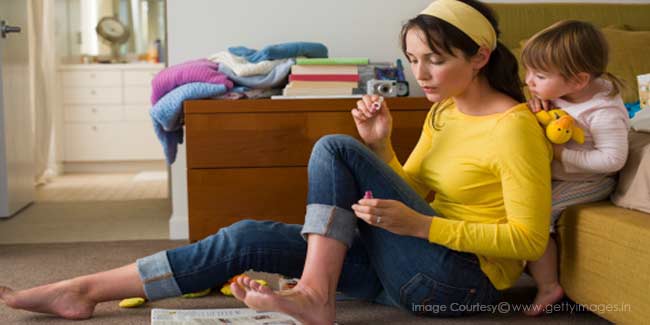 The sandal season is here and flip flops are a must. But you can't wear them with those tanned feet. Here is stepwise pedicure that you can do at home.
Carrying out daily chores and responsibilities leaves no time for indulging into beauty treatments. The sandal season demands perfect feet.



To get them, you will need a pedicure. Fear not! you will not need to go to a salon to get one. Follow the steps to a perfect pedicure that can be done at home.
Soak Your Feet
Just because you are doing it at home, doesn't allow you to skip this step. It not only cleans your feet but also softens dead skin cells and prepares your skin for exfoliation.
Remove all traces of nail paint as your tub gets filled with warm water. Make sure the water is not hot which can burn your skin.
Add tea tree oil to water (about a teaspoon full) as it banishes bacteria and the smell.
A capful of witchy hazel can also be added for its cleansing properties.
Add a half cup of Epsom salts for rejuvenation.
And last but not the least; add three drops of peppermint or rosemary oil to the water for their fresh and healing effect.
Now soak your feet in this heavenly smelling warm water for five to 10 minutes. You should not soak feet in water for more than 10 minutes as it makes the skin more brittle.
Scrub Your Feet
Choose an exfoliant with medium –size grains, like sugar or salt crystals. Sugar is preferred as it is less irritating.
One can also add moisturizing agents like jojoba or almond oil for moisture.
Take a quarter-size drop of this scrub and massage your feet gently with it.
Start with your heel and work your ways out to your toes, ankles and calves using tiny circular motions.
Rinse off with warm water.
Smooth away Bumps
If you have any corns or calluses on feet, smoothen them using a wet pumice stone or lava rock.
You can coat it with a refreshing body wash.
Scrape your heels, the bottom of your feet and the toes in a back-and-forth motion.
Remember, you only want to shed the top most layer and not irritate the flesh within so, be gentle.
Do not, and we would say it again for exertion, do not attack your calluses with a razor blade.
Trim Your Nails
One must use a strong steel clipper made specifically for toenail to clip the toenail.
Trim the nails straight across and follow by smoothening the edges giving a slightly rounded shape. A glass file works best.
Giving a slightly rounded shape helps prevent painful ingrown nails.
Moisturize and massage
Drench your feet with a moisturiser specially designed for feet.
You can look for one which has shea butter to add and lock in moisture.
Ingredients like arnica can reduce inflammation and Laponite powder zaps the odour.
Take a quarter-dollop sized moisturiser in hand and massage your feet in a circular motion.
Then, with the knuckle of your index finger, press down gently into the arch of one foot and knead, repeat on other foot.
The mini massage will relax your feet while boosting circulation, which reduces swelling.
Polish Your Nails
Before applying a new shade, make sure you remove all traces of any cream residue from your nails. Use a non-acetone polish remover as acetone will damage your nails.
Next, apply a basecoat- a formula that contains protein, vitamin E and /or calcium. All these will help strengthen brittle nails and prime them to hold on to polish longer.
You are ready to apply colour now. Hot pink, shocking purple and juicy tangerines are some great shades for this season.
Sweep the bristles down the center of the nail first towards the tip of your toe.
Then sweep colour on each side and across the edge of your nail. After doing all 10 nails, apply a second coat.
To prevent chipping and seal in colour, layer on a finishing coat.
Read more articles on Feet Care.