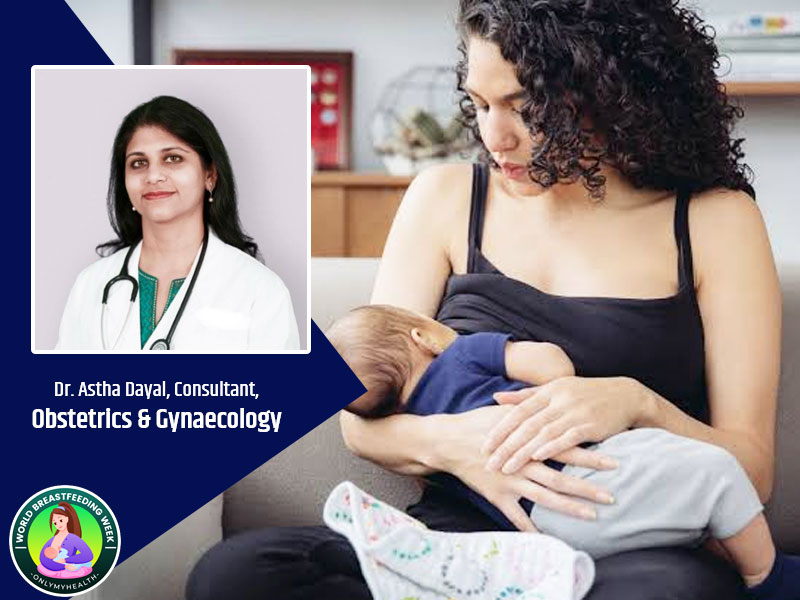 Many breastfeeding parents experience pain and discomfort while lactating. It can make the whole breastfeeding experience stressful but the good part is that it can be treated once the cause of diagnosed, if not completely unavoidable. A lot of mothers are even scared of breastfeeding because of breast or nipple pain. Prolonging breastfeeding pain can also lead to serious psychological stress, therefore it should not be ignored. You can discuss about these issues with your partner and doctor, for a solution to this problem.
Breastfeeding requires patience and proper methodology for successful latching by the baby. It might seem easy but is not at all a cake walk. World Breastfeeding Week is celebrated every year from 1st to 7th August. The annual campaign is important to raise awareness about breastfeeding. On the occasion of world breastfeeding week 2021, Onlymyhealth editorial team spoke to Dr. Astha Dayal, Consultant, Obstetrics & Gynaecology, Meddo Dr Astha Dayal Health Center, about the causes and treatment for painful breastfeeding.
Painful breastfeeding causes and their treatment
When we talk about painful breastfeeding, nipple pain is the most common problem related to it. From latching issues to tongue tie, there are many factors behind breastfeeding pain. According to Dr. Astha, here are some common causes of painful breastfeeding and their treatment:
1. Latch problems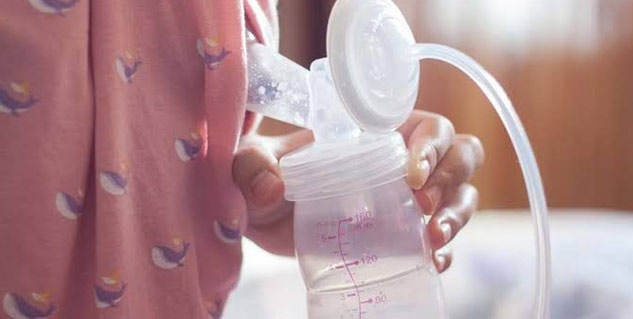 The nipples should look the same before and after breastfeeding your baby. If your nipples look differently after nursing then there might be a problem with your baby's latch. Latch problems can also lead to cracking, bruising and even bleeding.
Treatment:
Gently wash the nipples after nursing
Use a nipple shield and breast pumps
Use cool ice packs
Consult a doctor
2. Breast engorgement
Breast fullness or engorgement is a common condition that is experienced by most of the women. Your body indicates you to make sure that the baby has a sufficient amount of milk. But, this fullness of milk and increased blood flow can lead to tissue swelling. The breasts can become hard, heavy, tight and lumpy accompanied with severe pain. It can be difficult for your baby to latch on engorged breasts as the nipples tend to go flat.
Treatment:
Soften the areola using your hands
Apply warm or cold compression
Breastfeed at regular intervals
3. Mastitis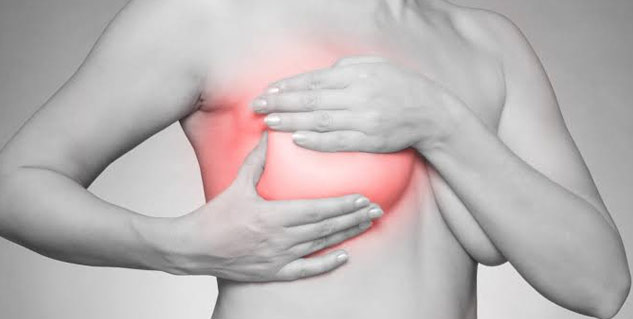 If the mother is suffering from the flu, and have a warm and red spot on your breast, these might be the early signs of mastitis. Mastitis is a condition which causes an inflammation of the breast, usually caused by blocked milk ducts, which can lead to infection. It is also important to talk to a doctor if you are experiencing the symptoms of mastitis, because there might need to take antibiotics for recovering.
Treatment:
Cold compression
Frequent breastfeeding
Antibiotics
4. Thrush
Nipple thrush is basically a yeast infection that is caused by an overgrowth of Candida albicans yeast. Nipple damage or bacterial infection have similar signs and it is important to take help from an expert in such cases. Nipple thrush can cause severe nipple and breast pain, making the breastfeeding process extremely painful.
Treatment:
Topical antifungal creams
Antifungal tablets
Talk to your doctor for medical attention or other home remedies
5. Blocked duct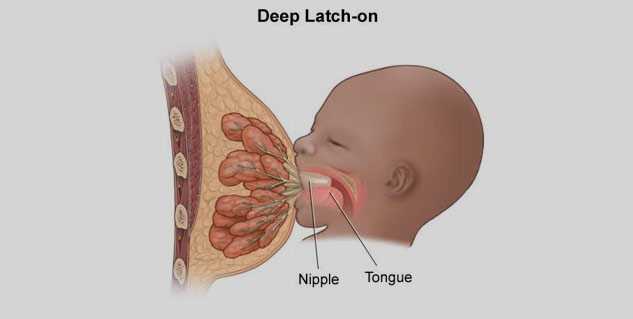 There are many milk ducts, which are narrow tubes that are responsible for transporting milk to your nipple from the milk glands. If these ducts are not fully drained, it can lead to the development of a blocked duct. These blocked ducts feel like lumps in your breast. Due to this, the openings of the nipple can get blocked and just look like a white dot.
Treatment:
Warm compression
Massaging the lump
More feeding from the breast with a blocked duct
6. Biting
The first teeth to grow in your baby's mouth are mostly the bottom front ones. When your baby takes the feed, this area gets covered by your baby's tongue. But, some babies might bite before they attach or when they are detaching. This can be painful for the mother. A lot of babies might even bite while feeding as they might get distracted due to the surroundings. This mostly happens towards the end of a nursing session.
Treatment:
Stop the distractions around your baby
Do not compromise the positioning or latching
Pay attention to your baby
Therefore, these were the causes of painful breastfeeding and their treatment by Dr. Astha Dayal. If you experience any kind of discomfort or pain during or after breastfeeding, it is best to consult your doctor at first. The expert can look into it properly, give you helpful tips to latch and treat the underlying condition, if there is any. Breastfeeding pain is mostly treatable and it is best to ask for help if required.
Read more articles Women's health
Image credits:
Marchofdimes.org
Stanfordschildren.org
Happyfamilyorganics.com
Insured.amediadirect.com