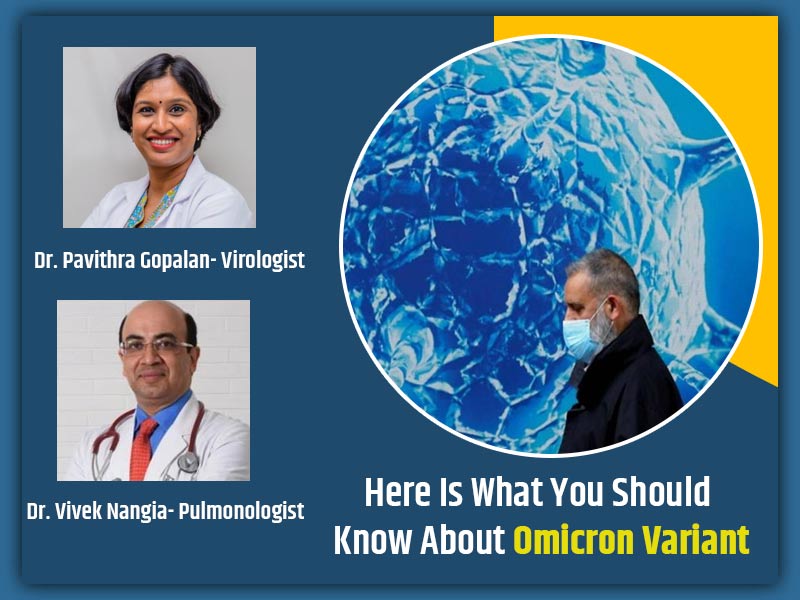 Omicron variant is coming as a shock to people once again. Even after 2 years of struggle with corona virus, this virus doesn't seem to stop at any point. As soon as people take a sigh of relief and try getting back to their pre-COVID-19 routine, another variant strikes some part of the world and makes people think about the corona virus once again. People have many questions about this new omicron variant of COVID-19. We understand the concern of people, and to answer all the queries of people, OnlyMyHealth spoke to Virologist Dr. Pavithra Gopalan and Pulmonologist Dr. Vivek Nangia. Based on their knowledge, they answered most common question asked about Omicron variant of corona virus.
What Makes Omicron "Variant of Concern"?
As we know that WHO has mentioned this new omicron variant as the variant of concern, people are very eager to know what they should be so concerned about this COVID variant. Dr. Pavithra answered that it is because of symptoms, and the tendency of the virus to behave. There are various mutations and variants of corona virus. We don't know much about it as of yet, hence there is a huge possibility that it could change the style of living of people in upcoming days.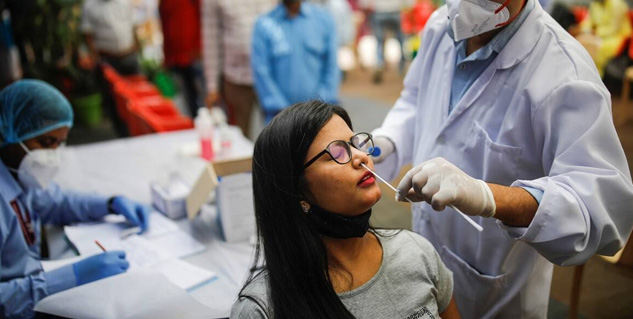 She mentioned that variant of the virus binds to spike proteins which is like a lock and key mechanism. If this variant chances spike of protein, then it could possibly result to severe complications and that could be concerning. It could even make vaccine ineffective it the mutation is resistant to protein spike.
What Are Symptoms of Omicron Variant?
Dr. Vivek Nangia mentioned that research is still going on to find out the exact symptoms of this new variant. However not much is known yet but symptoms could be similar to that of Delta variant. There would be some changes in symptoms but there are less chances it would be totally different. If the spike protein is more than 30%, then it could facilitate the entry of virus in the body and this could affect the person adversely. Mutations such as these modify the utilization of vaccination and hence could be threatening. Apart from this we still need to wait and see what omicron brings for us as the studies progress.
How can a person Prevent Omicron Variant Infection?
The best way is to practise COVID-19 adequate behaviour to reduce the risk of infection from this Omicron variant. You can follow these measures to prevent yourself from infection.
Isolate yourself even if you have slight symptoms of COVID-19. Even the symptoms are of common cold, flu, fever or any kind of infections, and then take necessary precautions.
There is a chance that it may not be omicron, but do not try to take a chance, keep yourself safe.
Use masks whenever you move out in any area
Try to remain in homes as pollution and this weather is adequate for the viral infections to spread rapidly
Test yourself after 3-4 days once you get symptoms. If it is negative, get tested again for confirmation.
Give corona virus benefit of doubt at every stage
Try to consult your doctor from time to time so that you are aware of the situations around take right steps for preventing it.
Take a flu shot as it can reduce the chances of getting other diseases which might cause problems
Practise social distancing

Is there still resistance in people about getting vaccinated?
Dr. Nangia readily accepted that there are numerous people who still do not take COVID-19 seriously. Especially as the lockdown and restrictions were eased, people thought of symptoms as common diseases and did not take necessary precautions. This should not be the case, because it may be possible that you have good immunity and you act as a carrier of corona virus for people around you. We don't know about omicron variant much therefore it is better to take relevant precautions and be careful on every step we take.
Also Read- Covid-19: Two Cases Of Omicron Variant Reported In Karnataka
Are people having Diseases at more risk to COVID-19?
Definitely, people those who have asthma, COPD or any kind of respiratory disease are at high risk of getting infected with COVID-19. Apart from this those who have any history of diseases are also at higher risk of infection from Omicron and other variants as well. Risk increases in people having inflammatory cascade because it increases the rate of complications in the body. A person who is at higher risk should also take these necessary precautions-
Practise social distancing strictly
Do not move out until necessary as pollution and viral infections are high at this level
Keep your masks up and carry double mask for better prevention
Keep inhalers with you all the time while travelling
Be hyper vigilant about the symptoms of any kind of infection
Rely on crocin and paracetamol tablets; keep them at your home at all times
Keep diagnostic kit of COVID-19 with you so that you can check for infection, it gives you a fairly good idea about your health condition.
Isolate yourself as soon as you have any signs of disease and viral infections
Rush to hospital if the percentage of oxygen level dips below 3% than normal levels

Is there a need of Booster Dose?
Virologist Dr. Pavithra told us that there is no particular need of taking booster dose as of yet. This is for two major reasons, first of all there are still many people in India who have not received their first dose or second dose, hence it could create shortage. Secondly we don't know the efficiency of vaccine on the given vaccines right now, so until then there is not much sense of taking another shot just for the sake of it. Apart from this, people who are at higher risk such as doctors and front line workers need to get it first even if it becomes necessary.
Is RT PCR report correct at all times?
It may be possible that you get a positive report even after your symptoms have gone. This is because the sequencing remains in your body. However if your getting tested for the first time, then the RT PCR report is almost accurate and to the point. Hence if the RT-PCR report shows you are COVID-positive, then it is correct. Hence make sure you follow strict guidelines for RT PCR tests given till now.
Also Read- Omicron Variant Of COVID-19 Symptoms: Here's What Doctor From South Africa Says
Other Precautions you should take for Omicron Variant?
Other precautions that you should take and things you need to take care of are-
Keeping paracetamol tables
Inhalers while travelling
Isolate yourself from people
Visit hospital if oxygen level drops below 94%
Check if you are eligible for mono-clone antibodies
Keep yourself hydrated
Take proper balanced diet and nutrition
Picture Credits- pixabay.com, freepikimages.in