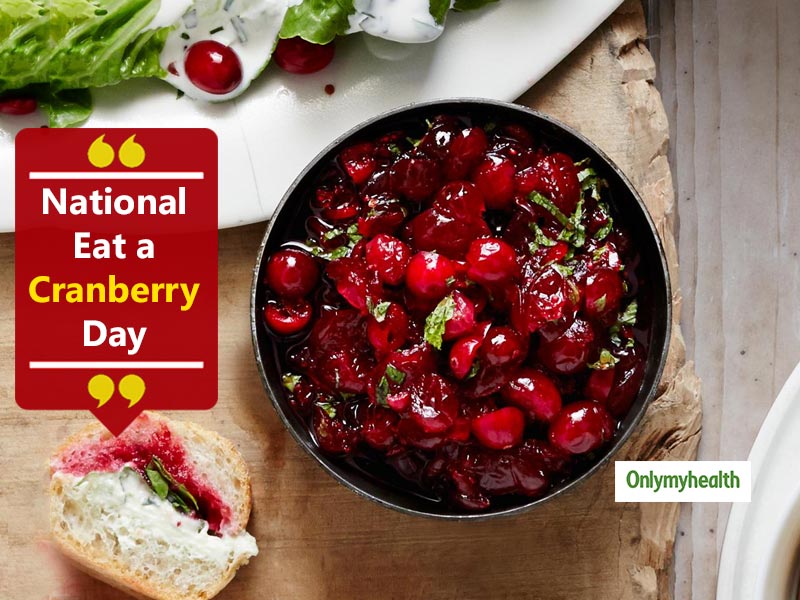 Cranberries are tasty, full of antioxidants, and there are so many ways you can eat them. They are baked, sauced, candied, juiced, stewed, brewed, blended or glazed. You can find all kinds of recipes that use cranberry as the main or highlighting ingredient. The bright red superfruit grows on evergreen dwarf shrubs or vines that are found in bogs and wetlands. Cranberries are considered a staple for Thanksgiving Dinner as the infamous cranberry sauce is an indispensable part of it. Cranberries are loaded with Vitamin C. Consuming cranberries has many, many benefits. Most cranberries that are harvested commercially are processed into juices, jams, sauce or sweetened and dried. Fresh cranberries are also sold in stores throughout cities and by local farmers.
Try some delicious & easy recipes to enjoy on this National Eat A Cranberry Day with your family:
Cranberry Cheesecake: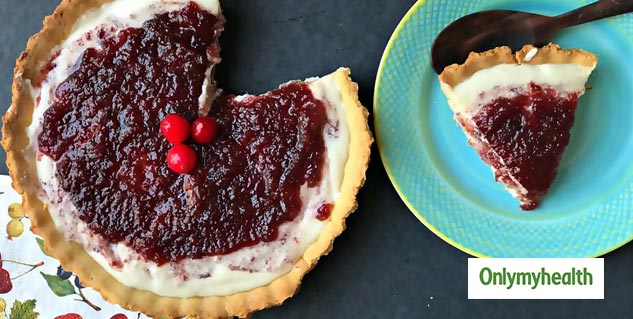 Cranberry, pastry and cheesecake filling are perfect pairings to end a delicious meal. Here's how you can make this cheesecake delicacy:
INGREDIENTS
For the Pastry
Plain flour - 375 g
Icing sugar - 100 g
Butter 250 g
Egg - 1
For Compote (Cranberry)
Dried cranberries - 50 g
Frozen cranberries - 100 gm
Sugar - 150 gm
Orange zest - As per taste
For Filling
Cream cheese - 200 gm
Heavy cream - 100 gm
Mascarpone cheese - 100 gm
Icing sugar - 50 gm
METHOD
Pastry: Add flour, butter, icing sugar in a food processor and mix in a crumble consistency. Add egg and blend again until in a dough consistency. Wrap or cover it with a cloth and let it rest. On a flat surface, roll out the half dough in 3-4 mm thick consistency. Line the pastry on a tart tin and bake for 15 mins until golden brown in colour and crisp. Leave it to cool down before anything.
Compote: Mix everything and bring it to boil. Let it boil until the concoction is thick and the cranberries are soft. Let it cool. Then whip the cream together until soft and airy. Pour the compote and the cream on the tart shell. For finishing the dish, add little compote on top of the dish and let it sit in the fridge for a few hours. Enjoy chilled.
Also Read: Winter Warmer: Try Strawberry Tea This Winter Season
Cranberry & Green Tea Spritzer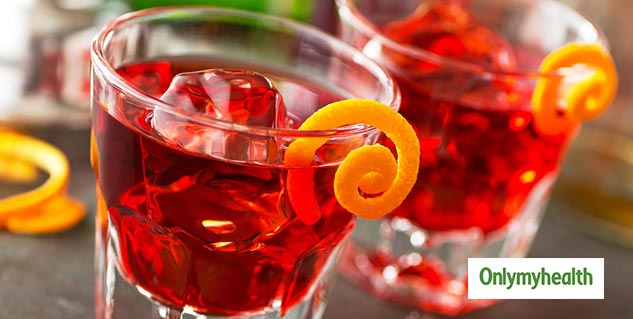 Want to feel refreshed? Think of a spritzer and see the difference. This drink is mouthwatering and refreshing. You can make it non-alcoholic too, without compromising on the health benefits of cranberry.
INGREDIENTS
Tea bags - 4
Boiling water - 2 cups
Cranberry juice - 3/4 cups
Soda - 1 cup
Honey - For Taste
Lemon Slices - For Decoration
Mint - For Decoration
METHOD
Let the tea bags boil in water for 2 minutes. Let it cool after removing the tea bags. Do not let the tea bags sit for longer duration as it may make it sour. Take a jig, pour the cool tea water, cranberry juice, soda and honey as per taste. Garnish the drink with lemon and mint leaves and the drink is ready to be relished.
Also Read: 5 Surprising Health Benefits Of Eating Green Apple
Cranberry Almond Bread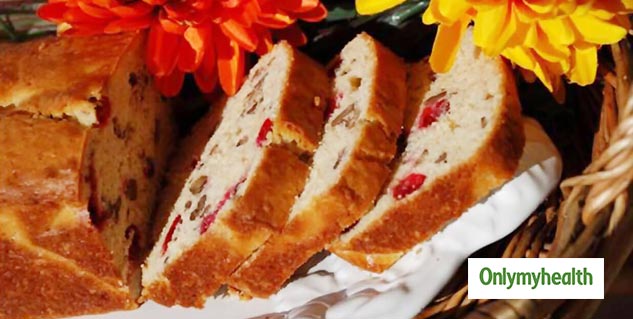 With the winter and Christmas season approaching, it is time to relish some yummy bread. What best than cranberry and almond bread. Make use of the goodness of almonds and cranberry in one dish.
INGREDIENTS
Flour (All purpose) - 2 cups
Sugar - 1 cup
Salt - 1 tsp
Baking powder - 2 tsp
Milk - 1/4 cup
Butter - 1/2 cup
Almond extract - 2 tsp
Almonds - Crushed
Cranberries - 2 cups
Sugar - As per taste
METHOD
Heat the oven on 375 F. Mix all flour, sugar and baking powder in a bowl. In a separate bowl, mix butter, milk and almond extract. Mix the dry and wet ingredients and keep mixing to avoid lumps. Put the batter in the pan and sprinkle some almonds on top. Bake for 50 minutes and check. If more time required, bake it for another few minutes.
Read more articles on Healthy Diet