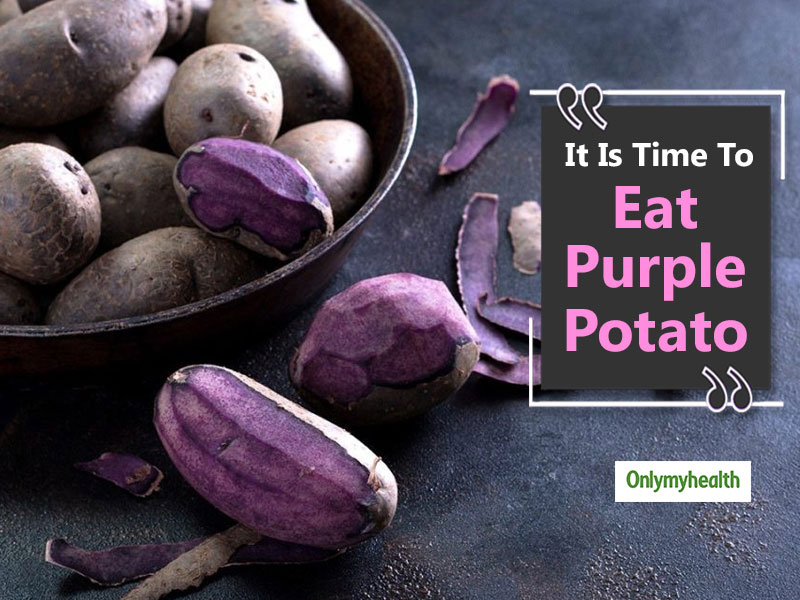 Potato is the king of vegetables. It is the staple vegetable in an Indian kitchen and we all love potato curry. But have you ever had a purple potato? Yes, potatoes of purple color do exist but these aren't commonly available in the local markets. Actually purple potatoes do belong to the potato family (Solanum tuberosum) but are found in thw Andes Mountains region in South America. This potato is said to be more healthy and nutritious as compared to white potatoes.
Nutritional Value Of Purple Potato
Talking about its nutritional value, it has less starch and more macro nutrients than white potatoes. It contains good nutrients and can be quite good for your diet. Purple potatoes have a nutrient similar to other varieties of potatoes in the Solanum tuberosum family. However, their mineral content may vary depending on the soil in which they are grown.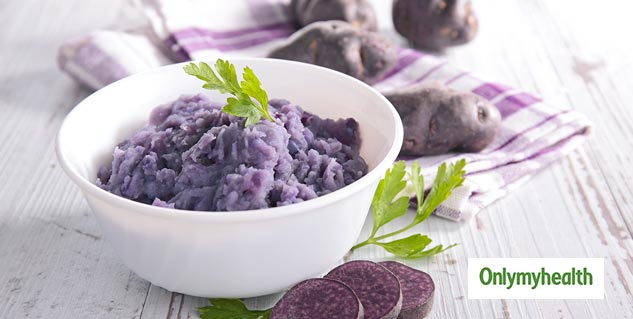 Nutritional value of a 100-gram potato
Calories: 87
Protein: 2 grams
Carbs: 20 grams
Fiber: 3.3 grams
Fat: Less than 1 gram
Manganese: 6% of daily value
Copper: 21% of DV
Iron: 2%
Potassium: 8%
Vitamin B6: 18%
Vitamin C: 14%
Also Read: Does Drinking Potato Juice Prevent Cancer and Heart Attack?
Interestingly, potatoes contain more potassium than bananas. In addition, the amount of sodium is also low.
You can plant the seeds of purple potato in your garden to grow this amazing veggie and eat. The seeds are available on amazon. Here is the direct link to buy purple potato seeds.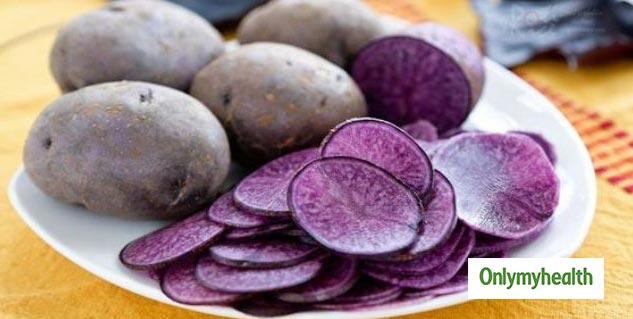 Let us tell you about health benefits of purple potatoes.
BP and blood sugar control
Purple potato is very beneficial for people with high blood pressure. It controls the amount of sugar in the blood and its vitamins are very beneficial for the body compared to white potatoes. At the same time its glycemic index ranges from 0 to 100, and a GI higher than 70 is considered high. Purple potatoes contain GI 77, yellow potatoes contain GI 81 and white potatoes contain GI 93. Whereas all potato varieties affect blood sugar levels because they all have very high carbohydrates.
Also Read: 4 Reasons Why Sweet Potato is Good for You
High antioxidants
Eating purple potatoes can increase your antioxidant intake and reduce body inflammation. They are particularly enriched with anthocyanin, an antioxidant compound that is quite beneficial for our eye and heart health. At the same time it also reduces the risk of many chronic diseases.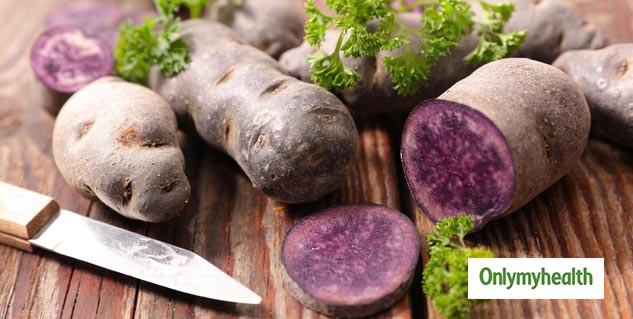 Good for digestion
Including purple potatoes in your diet can help increase your fiber intake. It is also very beneficial for infection in your stomach and intestines. Due to its correct amount of fibers, it is also very beneficial for stomach health. It is also very beneficial for the health of the skin. In this, compounds known as short-chain fatty acids are produced. Due to the limited amount of starch in the potato, a lot depends on the method of preparation.
Also Read: Lose Weight By Eating Potatoes In These 5 Simple Ways
Stops the growth of cancer cells
Purple potatoes also contain some compounds that may slow down some body reactions. Like- it prevents many viruses and bacteria from growing in the body. At the same time, it also helps to keep cancer cells inactive in the body.
Read more articles on Healthy Diet