Watermelon is known as the ultimate summer fruit. This tropical fruit is delicious and a great source of vitamin and minerals. In per 100 gm serving, watermelon supplies 30 calories and nutrients. Let's make something scrumptious from juicy watermelon and enjoy the summers.
Watermelon skewers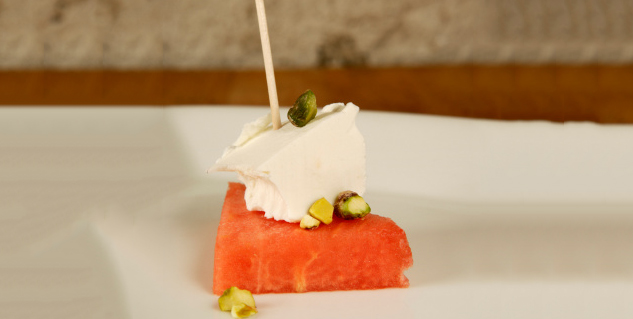 Ingredients
1 Watermelon, cubed
8 ounces feta cheese, cubed
Tomatoes, cubed
Fresh lime juice, 2 1/2 tablespoons
Chopped fresh mint, 2 tablespoons
Extra virgin olive oil, 1 tablespoon
Kosher salt, 1 teaspoon
Freshly ground black pepper, 1/2 teaspoon
36 (3-inch) wooden skewers
How to make watermelon skewers
Toss watermelons, tomatoes and feta cheese in all ingredients in a large bowl.
Cover the bowl for half an hour.
Now, string1 tomato piece, 1 feta cube and 1 watermelon cube. Prepare all your skewers like this and place them on a plate.
Moisten the skewers with remaining seasoning.
Serve fresh.


Watermelon popsicles

Ingredients
Watermelon flesh, 4 cups cubed (about 1 pound, skinned)
Lime juice, 1 tablespoon
Honey, 1 tablespoon
How to make watermelon popsicles
Take the watermelon and blend it with the freshly squeezed lime juice in a mixture. You can add honey if you want.
Now, shift the mixture into a bowl through a strainer.
While you strain the mixture, press the melon with the back of a spoon to collect maximum amount of juice into the bowl.
Pour them into a mould and put them in the freezer.
When they are partially frozen, insert Popsicle sticks.
Now, let them freeze.
Serve cold.
Image: Getty