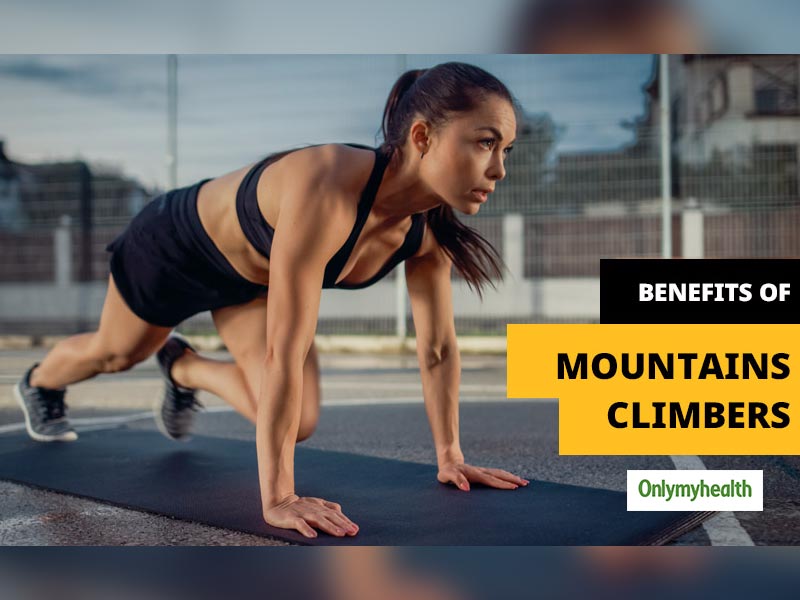 Start your day with some pulsating mountain climbers for weight loss and stronger muscles. Know the right way to do this exercise
Lethargy creeps over the body when regular workouts become monotonous, especially during this pandemic when gym workouts are not feasible, and we end up doing it in the same area where we do everything else. Today I would like to emphasise on a full-body workout exercise which doesn't need much space and can be done in less time, keeping ourselves motivated. One such exercise is mountain climbers, which is a full-body workout that pumps up shoulders, chest, legs and especially abdomen area. Mountain Climber is a killer exercise that speeds up your heart rate and your core to strengthen the shoulders, arms and stomach area. Mountain climber exercises work on almost all the muscles of our body like deltoids, biceps, triceps, chests, oblique, abdominals, quads, hamstrings and hip.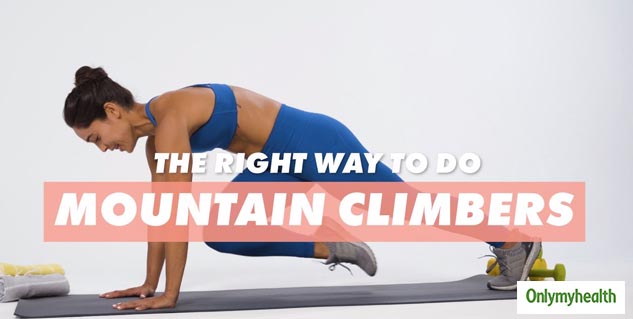 How To Do Mountain Climber Exercise?
Do it the simple way: as a beginner while doing mountain climbers the form of the body is most important:
Form a simple plank position to start with keeping palms aligned to shoulders and body parallel to the ground.
Take one step forward at a time up to the chest and take it back, same for the other side. One rep is counted when both sides have come forward up to the chest and back to form a plank.
Do 5 sets of 15 reps each.
TIP: muscles are heated up by the end of this workout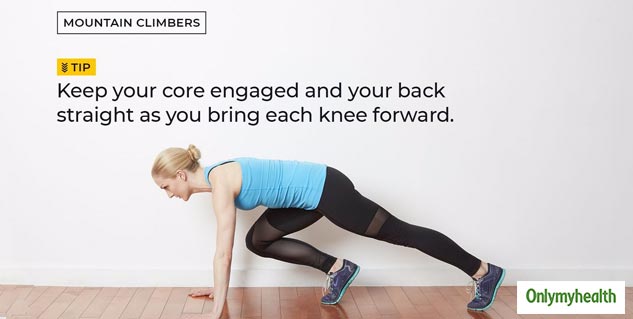 Also Read: Plank Exercise: The Right Way To Do Planks, Types Of Planks And Precautions For Maximum Benefits
Mountain Climber Tips
Remember, body posture is most important because this impacts your back too. Hence, follow these steps to do the mountain climber exercise without any workout injury:
Form a simple plank position to start with keeping palms aligned to shoulders and body parallel to the ground.
Take one step forward at a time up to the chest and take it back, same for the other side without a break. Knees should come up to the chest and without letting the rhythm break.
Do 150-200 reps in sets of 20/25.
TIP: Muscles will all be heated up by the end of this workout and time for a homemade energy smoothie
What Are The Variation In Mountain Climbers?
To increase the impact of mountain climbers, you can hold the plank position on elbows than palm ( known as drunken planks)- these especially impact the upper abdomen area.
Planks particularly impacting the side fat- hold plank position on palms and take your legs sideways than taking them to the chest, try touching your elbows with your knees. This is a slow form of mountain climbers which needs proper breathing while doing reps.
Watch: Remember to release breathe completely to impact your abdominal area. Watch video to take a tutorial:
What Are The Benefits of Doing The Mountain Climbers?
Following are the benefits of doing a mountain climber exercise:
Mountain climber workout is a cardio exercise. It is beneficial to have a healthy heart.
This mountain climber exercise reduces fat from your body and helps in weight loss.
Mountain climbers exercise considered to be very good for increasing your stamina.
Mountain climber workouts are beneficial for developing chest muscles for men.
Mountain climber exercises are beneficial for strengthening your core.
It helps in increasing endurance and agility.
Mountain climber exercise helps to stabilise your upper body such as shoulders, hands and chest.
Mountain climber Exercise improves your body's blood flow and makes the body flexible.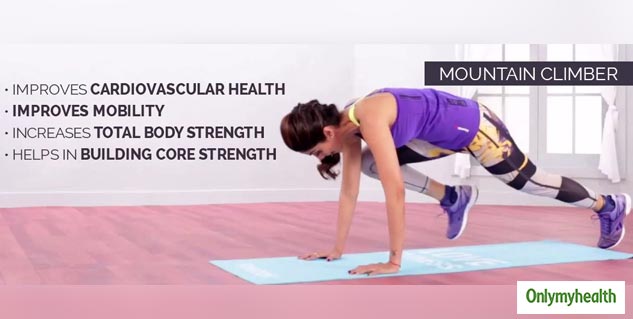 Also Read: Burpees For Core Strength: Health Benefits, Steps And Precautions While Doing Burpees
Common Mistakes While Doing Mountain Climbers
These are the common mistakes that one makes while doing mountain climbers. Read below to stay safe from such errors:
While exercising, you need to take care that you are doing it correctly and safely. When doing mountain climber exercises, you only jump on your toes. You may find it difficult at first, but later you will be able to do it quickly.
When doing mountain climber exercises, putting your feet in and out can cause your toes to hit the floor. Keep in mind that while increasing your speed in mountain climber exercise, elevate your feet thoroughly so that fingers do not hit the floor.
Read more articles on Exercise & Fitness