Monsoon, in every way, brings out life and energy. From grownups to children, there is something so special about monsoons that we all have a story to share. A soaked and liberating walk and finally a 'garam chai' with some home-made delicacies are surely soul-satisfying. No food comes closer to satisfaction than some age-old Indian delicacies that are hard to resist. The rainy season has something in the air, and there is a craving for fried dishes. As you are making these at home, you can be assured it is healthy and hygienic. Three home master chefs of Homefoodi share with you some simple and yet delicious Monsoon recipes to set your tongues wagging.
SAMOSA: Delicious potatoes mixture filled in cone-shaped sough and deep-fried. This simple recipe involves the making of Mixture and Dough separately before using the two to make a Samosa.
PREPARATION TIME: 30 Minutes.
COOKING TIME: 15 Minutes
RECIPE BY: Sandhya Chaturvedi, Mummy's Kitchen.
SAMOSA INGREDIENTS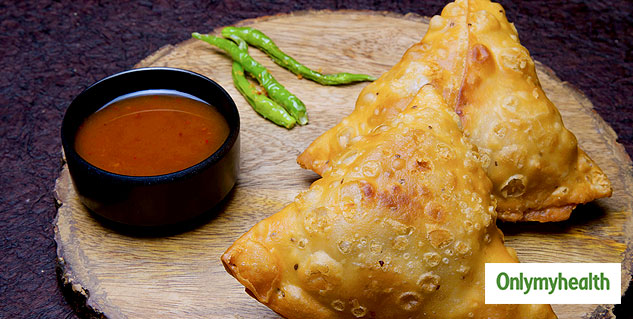 2 cups of maida.
Four potatoes, 1/2 cup green peas, two green chillies, coriander leaves, ginger paste.
1 tsp each of salt, chaat masala and garam masala, 1/2 tsp of ajwain, chilli powder, cumin powder, 3/4 tsp jeera and a pinch of hing.
Water for the dough.
Vegetable oil for frying.
SAMOSA COOKING INSTRUCTIONS
Boil the potatoes in a cooker for 10 Minutes. Crumble the potatoes and set aside.
Add two spoons of oil in the pan. Add green peas, green chillies and ginger paste and sauté for about 2 minutes. Now add all the spices shared in Point 3 above. Add the crumbles
potatoes now and mix well for 2-3 minutes. Add coriander leaves and cover this mixture.
Mix the flour, ajwain and salt. To make it into a dough, add water. Add one spoon of oil to make the dough soft.
Make the dough balls and make them like large-sized circular Indian chapati. Cut the circle into halves. Take each half and give them the shape of a cone by joining the edges and sticking them with some water.
Add the mixture into these cones from the top and close it pressing with your hands and applying some water. Take a kadhai and deep fry these cones filled with the mixture to golden and crispy samosas.
CHICKEN PAKODA: Healthy and irresistible pakoras made with minced chicken, onions and fried to make it crispy light brown. Mouth-watering evening snacks!
PREPARATION TIME: 20 Minutes.
COOKING TIME: 10 Minutes
RECIPE BY: Monika Chatwal, Monika's Kitchen
CHICKEN PAKODA INGREDIENTS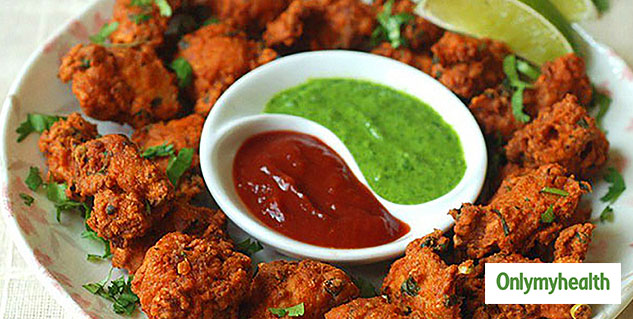 250 grams minced chicken.
1 onion, two green chilly and chopped coriander leaves.
½ cup gram flour (besan).
1 TSP each of jeera (cumin seeds), turmeric powder (Haldi), red chilli powder, salt to taste.
Vegetable oil for frying and some water for the batter.
CHICKEN PAKODA COOKING INSTRUCTIONS
Wash the minced chicken and add the spices detailed in Point 4 and keep aside for about 10-15 minutes.
Take a Bowl and mix the spiced minced chicken with finely chopped onion, green chillies and gram flour.
Add water and mix well so that they the batter is relatively thick.
Make small shapes (round or otherwise) of this mixture and set aside.
Take a pan and heat 2 cups of oil on medium flame. Slowly drop in all the batter and fry till they are golden brown. Serve it with chutney or tomato ketchup.
JALEBI: Juicy, crispy and a must-try at home recipe during the monsoon reason. An all-time favourite Indian the desert that is oozing with sugar syrup and just timed for the rainy season.
Also Read: Promising Skin Care Benefits of Walnut Oil Explained By Renowned Dermatologist
PREPARATION TIME: 30 Minutes
COOKING TIME: 15 Minutes
RECIPE BY: Shilpi Jain, Khana Dil Se
JALEBI INGREDIENTS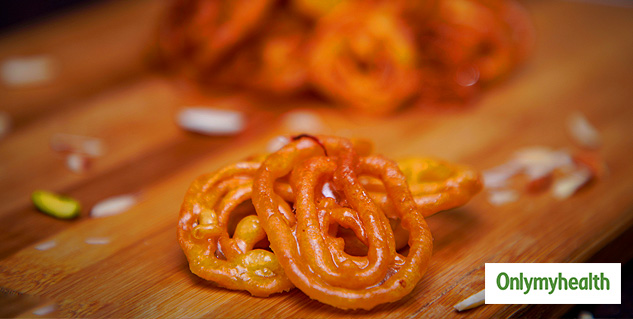 One cup all-purpose flour (maida) and two spoons corn flour.
One cup sugar, 1 cup water and ½ cup curd.
1 TSP lemon juice, ½ TSP cardamom powder and ½ TSP lemon juice.
Three cups vegetable oil, 2 TSP ghee.
A squeeze bottle to shape the jalebis.
JALEBI COOKING INSTRUCTIONS
Take a Pan and mix 1 cup sugar and ½ cup water. Boil it on medium flame till it reaches a right consistency of a syrup. Add lemon juice and cardamom powder and set aside.
Take a bowl and add ½ cup curd, ½ cup water, maida, cornflour and turmeric powder. Mix it well to form a consistent batter.
Pour the consistent batter into a squeeze bottle.
Take a kadhai or a pan and heat the oil and ghee on a medium flame for about 5 minutes.
Squeeze the bottle in a circular pattern to create spiral-shaped jalebis. Take a drainage spoon and keep tilting the jalebis till they turn golden in colour.
Read more articles on Healthy Diet