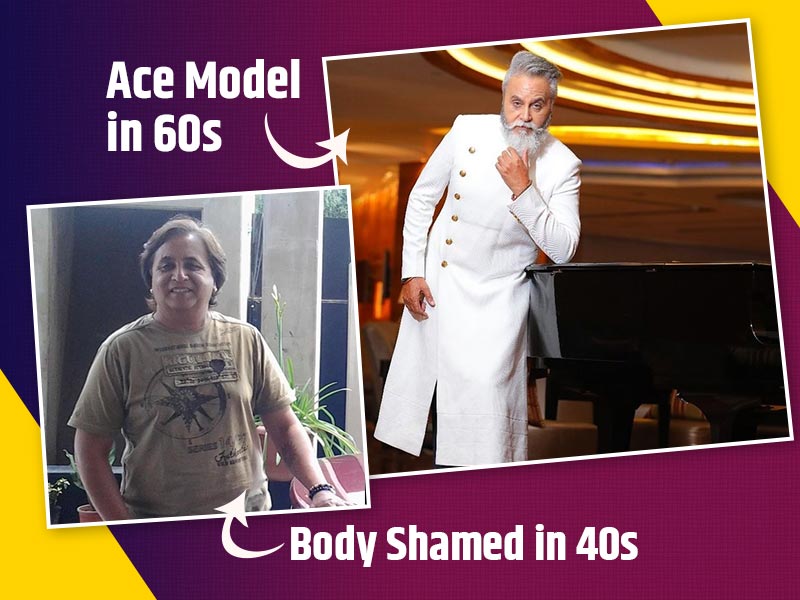 "When you believe in something, you can move mountains", this is not just a quote but a truth of life. All you need to need to move mountains and bring change in your life is Faith. Dinesh Mohan who once was a common man is now a reputed senior-age model. Nothing was overnight, it took him over a decade to create a personality and find his calling. From being a couch potato to an established face in modelling industry, Dinesh Mohan is an example of how you can shape your life the way you want it to be. In an exclusive interview with onlymyhealth, Mr. Mohan shared his life story on how he lost over 50 kilos to become the fittest self in the late 50s. Scroll down to read it.
Fat in Forties
Dinesh Mohan looks fit and fab now but if you look back at his old photos, you would see a fat man with average looks. Yes, he was just a common man who gained 135 kilos in his 40s. With no aim, no goal and no motivation in life, he spent almost all his time eating and lying in bed. There was nothing else that he would do which obviously led to massive weight gain. He would find it hard to move an inch. "Going out to buy something at 100 metres distance from the house seemed like winning a gold medal to me", recalls Dinesh Mohan. You can anticipate the level of laziness and discouragement he was dealing with at that time. No friends, no social life and no emotional support worsened things for him. People started to body shame him because of his weight gain and physical appearance that made him isolate himself completely.
View this post on Instagram
Weight Gain, Illnesses and Mental Health
"My life became a struggle because of my weight"- Dinesh Mohan
If you constantly gain weight and do not work to manage it, you are putting yourself at stake of physical and mental health woes. Isolation and giving up on life made him depressed. He would find solace in food and so, whenever he felt low or depressed, he would eat and repeat. In his words, "he would finish everything edible that he would find in the house." Overeating led to obesity and that triggered high blood sugar(diabetes) and heart problems. Not just that, he also told onlymyhealth- "Depression pushed me to contemplate suicide."
Also Read: Why People Commit Suicide? How Can Suicides Be Prevented? Psychiatrist Explains
He stopped looking in the mirror as he disliked the way he looked. Due to lack of motivation, all he did was ignore looking at the mirror as well as a weighing machine that indicated weight gain. He hated himself so much!
View this post on Instagram
Diagnosed With Benign Positional Vertigo
Sharing an incident he told us that there was this one day when he couldn't get up from the bed. He tried over 20 times to get up but in vain! Upon consulting a doctor, they found that he has benign positional vertigo which is a condition wherein a person loses body balance in a particular position. This was the red flag that he took seriously.
How has self-realisation helped cope up with bodyweight issues?
Finally, one day he realised that he need to work on his body to live a meaningful life. Slow and steady wins the race and that is exactly how Mr. Mohan carved his way to success. Self-realisation changed him for good to cope up with body image and weight gain issues. He finally took small steps towards fitness.
Also Read: Diksha's Journey Of Struggling With Weight Issues To Winning The Title Of Miss Body Fit
Changing food habits- First things first, switch to a healthier lifestyle by eating healthy and clean. As per experts, 80% of weight management is done through dietary modifications. Mr. Mohan switched to healthy eating and this showed astonishing results as he lost almost 50 kilos in 8 months.
View this post on Instagram
Physical activeness- Slowly, he started working out and this made him fit in fifties. When people started complementing his transformation, that is when he started looking in the mirror again. This gave him the much-needed confidence boost.
From 135 kilos to 80 kilos: The Journey So Far
At 57, he joined modelling industry. This is considered as retirement age but this was just the beginning for him. Indeed, age doesn't matter if you are determined to transform your life. One random audition changed his life forever. He found his calling, finally! In the late 50s, he understood what he wants in his life. Now, he is a successful model and actor. He would have lost the battle if he didn't dare to change his living. This shows that beginning is when you start.
Dinesh Mohan's story is inspiring for one and all. Despite facing health issues, you can still make your life worth living by taking the necessary steps. Losing 50 kilos is not easy especially when you spent a decade living a couch potato life. It is all about understanding and implementing the changes.