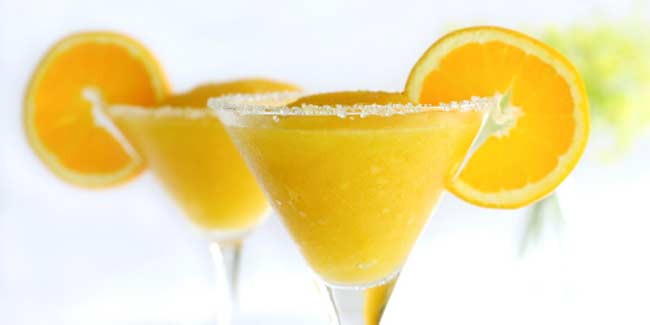 Imagine your summers without mangoes. Did that give you jitters? Yes, spending summers without the kind of fruits seems to be impossible because apart from its juicy and tangy taste, mango gives you a lot of health benefits also. The fruit is loaded with vitamin A and C which helps in boosting immune system and many researches have shown that mangoes can very effectively prevent cancer as well.

Eating a chilled mango slice is always a refreshing option but, an icy cold mango drink will be even more a thirst quencher for your soul. So, here are a few recipes which will help you fight the heat.
Mango-Peach Smoothie Recipe
Ingredients
Peaches
Mangoes
Soy Milk
Orange Juice
Method
For this simple yet tasty recipe, all you need to do is just put peaches, mangoes, soy milk, and orange juice in a blender and make a puree. Once the puree is smooth, pour it in a glass and serve cold. Garnish it with fine cut mango slices.
Mango Lassi Recipe
Ingredients
Mango—1/2
Mango yoghurt—1 packet
Mango puree—120 ml
Sugar syrup—45ml
Milk—100ml
Ice—6 cubes
Method
Put all the ingredients together and blend them in a mixer. Once the mixture is smooth, pour it in a highball glass and garnish with small mango slices.
Mango Ice Tea Recipe
Ingredients
Sugar syrup
Mango Puree
Mango Juice
Method
Take a pale lager and put some ice cubes and sugar syrup into it. Meanwhile, in a cocktail shaker mix mango puree and mango juice. Now slowly pour the mixture in the glass in a way that it floats on the syrup. Pour the tea and use mint sprig to garnish. You are ready with your refreshing mango ice tea.

Mango Passion Fruit Smoothie Recipe
Ingredients
Yogurt—170 gm
Passion fruit purree—20ml
Chopped alphonso mango pieces—200 gm
Ice cubes—6
Skimmed milk—20ml
Method
Blend all the ingredients together and if you are health conscious, you can add some protein powder to it.
Mango Milkshake Recipe
Ingredients
Mango slices
Cardamom seeds
Sugar
Milk
Vanilla/Mango ice-cream
Method
Peel off mango slices and in a blender put them along with cardamom seeds, sugar, and milk. Make a smooth puree and check if more sugar is needed. Add another cup of milk and one scoop ice-cream. Blend once again and check for consistency. If you find it too thick, add some more milk and sugar according to taste.
Mango Slush Recipe
Ingredients
Diced ripe mango--1
Ginger juice--2 teaspoons
Lime juice—2 tablespoons
Sugar—3 tablespoon
Ice- 3 cups
Method
Mix all the ingredients and blend at a very high speed till everything turns into a smooth paste. Blend to an extent that the ice does not melt completely. Let the ice remain in crushed state. Your scrumptious and refreshing mango slush is ready.
Mango Panna Recipe
Ingredients
Raw mangoes
Cumin powder
Crushed peppercorns
Black Salt
Asafetida
Sugar
Method
Bring raw mangoes to a boil and let them cool down. Now, peel them off and strain the pulp. To this, add the remaining ingredients. Keep stirring till the sugar gets dissolved and pour the mixture into glasses and add some chilled water. Stir well and your drink is ready to be served.

So, if you are looking for the perfect drink to cool your head with, take a note of these recipes.
Image courtesy: Getty Images
Read more Healthy Recipes.