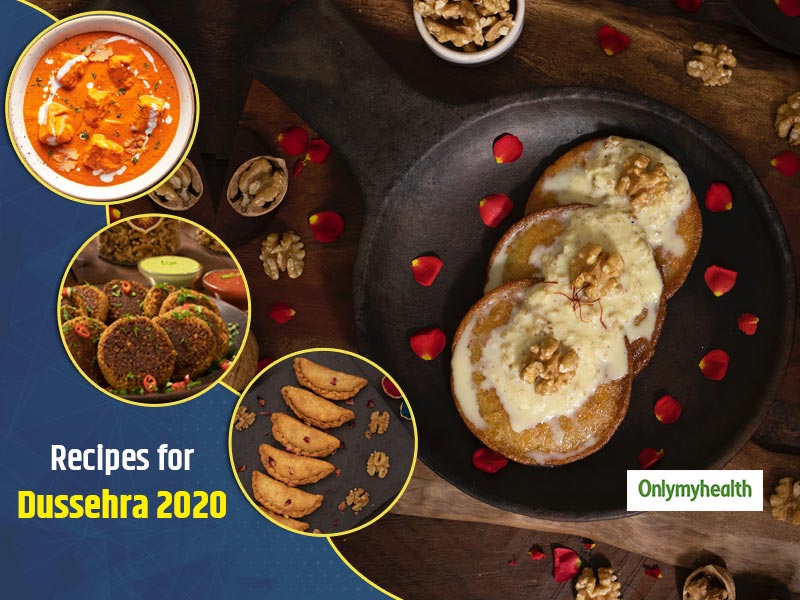 Festival season begins with Dussehra and it certainly calls for a celebratory festive menu. There must be many festive recipes cooking in your kitchen to enjoy the festive fervour and have a gala time with family. Although a lot of you might be thinking to try something new this time, are you? If yes, then you must check out these amazing recipes that we have collected from different chefs and culinary experts to decorate your dinner table.
Walnut Malpua by Hemasri Subramanian
To make this delectable malpua dish, you need the following:
All-purpose flour or maida
Unsweetened khoya or mawa
Walnuts
Milk
Sugar
Saffron
Ghee or oil
Rabri
Cardamom powder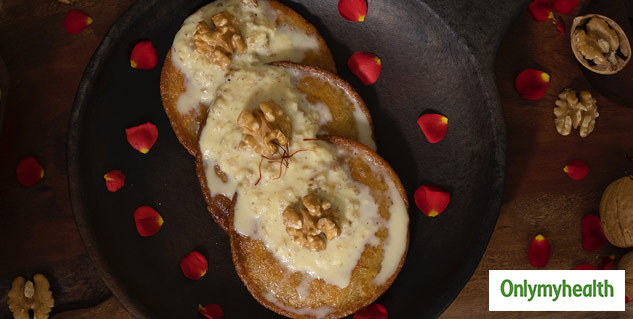 Method
Mix maida, khoya and fennel seeds.
Add water gradually to form a thick batter and keep it aside for 10-12 hours.
Make sugar syrup by boiling sugar and cardamom in water.
Add chopped walnuts to rabri to prepare the garnish.
Now start making malpua by heating oil/ghee in a pan.
Pour the fermented malpua batter after the oil is hot.
Flip it as the malpua turns golden. Fry from both sides.
Now, soak this into the sugar syrup bowl for a couple of minutes.
Pour walnut rabri on top and serve.
Strawberry Chocolate Cups by Chef Kunal Kapur
Ingredients Required:
Melted dark chocolate
Chopped strawberries
Disposable paper cups
Cream cheese
Cream
Sugar
Mint leaves
Method:
Place cups on a tray.
Add molten dark chocolate on them and rotate the cup to coat chocolate layer on the cup. Now, invert the cup to get eliminate the excess chocolate.
Do this with all the cups and keep them in the refrigerator to set the chocolate.
Let's prepare filling in the meantime.
In a grinder, add cream, cream cheese and strawberries. Grind them.
Now, take out the chocolate cups and check if they are well set. Tear the paper and remove the paper.
Fill these cups with cream filling and garnish with sliced strawberries and mint.
Refrigerate and then serve chilled.
Walnut Gujiya by Hemasri Subramanian
You need:
Wheat flour
Maida
Semolina or sooji
Salt
Milk
Ghee
Walnuts
Dates
Dry rose petals
Cardamom powder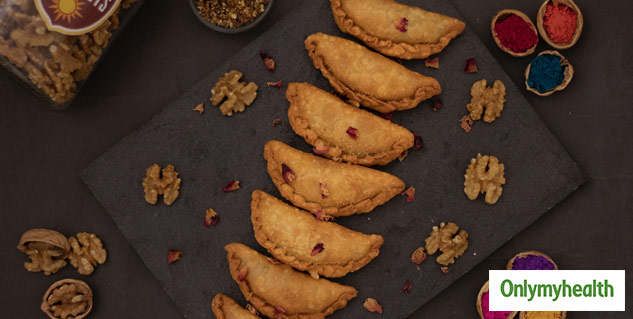 Method
Mix wheat flour, semolina, ghee and salt in a bowl.
Add milk and water to make a soft dough.
To prepare filling, grind walnuts, dates and dried rose petals. Add cardamom powder to it.
Now, take some dough and make balls.
Roll them and then add the mixture in the center.
Seal all the sides using a gujiya maker or manually.
Deep fry these gujiyas and serve hot.
Walnut Paneer Makhani by Chef Sanjyot Keer
Ingredients:
Onion
Tomatoes
Garlic
Walnuts
Paneer or cottage cheese
Ginger
Kashmiri red chillies
Curd
Honey
Oil
Mixed spices
Kasuri methi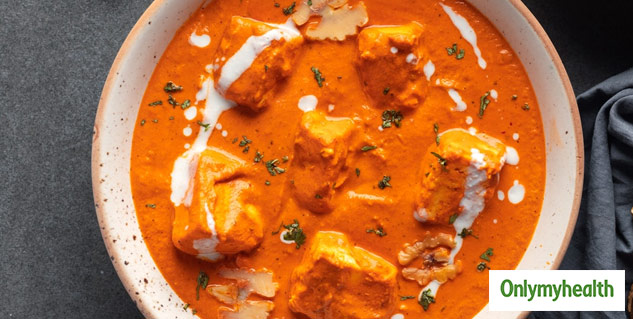 Method
In a pan, add sliced onions, tomatoes, ginger, garlic, red chillies and all the spices. Add two cups of water and cook them for 10 minutes on medium flame.
Now add walnuts and cook for another 5 minutes.
After the mixture is cooled down, grind it to form a fine paste.
In a pan, heat oil or ghee and add green chillies and ginger julienne. Add the gravy after sieving and then simmer the mixture.
Add honey and seasoning as per your taste.
Lower the flame and add whisked curd to it.
Now, add paneer cubes and cook for another 5 minutes.
Add kasuri methi leaves and your paneer makhani is ready.
Peanut Laddoo by Chef Kunal Kapur
Another lip-smacking sweet dish that you can serve your family members is peanut ladoo. Here is the list of all the ingredients that you need:
Skinless peanuts
Singhara atta
Ghee
Dried desiccated coconut
Chopped dry fruits
Melon seeds
Cardamom powder
Method
Dry roast peanuts in a pan until they turn golden.
Let them cool down a bit and then coarsely grind them.
Heat ghee in a pan and then roast singhara atta in it. After it turns brown, add powdered peanuts and mix well.
Take the mixture on a plate and add desiccated coconut, dry fruits, seeds and sugar.
Combine them well and make ladoos.
If you are unable to shape them, add ghee and then try again.
Roll them in dried coconut and serve.
Read More Articles in Healthy Diet