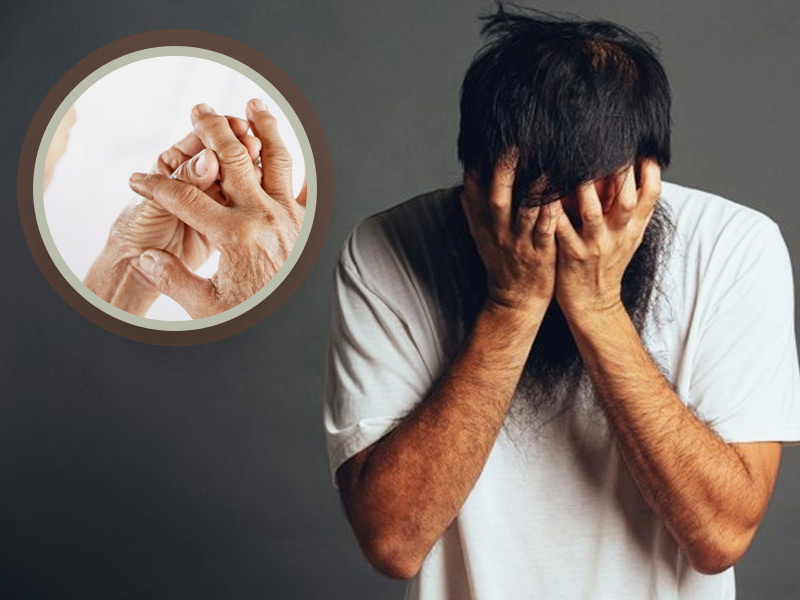 Rheumatoid arthritis (RA) is a condition that causes a variety of physical signs. But people with RA might also be suffering from mental health issues that could be connected to the disease. Mental health is the term used to describe the psychological and emotional health of you, says, Dr. Sonal Mehra, Executive Consultant, Department of Rheumatology, Jaypee Hospital, Noida. Being aware of your mental and emotional health is a crucial aspect of your overall health and wellbeing, and can affect the way you deal with RA.
Mental Illnesses In Rheumatoid Arthritis Patients
Anxiety and depression disorders are among the most prevalent mental illnesses that those with RA suffer from. While anxiety and depression don't display the same physical symptoms as RA however, they have different problems. Being a sufferer of multiple long-term health issues isn't easy. Certain people are affected by depression as well as anxiety and RA on the same day.
If you suffer from RA it is essential to take into consideration your mental health, as well as your physical condition. There is a possible connection between RA and certain mental health issues, including depression. The treatment you seek for a mental health issue could also assist you in managing RA more efficiently. If you're worried about your mental well-being, speak to your physician about what treatment options and resources are available for you.
The link between depression and rheumatoid arthritis
Stress causes pain Stress triggers the release of chemicals that alter the mood. It's more difficult to sleep, and stress levels could increase. In simple terms, depression and anxiety are known to increase the pain or make it harder to manage discomfort.
Concentrating on RA and not taking care of mental health problems such as depression or anxiety, can result in diminished quality of life. People may notice a decrease in various aspects of their daily life. They could experience more pain and a higher risk of developing heart disease. Personal relationships as well as productivity at work can also be affected.
Researchers believe that patients who were depressed prior to the time of the onset of rheumatoid arthritis might be less responsive to the treatment for rheumatoid arthritis. Further studies are needed to establish the precise connection between different forms of arthritis, and depressive symptoms.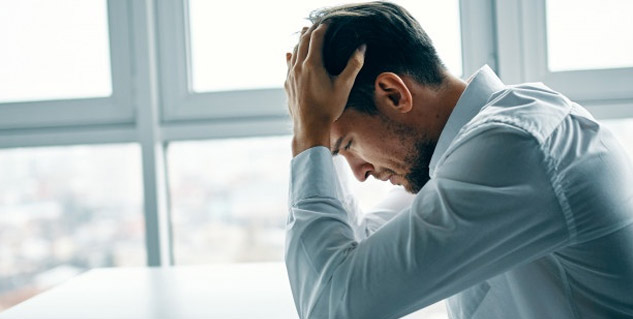 If depression is not treated, those suffering from rheumatoid arthritis could cause:
Greater pain
Increased risk of heart illness and heart attacks
Inefficiency at work
The increased risk of economic difficulty
Inadequate friendships with family and friends
Depression can be under-diagnosed
The relationship between mental illness and arthritis is widely known, however, those who suffer from RA aren't always checked. This can result in not being treated for mental health issues. Many people are hesitant about speaking out about their mental health concerns or be concerned that their doctor will overlook their mental health symptoms. However, finding the right options to handle your mental health efficiently is crucial for your overall health. So whether you consult your physician, consult an individual therapist or join an organization that offers support There are a variety of ways to improve issues with your health.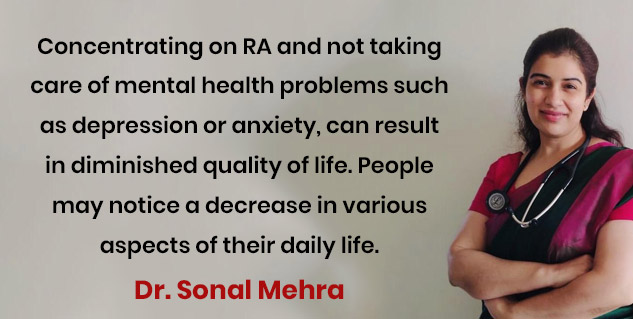 How to manage mental health in rheumatoid arthritis patients?
Rheumatoid and depression often occur in conjunction. Even though this is widely known that people suffering from rheumatoid arthritis typically aren't tested for depression, and it's possible that depression isn't recognized or treated. Research suggests that when depression associated due to rheumatoid arthritis doesn't get addressed and treated, the treatment for Rheumatoid Arthritis itself may be less efficient.
It is unclear if depression and anxiety among people suffering from Rheumatoid Arthritis are the results of physical signs, or if they are another symptom that is caused by the systemic, chronic inflammation of rheumatoid arthritis.
It is well-known that those with depression and rheumatoid arthritis that are both present together will benefit from treatment in the event that both conditions are addressed.
While different medicines can be prescribed for rheumatoid arthritis or depression, there are many ways that can help in addressing the emotional and physical manifestations of these conditions, including:
Regular exercise
Stress management techniques
Support groups and friends experienced the challenges of both the
If you are concerned regarding depression, anxiety or mood changes inform your doctor. Your doctor can discuss your symptoms, ask further questions, and recommend options to make lifestyle changes as well as treatment.
Image Credits- freepik