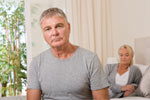 Erectile dysfunction can be easily reversed by making and following lifestyle changes such as exercising and eating the right food.
Listen to your doctor when he says that you can reverse erectile dysfunction with lifestyle changes because he is right.
Reducing weight, improving nutrition levels, exercising more, drinking less alcohol and sleeping better at night can help in bringing sexual pleasure into one's life, says a relatively new and promising research.

According to the researchers at University of Adelaide, men who suffer from sexual dysfunction can sucessfully reverse their problem by focusing on certian lifestyle changes and not just depending on medication. A professor from the University said that the inability of a male to perform well sexually can be linked to a variety of health problems some of which can be fatal im nature.

Apparently, the risk factors for erectile dysfunction are mostly physical conditions and rarely psychological ones as is popularly believed. These conditions could be obesity, sleep difficulties, age, obstructive sleep apnea and higher levels of alcohol intake.

The study found that a large proportion of men who had erectile dysfunction recovered from it naturally, implying that these conditions can be easily modified. For the study, the researchers highlighted incidence of erectile dysfunction and the lack of sexal desire. They followed 810 men who had erectile dysfunction for over five years.

The researchers added that even though medicines may come into play in treating the condition, nothing works better than lifestyle changes. Erectile dysfunction is a serious issue that can be a sign of heart problems.
Article source: Zee news
Image Source: Getty Images
Read more Health News.