Poha is flattened rice and a popular breakfast in Indian households. Poha is very healthy for our body. It can be eaten in a variety of ways namely the traditional way of frying it with peanuts, curry leaves to make a delectable offering or make a homemade chivda by mixing cereals, dried figs, wafers, sev and then do a tadka (sauté) with oil, mustard seeds, hing, turmeric powder, red chilli powder, jeera powder, salt and pepper as well as black salt. Other ways of eating poha are with spicy bhujia and jalebi/imarti as well as in a mixture of potato mash and crunchy sev. It is very easy to prepare and pairs well with greens like peas, coriander and chilli.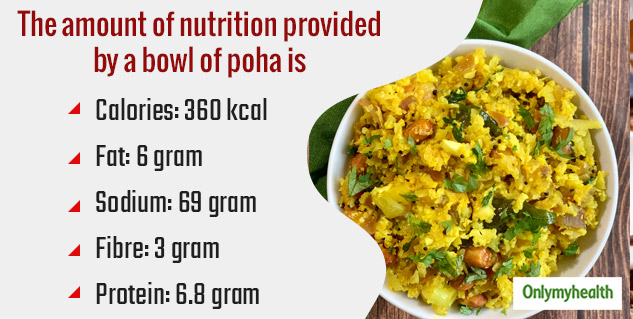 Savoury is not the only option with poha as you can go sweet as well by adding sugar to please all your taste buds. Sweet poha can be prepared by soaking in jaggery mixture and is cooked until dry. Apart from deliciousness it also helps you in staying away from all those calorie-laden meals that cause you to put on unwanted weight.
Numerous benefits of eating poha are as follows:
Also Read: How To Treat Sore Throat Overnight Ginger?
Helps Diabetics
Poha helps in controlling blood sugar levels which makes it good for diabetics. It is rich in fibre which helps in promoting slow and steady sugar release in the bloodstream thereby reducing the chances of the spike in blood sugar levels significantly.
A Good Probiotic
Poha is made by parboiling paddy and then drying it out in the sun for a few hours. This dried paddy is beaten flat to make poha with the finished product undergoing fermentation thereby retaining the microbial flora that is very healthy for the gut as it has many digested carbs and proteins.
Also Read: Consume These 3 Detoxifying Drinks To Nullify Harmful Effects Of Pollution
It is light on the stomach
Poha is very light on the stomach as it is easy to digest which makes it ideal to consume both in the early morning and in the evening. It keeps one feel satisfied for a long period and doesn't cause any bloating.
Rich in Iron
One of the stages in the preparation of poha is passing of the rice through iron rollers as the flattened rice retains some of the iron. It is best had with lemon which accentuates the iron content in poha also helping your body absorb it. Pregnant and lactating women are asked to eat poha as they are at a higher risk of gestational anaemia.
Low in Calories
A bowl of cooked poha has around 250 calories along with several essential vitamins, minerals and antioxidants due to the presence of curry leaves. Poha fills your stomach without you putting on any weight in the process. Adding vegetables and cooking it in coconut or olive oil increases poha's nutritional value and at the same time keeps the calorie count to a minimum.
(Inputs by Dr Neha Pathania, Nutritionist, Paras Hospital, Gurugram)
Read more in Healthy Diet