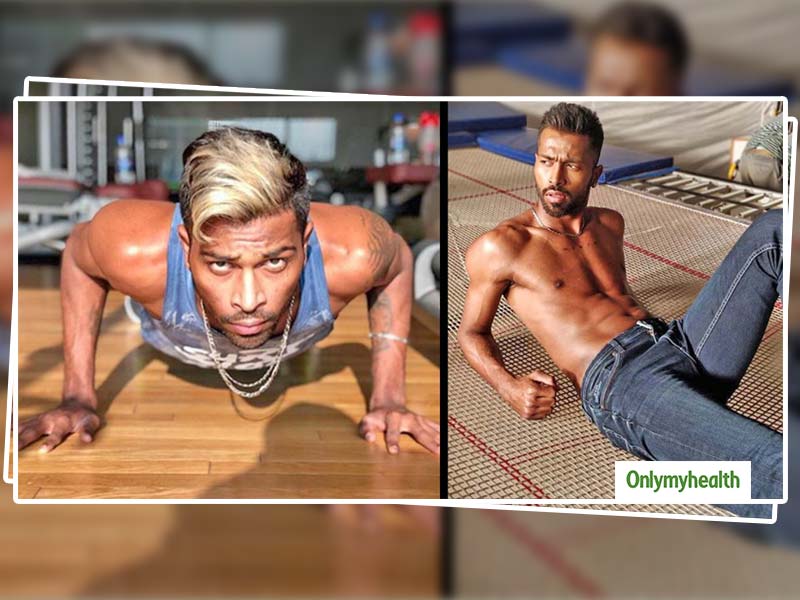 As India stands victorious in all the world cup matches held till the India-Afghanistan match, Hardik Pandya's stellar performance is a result of his love for fitness and a proper diet, giving major fitness goals to the rising cricket stars
The Indian cricket team is all pumped and ready to battle against West Indies on the cricket ground on June 27. One start to notice on the field in all the previous matches is undoubtedly Hardik Pandya. With his unconventional looks and fitness game on point, he is undoubtedly the talk of the town this ICC World Cup season. The sole aim of this dapper cricket player is to bag that World Cup Trophy in 2019. An all-rounder in all cricket formats, Hardik Pandya, loves to hit the gym in his free time and ensures that he sweats it out to maintain the physical fitness required to play exceptionally on the field.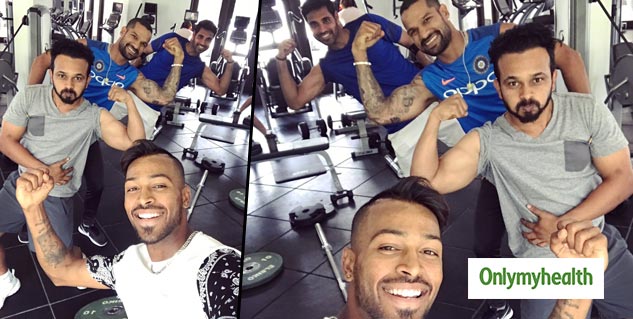 Taking inspiration from Virat Kohli's fitness, he once said in one of his interviews, "Virat Kohli is far ahead of us when it comes to fitness. He has set the tone for the young cricketers."
Hardik Pandya Fitness
Even before making it big in the cricket arena, Hardik shares that he was always into fitness and indulged in running and sprinting in open grounds before he had access to any gym. Even till date, he loves to run for warm-ups before intense workout sessions in the gym. Hardik Pandya's fitness training is all about core exercises, which includes squats, power weight lifting, push ups, pull ups. Weight sit ups and crunches. Most of the core exercises done by Pandya are targeted towards enhancing his upper body strength, giving definite shape to his triceps, shoulders and pectoral muscles. He shares, "Enhances fitness helps him bowl fast and better. Due to regular exercising, I now bowl above 140 km/ph.
The most crucial exercise of Pandya's workout is leg squats. Pandya performs leg squats with the help of a large rod and a heavy plate. This exercise should be done based on the individual's stamina and capacity.
Also read: The Secret to Mohammed Shami's Resurgence with a Timely Hat-Trick
Takeaways from Hardik's Gym Routine:
Exercise as per the body's capabilities and stamina
Work on core strength as it enhances the bowling speed
He believes in running as a great warm-up exercise before hitting the gym
One should value the time of eating and training on time
Hardik Pandya Diet
Hardik was never really into taking a proper diet. However, taking inspiration and listening to Captain Virat Kohli, he makes sure to take an appropriate diet. For the workout schedule followed by him, he ensures that his food has an excess of proteins, which helps him appropriately transform his body. Following are a few staples that can be found in the cricketer's diet:
Breakfast - The breakfast is all about fresh fruits and nuts. Other food options include:
Green Tea/Coffee/Fresh Juices, etc
Low-fat cheese
Chicken breast/soy
Boiled eggs
Almonds/cashews/raisins
Multigrain breads
Also read: ICC World Cup 2019: Despite Injury, Opener Shikhar Dhawan Hits the Gym to Get Back to Fitness
Lunch – The lunch options include:
Soups
Indian breads
Vegetables tossed in mild spices and less oil
Curd
Steamed/Curd rice
Pulses of various kinds with a serving of clarified butter
Coconut water
Dinner – The dinner primarily consists of
Salads
Soups
Paneer/Tofu/Boiled Chicken
Steamed Rice
Pulses
View this post on Instagram
With a rigorous workout schedule, it is essential to understand that starving is not the solution. Hardik believes that one should be truthful towards their workout schedule and try not to skip for maximum results.
Read more articles on Exercise and Fitness