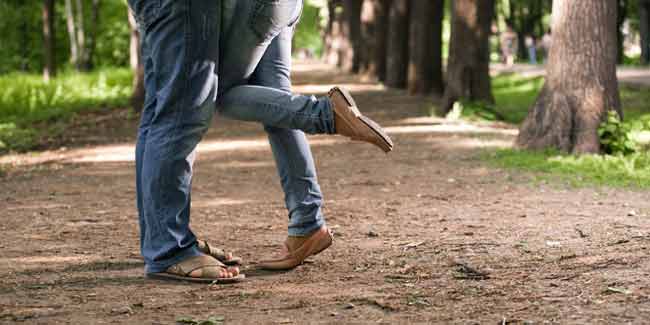 Keeping your relationship hot is hard. If you want to know how to spice up your romance with your boyfriend, follow these easy steps.
When was the last time you used words like "hot" and "thrilling" to describe your relationship with your boyfriend? The spice usually tends to fade out with the end of the infatuation phase.


Get inspired by E.L. James's erotic trilogy and feel a bit frisky- make an open effort to take your relationship with your boyfriend to a whole new level. If you don't know how, read on.

Share a Longer Hug
A few seconds of embracing your man is not enough. Hold on a bit longer. Hug your man for at least 20 seconds- it increases the levels of "love hormone" (oxytocin) in both men and women and makes you feel closer.

Switch off the Flat-Screen
Switch that idiot-box off and be each other's primetime entertainment. Zone out of the reality show and de-stress with your partner. Offer him a massage or just light a candle and unwind in bed without any distractions. Night focussing on each other can lead to many wonderful things.

Send Racy Messages
The most mundane daily routine can become fun, flirty, and clever- with "sexting". Send him discreet and naughty messages from wherever you are- the boardroom, grocery store or alike. It will build his anticipation and the desire for between-the-sheets action.

Drop a Love Note
Handwritten love notes are considered a thing of the past but their power is under-estimated. Expressing your love in your own handwriting makes things easier than saying it aloud. Make it a priority to send a sweet email, sexy text message or some other little gesture on a daily or at least a weekly basis.

Express Your Wants
If you are upset about your boyfriend never giving you a massage, it is because probably you haven't told him that you like it and he might fear getting things wrong. Men feel pressured and women have to understand that. Give him a helping hand in understanding you by expressing what you want. Tell him about things you like and dislike.

Be Unpredictable
Leave virtues like dependability and predictability for matters like raising a family and finances. Do not follow them in bedroom and daily life. Mystery can create the romance you are missing. Tell him to expect a surprise on the weekend and take him out for a romantic date to a newly opened chick restaurant.

Affirm his Self-esteem
Find out what your boyfriend likes and do it for him. Shower him with compliments or do something special for him. Tell him as often as possible that he is the sexiest man you know. Assert that he is still the hot guy you thought he was when you had met first.

Make the Effort
Do you make an effort to spend quality time with your boyfriend? Do you remember the last time you both talked at night late till morning? Do not put off talking to your boyfriend or meeting him because you are too tired or you have to complete just a little more work at office. Value his company!

Learn a New Skill Together
Art of massage, working out to a dance DVD, cooking your favourite cuisine- options are endless; you both must learn new things together. This will works two ways for you- physically you can spend fun time together and emotionally you can enjoy your private moment together while rehearsing your new lesson.

Go Stargaze
Only a few activities are as romantic as watching the stars together. Check out if any colleges near your place have an observatory, if not, you can still carry your binoculars, sky map and little refreshments to the backyard and point out constellations together.

Spontaneity lies at the heart of spicing up your relationship. Breaking the routine may be all that it takes to create a romantic atmosphere for you and your boyfriend.
Read more articles on Intimacy.