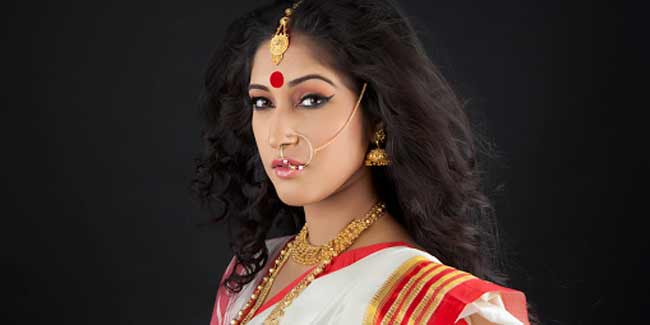 Even if you are not born a Bengali, you can still look like a Bong Beauty with the correct eye makeup. Here's how.
A Bong can be identified by her big, almond-shaped beautiful eyes. A lot of girls wish they were born Bengali just because they admire those eyes. While natural eye shape is of course important, makeup can do a lot to help you flaunt the Bengali look. And what could be a better time to present this tutorial on how to get the perfect Bengali eyes with makeup than Durga Puja?! You may thank us later.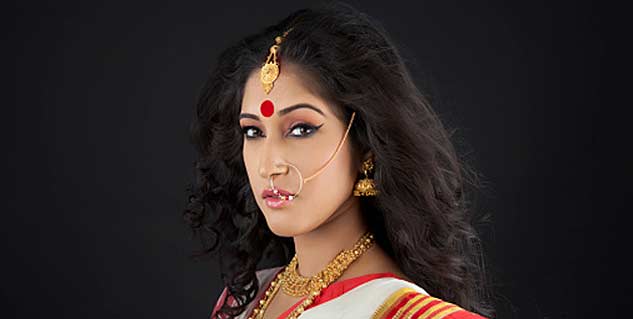 Step 1: Using a pencil brush, fill in dark brown eye shadow in the sparse areas of your eyebrows. You could go a bit darker than you usually do as it will help you achieve the perfectly natural Bengali look.

Step 2: Apply golden eye shadow below your brow bone to further enhance your groomed eyebrows. Dabbing on some beige or peach eye shadow on the inner half of your upper eye lid gives a much better look however, you may skip this step if you are in a hurry.

Step 3: Now, draw a thick "V" on the outer corner of the upper lid and blend it inwards using Q tip or your finger. Then, using a fluffy brush, apply brown eye shadow on the crease to blend out any harsh lines.

Step 4: Next, draw a thick winged line on your upper lash line. You might want to use a liquid eye liner instead of a gel one for this to get a cleaner look. You can extend the wing as much as you like.

Step 5: With a steady hand, draw a thin line a little below the lower lash line that should end right at the centre. This is done to "lift" the eyes up and give the illusion of almond eyes. Add kohl on the waterline, curl your lashes and wear loads of mascara.


The final step is to wear a red bindi! It adds the ultimate glow to the face and without it, you cannot look Bengali. Add a hint of nude coloured lip gloss to your puckers and there you are. By the way, Happy Durga Puja!


Image Source: Getty

Read more articles on Eye Makeup.