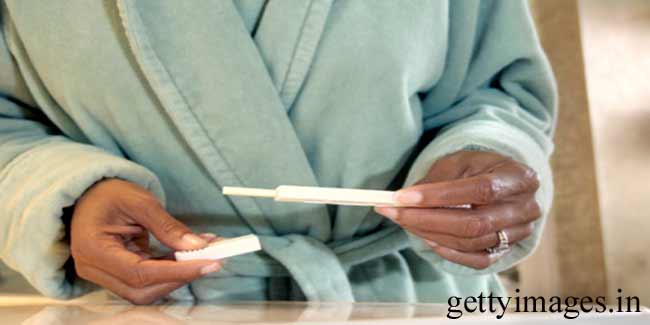 You sure enough use a pregnancy test kit with much excitement, but do you know how it works and what is the science behind it? Know all about your pregnancy test kit.
Symptoms of pregnancy leads you to take the home pregnancy test with much excitement. It is important that you understand how they work.
Pregnancy test kits are regarded as the easiest way to monitor early pregnancy. One can use these kits after 6 to 15 days from egg fertilisation. Most of the pregnancy test kits work on the aspect of determining the level of hCG (human Chorionic Gonadotropin) in a urine sample. Testing positive or pregnancy is indicated by subsequent rise in concentration level of hCG. Even though pregnancy test kits are considered reliable , but it is recommended to consult doctor before making further conclusions.


Using a Pregnancy Test Kit
Unpack pregnancy test kit from its packaging.
Collect urine sample in unused small container. Container must be dry and should be either of glass or plastic.
Remember to abstain from liquid intake before testing so that hCG concentration is not affected.
Morning sample of urine is considered the best as it has highest concentration of hCG. Although, specimen of any other time can also be used.
Hold the kit vertically with its arrows pointing down.
Slowly dip test kit into urine sample for three to four seconds.
Ensure that dye has reached the result area, if not dip kit again as per guidelines mentioned on kit packaging.
Leave test kit on a horizontal plane and wait for appearance of colour band.
You need to wait for colour change, as it may have affected by concentration of hCG in the urine specimen.
Result is usually reflected in 40 seconds, but it is advised to wait for at least 5 minutes for confirmation of negative test. Average reaction time will be mentioned on in kit cover by the manufacturer.
Test Results
Positive: Two unique bands appear in control and test regions to confirm pregnancy test results. Colour contrast of the band usually depends on different stages and levels of hCG.
Negative: Negative outcome of result is indicated by appearance of single band instead of two. Colour band appears in the control region but there is no such appearance of colour band in the test region.
Invalid: Testing becomes invalid in case you don't witness any of colour band appearance either in control region or test area. Foremost reasons of test turning out to be invalid are low level of HCG, insufficient urine specimen or non-adherence of procedure. To conduct test again, you must wait for the least of 72 hours.



hCG – The Pregnancy Hormone

The hCG hormone is produced when you are pregnant and is made by cells that from form the placenta. This is responsible for nourishing the egg after it has been fertilized and becomes attached to the uterine wall. The hCG level can be detected by a blood test after 11 days after conception and 12 to 14 days after conception by a urine test.

Low hCG level - If you have low hCG level then you should go back to get it checked within 48-72 hours and see if there is any change in it. Low hCG could mean that there has been a miscalculation of pregnancy date, a possible miscarriage, and ectopic pregnancy.

High hCG Level – In case of high level of hCG too you should get it checked within 48-72 hours just to check if there are any further changes. High hCG levels could mean that there is a miscalculation of pregnancy date, molar pregnancy, and multiple pregnancy.

You do not really need to routinely check your hCG levels unless there are some very sure signs of a possible problem.
Read more articles on Pregnancy