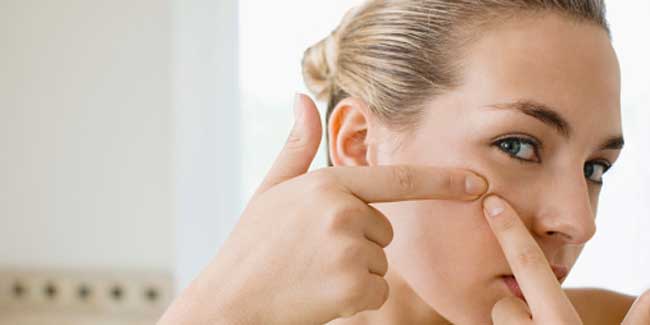 Oily and greasy skin requires a lot of patience and care. Proper cleaning, exfoliating, and moisturizing are an essential part of skin care for oily skin.
Oily skin is a widespread problem which many females go through and so they are always looking for homemade beauty tips for oily skin. Many women experience a shine on their face along with oil which leads to meltdown of their makeup. The oily skin problem has become more prevalent than ever as each one of us is in a race against time to achieve the impossible which has led to sleepless nights and nutrition less diet. In order to protect itself from the exertion, the skin starts producing oils. If you are one of those then this article will help you by sharing great natural beauty tips for your oily face.
Disadvantages of Oily Skin
People with oily skin feel greasy on the face all the time and even immediately after taking a shower, their face starts looking oily and dirty. Oily skin catches dirt and dust very quickly and melts the makeup very quickly. Women with oily skin have to re-apply makeup multiple times a day. The dirt particles which stick to the skin, lead to acne and other skin related problems. If you are also facing oily skin / oily face problem then these natural beauty tips will help you in better skincare of your oily skin. Keep reading for skin tips for oily skin / homemade beauty tips for oily face / natural beauty tips for oily skin.
What Causes Oily Skin?
Genetics
If you have been following proper beauty tips, have following all precautionary measures to avoid the oil production and yet you end up having a shiny oily skin, then it is your genetics which you should be blaming. When oily skin is in the genes, there are chances that every member of the family will experience oily skin. Each family member is at a risk of having larger sebaceous glands which produce excess oil. Still, these natural beauty tips for oily skin will help you in skincare for oily skin. Keep reading for the oily face homemade beauty tips.
Use of Skin Care Products in Excess
In a desire to have a perfectly glowing radiant skin, many females cleanse, exfoliate, and scrub too much. This produces too much pressure on the pores and leads to oily skin. So simple beauty tips is not to use skin care products in excess.
Change in Seasons
In summers and rainy season, humidity prevails in the atmosphere. This leads to high oil production in the skin. During winters, the skin gets dry and dehydrated and to compensate the moisture, it produces oil in excess. For this your besuty tip is to make sure to keep your skin hydrated by using moisturising creams.
Medicines
Medications for hormonal balance can cause skin to produce excessive oil. Also, some medications can dehydrate the skin and in order to compensate for the moisture the production of oil increases in the skin.
Use of Wrong Products
When women use products which do not suit them, the skin starts producing oil in excess. For example, if a person has a combination skin and they start using a moisturizer or cleanser for oily skin, their skin will become over-stripped with oil. The increase in oil production will then take place. Beauty tip for this is to try and use natural / homemade beauty tips and not opt for these products.
Stress
When a person is stressed, the body starts producing androgens hormones which leads to oily skin.
Homemade Beauty Tips for Oily Skin
Taking care of oily skin needs a lot of time and patience. To close the large pores and avoid the greasy appearance, you have to walk some extra miles. Here are some natural and homemade beauty tips to fight the oil that too without knocking your beauticians door every fortnight. These tips can be followed while staying within the comfort of your house.
Cleansing
Homemade Beauty Tip #1 for Oily Skin: The primary step towards cleaning your skin and getting rid of the excess oils, is cleansing. Washing face at least twice a day is always advisable, and for people with oily skin it is a must. Introduce the habit of washing face once in the morning and once before bed time into your routine. Excessive oil on your face leads to extra dirt sticking to your skin. When you wash your face twice a day, it reduces the chances having acne due to dust particles. But, don't over wash your face. Restrict it to only twice a day as excessive washing may strip off the oil and make the condition worse.
Remove Makeup
Homemade Beauty Tip #2 for Oily Skin: Even if you are not in a habit of applying makeup daily but, whenever you do not never forget to remove it. Use a good cleanser to remove your makeup and wash your face before going to bed. Use makeup removing cream and face wash which is especially made for oily skin. You must try to use a face wash which contains salicylic acid.
Acne Fighting Cream
Homemade Beauty Tip #3 for Oily Skin: Once your face is clean, make sure you apply astringent. If you are using an astringent which does not have alcoholic base should not be used more than once a day. Such astringents can make your skin dry. After consulting your dermatologist, apply acne fighting cream once or twice a day.
Moisturize
Homemade Beauty Tip #4 for Oily Skin: Moisturizing the skin is a must. But, while you are shopping for a moisturizer make sure you don't pick the wrong one. Always go for moisturizers which are especially meant for oily skin. The usage of moisturizer depends on your skin dryness. If you feel that your skin dries up after cleaning and applying astringent, you must use moisturizer. You should never go for moisturizers which contain cocoa butter and mineral oils. Moisturizers which are labeled as non-comedogenic are best suited for oily skin.
Sunscreen
Homemade Beauty Tip #5 for Oily Skin: Even if you see clouds in the sky, never forget to put on lots of sunscreen whenever you want to go out. Your sunscreen must have at least 15 SPF. But, do not forget to stick to the one especially made for oily skin.
Homemade Remedies
Apart from taking care of your skin, you can always opt for some homemade remedies which are effective and are very cost effective. Home remedies for oily skin can not only leave your skin oil free but it will also leave your skin blemish free and radiating.
Honey and Apple
Natural Home Remedy #1 For Skin Care of Oily Face: Slice an apple into pieces and blend it. Now add some honey and apply it on your face and leave it for 20 minutes. Remove the pack only with lukewarm water.
Almond Oil
Natural Home Remedy #2 For Skin Care of Oily Face: Add few drops of lemon drops into almond oil and apply it on your face. Do this every day for a month and this beauty tip will give you good results.
Papaya
Natural Home Remedy #3 For Skin Care of Oily Face: Add lemon drops to mashed papaya and mix it up properly. Massage your face with the mixture and leave it for 15-20 minutes. Rinse it with cold water.
Apart from these home remedies, skin care tips and homemade beauty tips you must take care of your diet to maintain an oil free skin.
Image courtesy: Getty Images
Read more on Beauty and Personal Care.