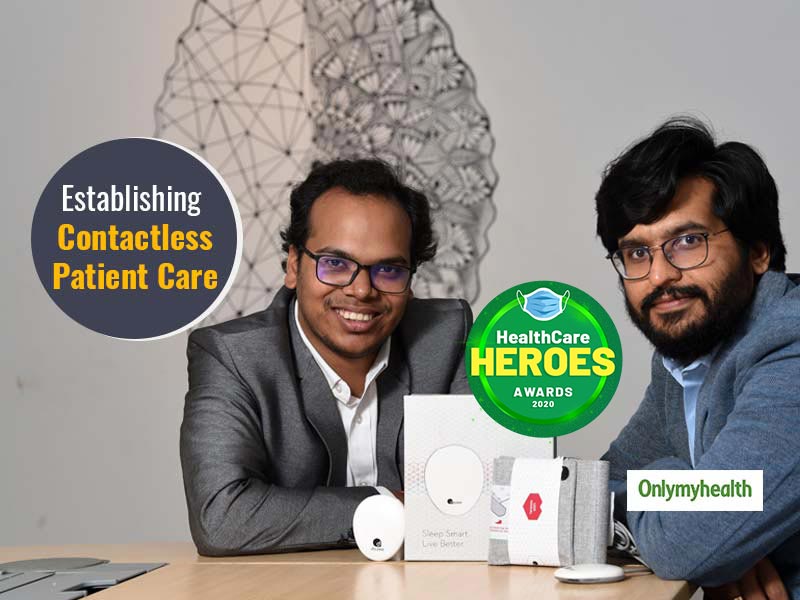 Category : Patient Care

Vote Now
Who : Turtle Shell Technologies
What : Dozee helps in contactless patient care, a boon in these COVID times
Why : Creation in the name of saving the frontline workers from COVID
We are in the midst of a global pandemic and the healthcare infrastructure of our country is stretched to its limits. According to the Ministry of Health and Family welfare 2019 data there are 1.7 nurses for 1000 patients. But in the pandemic situation this load has increased many folds. At this time of dire need an innovation made by two IIT alumni in 2019, is saving lives and reducing the collosal workload of healthcare professionals.
As the world continues to fight the pandemic, we at Onlymyhealth.com are saluting the covid warriors in the first edition of HealthCare Heroes Awards. Your votes and our esteemed jury's decisions will decide the winners. Read on to find out how this startup of IITans is using innovation and technology to fight COVID-19 pandemic. Dozee has been nominated in the category of Breakthrough Innovation in Patient Care.
What is Dozee?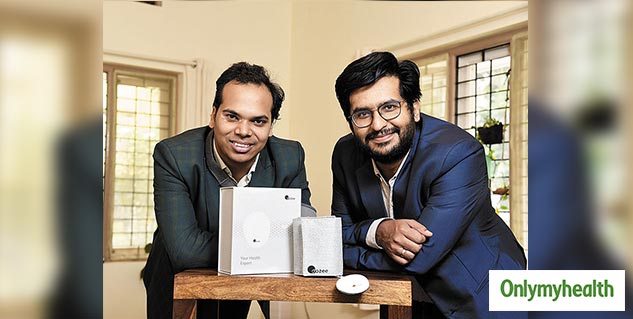 Dozee is a contactless and remote health monitoring device, which when placed under the mattress of the patient can monitor vitals. With Dozee the doctor or nurse can track the health of the patient without coming in close contact to take readings. This is crucial during the Covid 19 spread. Dozee has reduced workload and the requirement of personal protective equipment.
An innovation of Bengaluru based startup, Turtle Shell Technologies, Dozee can track heartbeat, respiration, sleep, and stress-recovery, with medical-grade 98.4 percent.
Also Read: Healthcare Heroes Awards 2020: Ramakrishna Travelled 1,500 Kms To Offer His Services For COVID-19
OnlyMyHealth spoke to Mudit Dandwate, CEO and Co-founder of Turtle Shell Technologies who says "Pressure has to be lifted from the hospitals or the infrastructure will collapse. Our technology to protect our doctors and healthcare workers especially in this time of pandemic."
Intuitive Innovation Preemptive Action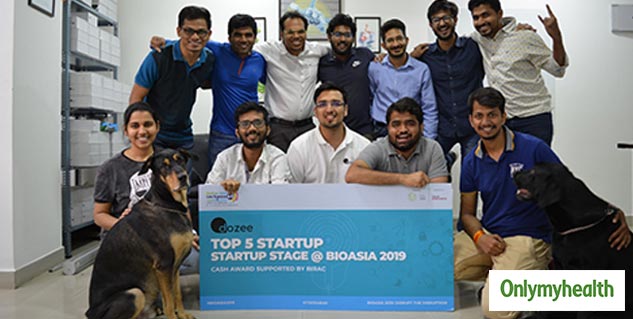 Dozee was launched in mid-2019. Little did the founders know that within the year there would be a pandemic outbreak and their innovation would turn out to be a blessing.
Before he thought of Dozee, Mudit Dandwate designed and built racing cars. He used artificial intelligence to drivers and tested these machines to their limits. The business was a success and he was able to sell the technology to major companies. But Mudit was not satisfied. So when he and his partner, Gaurav Parchan founded Turtle Shell Technologies they wanted to make a social impact. They developed a device to monitor the health of humans using the same technology, which they used for their cars. After four years of extensive research and development Dozee was launched.
Also Read: Healthcare Heroes Awards 2020: Pavithra Venkatagopalan Is A Fake News Ninja & Busts COVID-19 Hoaxes
Today Dozee has the technology to alert doctors of an illness even before it strikes. This plays a big role for Asymptomatic or mildly symptomatic Covid patients. "There is no need to wait for a disease to react to it, when we can get to know early through Dozee," Mudit tells OnlyMyHealth.
Wirefree Contactless Monitor
"We wanted that anyone who uses Dozee shouldn't feel like a patient. So it doesn't have wires and is not complicated," Mudit Dandwate told OnlyMyHealth. Tuck it under a mattress and then all the patient needs to do is sleep, hence the name Dozee. "We have made 4000 units which are used in homes, hospitals and clinics. We are scaling up and now manufacturing has gone up to 5000 + monthly with a 100% growth. At the onset of the Covid crises we halved the turnaround time of manufacturing 60 days for a batch of 1000 units to 25 days."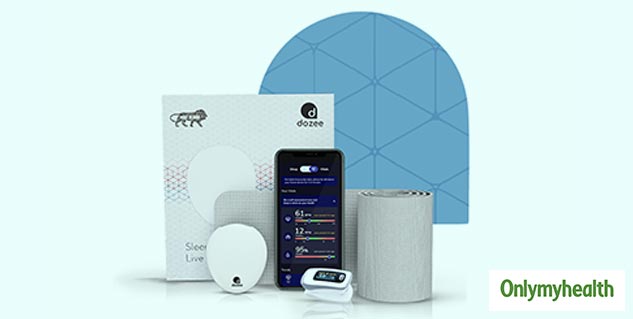 Challenges
The challenges of the long gestation period of R&D was not easy, especially for a hardware healthcare startup. "Until Dozee was very accurate no hospital will use it and until hospitals partnered with the company they couldn't make the product accurate as there was no data for algorithms." Mudit tells Onlymyhealth.com. "We were joined by NIMHANS Bangalore, Jai deva, Institute of Cardiac Sciences and the Government of India supported us with grants that helped us in getting data."
Also Read: Healthcare Heroes Awards 2020: Sarpanch Akhila Yadav Set An Example By Physically Guarding Her Village Border
Dozee Success
Dozee is being used in major hospitals all over the country. Kauvery Hospital, IGMC Nagpur, ILS Kolkata to name a few. TST is also working closely with the Tamil Nadu government to power up their corona centers. Dozee is also being used in 7 quarantine centres in Maharashtra, Madhya Pradesh and Rajasthan. It has also partnered with Duroflex Mattresses and provided more than 200 free devices to home quarantine patients.
Dozee is the first of its kind in the world. "We are awaiting 4 patents which are pending. We have developed algorithms which can detect heart valve movements which detects risk of heart failure years in advance. Our vision to take it to high risk, critical care patients. And there is no need to wait for illness to react to it when we can get to know early through Dozee." Mudit tells Onlymyhealth.com.
If Turtle Shell Technologies's work during this pandemic has inspired or moved you, do cast your vote for them. Here is how you can vote for your favourite nominee for Jagran New Media & OnlyMyHealth's HealthCare Heroes Awards.
Read more articles on Miscellaneous