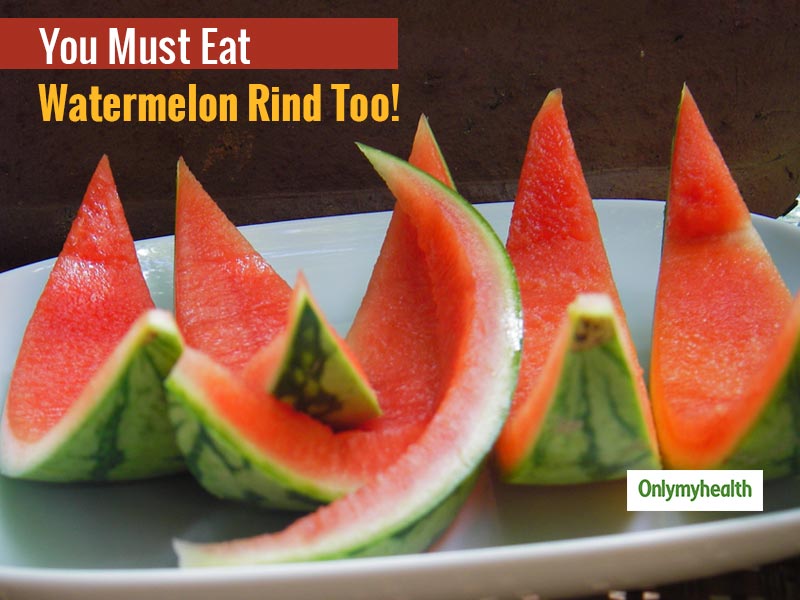 After mangoes, if there is any fruit that is most-awaited during Summers, it has to be Watermelon. Its brother muskmelon is not so popular but both are loaded with water content to keep the body hydrated and beat the heat. But if you think only the red flesh is edible, you seem to be unfamiliar with the nutritious value of the rind! Mostly, we eat the juicy flesh of the watermelon and discard the rind. Surprisingly, the rind part especially the white layer(the middle layers between red flesh and green skin) is rich in certain nutrients that are not easily found in fruits.
Nutritional facts about watermelon rind
Watermelon rind contains Citrulline which is an essential amino acid that regulates heart functions, circulatory system, and immune system. The other nutrients found in the watermelon skin are:
Vitamin A
Vitamin C
Potassium
Magnesium
Zinc
Carbohydrates
This shows how nutritionally-rich is the rind that we used to throw away until now. Read the health benefits offered by watermelon rind down below.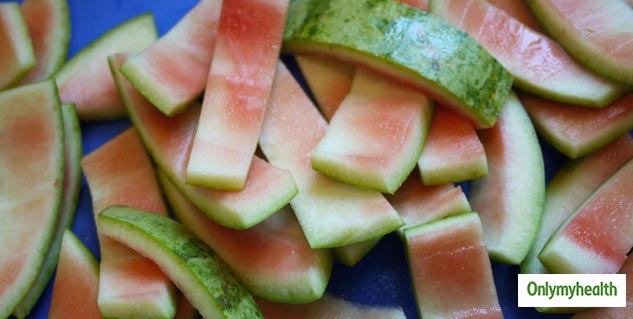 Improves heart health
Watermelon peel can help keep your heart healthy. It encourages blood circulation, which is beneficial for the heart. In addition, the citrulline present in it is beneficial in improving blood flow and heart failure, coronary artery disease diseases.
Also Read: Surprising Health Benefits Of Mango Kernel, Know How To Use
Good for kidney health
Watermelon peels contain potassium, which is beneficial for healthy kidneys. Watermelon peels have diuretic and hydrating properties, which are also beneficial in UTIs. In case of a UTI(urinary tract infection), drink a glass of fresh watermelon juice regularly.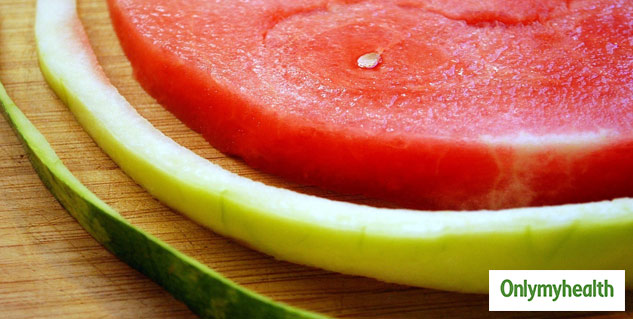 Fact: Besides Women, Men and Children also suffer from UTI
Reduce inflammation
Watermelon peels contain lycopene, which helps reduce inflammation. Eating peel of watermelon helps in reducing skin inflammation to arthritis pain. It is also effective in treating acne by reducing your inflammation, for this, you make a mask by mixing it with avocado or banana with melon peel and apply it on the face.
Weight loss and blood pressure control
Watermelon peels from watermelon can help reduce your high BP. Watermelon and its peel contain L-citrulline, which helps to thin the blood vessels and in turn helps to normalize blood pressure by decreasing it. The citrulline content of melon peel also helps in weight loss. There is fiber in its peel, which helps you to stay full for longer. Besides, watermelon and its peel also help you in better workout performance.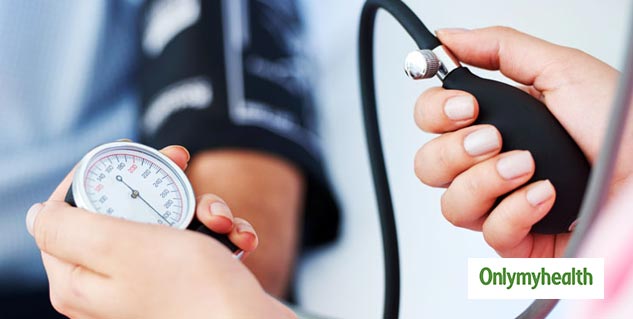 Improve sleep
Watermelon peels contain magnesium. It is a mineral that can help you get better results. Watermelon also helps in regulating your metabolism, which helps to overcome the problem of sleep disturbances and insomnia.
Also Read: 8 Unexpected Ways To Use Lemon Peels
How to use watermelon peel?
Here are some ways with which you can include watermelon rind to your diet.
Watermelon curry: You can make vegetable curry with watermelon rind for a fresh twist and taste.
Watermelon Peel Jam: To make a watermelon peel jam, peel the green part and use the white part of the peel.
Watermelon peel pickle: Watermelon peel pickle can also be made, it can be made like any normal pickle.
Salsa of melon peel: You can also use watermelon peel to make salsa.
Melon peel stems or vegetable: You can also make vegetable or melon of watermelon peel by removing green skin in watermelon peel.
Read More In Healthy Diet