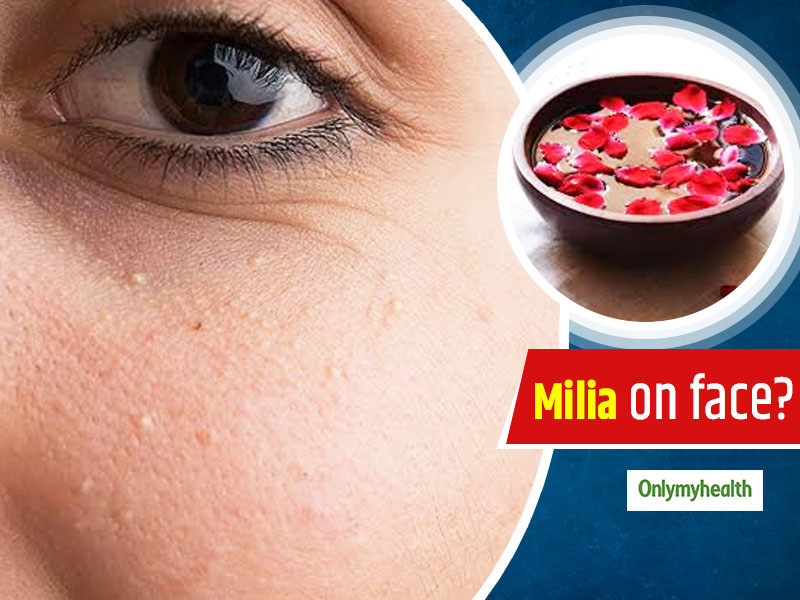 Maintaining a skin care routine is not at all season specific. An individual has to take care of their skin by following different methods to avoid skin problems. One such skin disorder is called milia or milium cyst. A milium cyst is a common skin problem which mostly affects the area around your eyes. They characterise as small inflammed white spots, which may seem like acne. They usually develop in bulk on your cheeks, around your nose and eyes. It is the result of a blocked protein called keratin, that is under the skin. Both adults and newborn babies can get affected by milia. However, it may get difficult to treat them in adults as they don't go away on their own. A thin layer of skin grows over these whiteheads which seals them in between the top layers of the skin. The removal can be done professionally or even through home remedies, but milia should not be poked unnecessarily. Read on to know about some effective natural remedies to get rid of milia and prevention tips for the skin disorder.
How to get rid of milia on face?
There are home remedies available for almost every skin problem. You can visit a dermatologist if these natural at home solutions don't turn out to be effective for your skin type. Most of the time, people don't even go for treatment methods for milia as it has no serious risks involved. Here are 10 useful home remedies to get rid of milia on skin:
1. Rosewater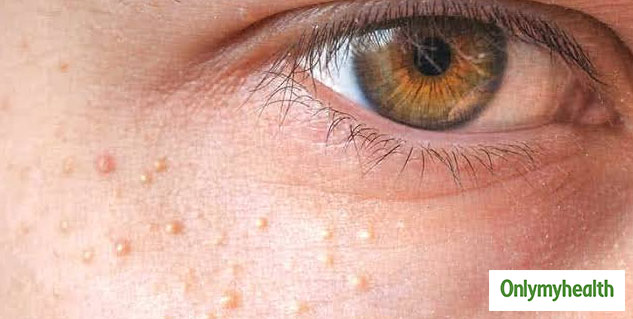 Rose petals are a very useful home remedy that can be beneficial for your skin in many ways. Besides treating milia, Rosewater can also make your cheeks rosy. Rosewater I'd easily available in the markets and online. It contains rose oil instead of mineral oils which adds on to its anti-inflammatory properties. Because of this factor, it is considered as one of the best home remedies to get rid of milia. Just splash a few drops of rosewater on the affected area of your skin. You can do this atleast twice or thrice a day for good results.
2. Manuka honey
Manuka honey is a bit different from regular honey due to its enrichment of anti-bacterial properties. Manuka sets itself apart from regular honey as it is more dark, thick and comes directly from the manuka plant. This honey has natural antibacterial, antimicrobial and anti-inflammatory properties that help in getting rid of milia on face. Moreover, it also becomes an aid in preventing further microbial infections. The best way to benefit from this home remedy is by spreading a spoon of manuka honey on your skin in an even layer and lettinb it stay for around 30 minutes. Then, rinse it off and do this daily for improvement in your skin's condition.
Also read: Skincare Guide: 7 Best and Worst Foods For Acne-Prone Skin
3. Lemon sugar scrub
A sugar and lemon scrub can act as an exfoliator for your skin. Exfoliation can help in getting rid of skin pores and dead skin cells. Sugar granules are useful for scrubbing, thus making it a natural remedy for milia at home. Sugar and lemon scrub is beneficial to remove dead cells and extra toxins on the skin. Just take some lemon juice and add a little sugar into it. Mix and apply it on your face. Massage gently for around 15-20 minutes and repeat this process everyday. Your milia spots will reduce within a week.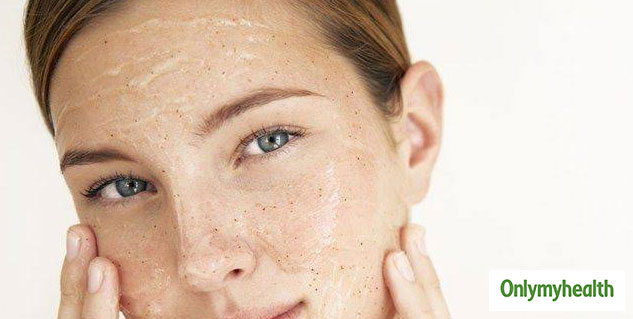 4. Coconut oil
Coconut oil is available in almost every household. It can be a very good way to treat the milia affected areas on your skin. You have to apply and massage it on your face gently. Coconut oil has antibacterial properties that can help in reducing the scars on your face. Coconut oil makes the hard milia soft and smooth, which makes it easier to remove these white bumps on your cheeks. You can apply it before bedtime and wash in the morning.
5. Vitamin A foods
Vitamin A foods are known to be extremely beneficial for your skin. As per some researches, there are various vitamin A rich creams available in the market that have proved to be effective in removing milia from your skin. This vitamin helps in removing dead skin cells and maintaining good skin health. Vitamin A foods include almonds, carrots, avocados, etc. A normal human should consume 600-800 mcg of vitamin A everyday. Therefore, a balanced diet is also something that can have an effect on your skin.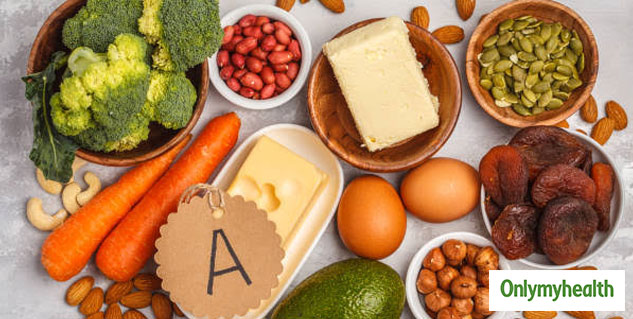 6. Potato
Another home remedy to get rid of milia is the kitchen ingredient potato. Potato acts as a cleaning component for your skin and also helps in treating milia. Potato contains high amounts of starch that prevents and even treats these white bumps on your face. The method to use potato is grinding a potato and extracting the juice from it. Keep this juice in the fridge and use it after some time. Just dip a cotton pad in this potato juice and apply it on the milia on your face. After it dries up in some time, wash it off. Do this twice a day and wait for effective results.
7. Sandalwood
You can also use sandalwood powder to treat milia. Mix sandalwood powder and water to make a thick mixture. You can even use rose water for better and quick improvements. Apply it on the affected areas of your face and massage gently for a while in a circular motion. Then, let it dry for a few minutes. Wash your face with warm water and do this atleast two times in a day. You can use this paste daily to provide a soothing and cooling sensation on your skin and to get rid of milia. It will not only cure milia permanently but also prevent it from developing in the future.
Also read: 6 Miraculous Benefits Of Amla Juice For Flawless Skin
8. Aloe Vera
Aloe Vera has a wide range of benefits, from healing sunburns to treating your acne. This gel is also used to protect chapped lips, dry elbows, knees and even for skin and hair care. You can include aloe vera in your beauty care routine and enjoy its advantages. Moreover, the antioxidants present in aloe vera have powerful healing properties. Aloe vera contains anti inflammatory properties that can help in treating milia and soothing and cooling that area. To use it for this purpose, you should remove the leafy layer and use the inner gel. Aloe Vera gels are also easily available in the market.
9. Steaming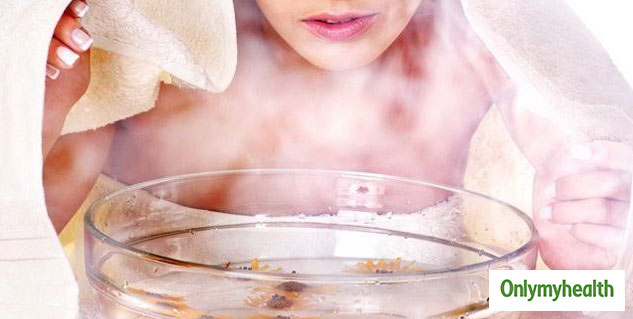 Steaming is not just used for health concerns but is one of the best ways to rejuvenate and soothe your skin. Steaming opens up the skin pores that further helps in avoiding the buildup of dirt and toxins. Take a cloth or towel and cover your head. Then, bend over a bowl of boiling water. This hot steam will help in healing your skin from underneath. Do this for atleast 10 minutes for relief from irritation and milia natural removal. End this process by using a natural face scrub and follow this daily for good results.
10. Castor oil
Castor oil has anti-inflammatory properties that are beneficial for your skin. Applying castor oil is an excellent way to get rid of milia naturally. Before applying this oil just clean your face with water and then drying it. Then, massage the milia affected area with with some drops of castor oil and let it stay for atleast half an hour. Lastly, wash it off withe after and wipe with a dry towel. Repeat this process daily and get rid of milia quickly and effectively.
Also read: Blackheads On The Face? Here Are The Causes, Home Remedies And Tips To Prevent Them
Tips to prevent milia
Even before getting this skin issue, one can take precautionary measures daily by following a skin care routine. Preventing milia is easier than treating it. There is always a risk of getting scars on your face if not prevented or treated. Here are some prevention tips for milia on face:
Avoid sun exposure
Do not use removal creams or cosmetic products on milia
Exfoliate your skin regularly
Clean the milia on your face daily
Use a sunscreen before going out
Steam everyday
Do not pick or try to remove milia with your nails and fingers
Cut down the consumption of too salty, sugary, spicy, or high-cholesterol foods
Maintain personal hygiene (baths, washing face, etc)
Avoid using skincare and makeup products on the face
Try preferring Vitamin A rich foods
These were the home remedies to get rid of milia on face and some prevention tips for this skin issue. Try out these natural ways to get rid of milia on your face quickly and safely within a few weeks. If your baby is developing milia on the face, then you should surely see a dermatologist to get it treated.
Read more articles on Home remedies