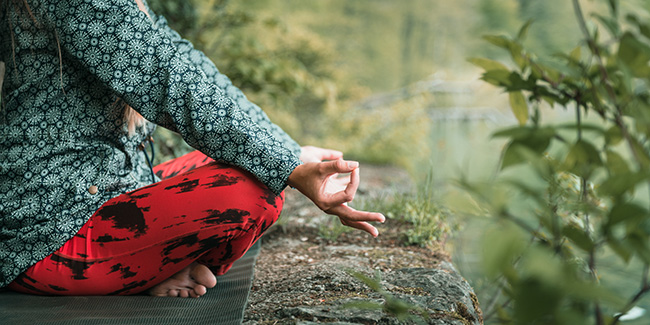 With a simple anatomy lesson, asanas and attention to alignment in standing poses, you can undo chronic pain in your knees.
With a simple anatomy lesson, asanas and attention to alignment in standing poses, you can undo chronic pain in your knees.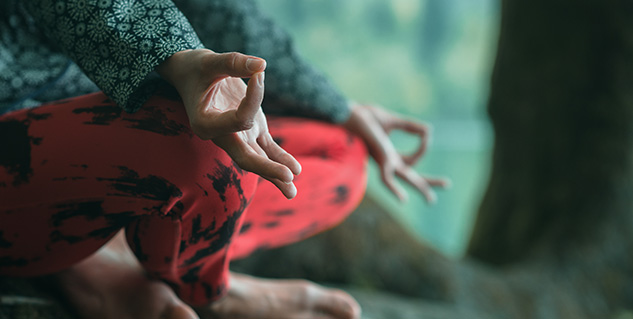 If you have chronic pain in your knees, if they "snap, crackle, and pop" when you bend or extend them, or if they tend to hyperextend, you may have improper tracking or "dislocation" of the kneecap. This misalignment causes the most common kind of chronic knee pain and damage to the knee joint, which develop slowly over time.
Here's a simple anatomy lesson
The kneecap is designed to slide along a groove in the femur, and it has to move smoothly within that groove to do its job well. If it goes "off track" (and it often does), it grinds away at the cartilage underneath and destabilizes the knee. The ensuing wear and tear is a key reason for knee replacement surgery, which a lot of people believe is necessary because they think the cartilage is "gone". But the truth is that cartilage can grow back, albeit slowly. The main problem is that if we don't correct the imbalanced pull of muscles on the kneecap, we will continue to grind our cartilage down faster than our body can replenish it.
Hatha yoga has a lot to offer to correct this misalignment; the standing poses are especially effective. But be forewarned: Misalignments of the knee in various asanas can amplify the imbalances that lead to injury and can aggravate existing problems instead of correcting them. The good news is that good alignment and proper tracking are easy to achieve once you know what to pay attention to.
Why are we prone to knee problems?
Out bodies are predisposed to injuries of the extent extensor chanism because the hip joints are wider than the knees in a neutral standing position. The natural Y-shaped configuration to the leg bones promotes uneven contraction of the quadriceps, and problems such as hypertension of the knees make these natural imbalances even worse. As a result, when we contract the quadriceps to straighten the leg, the unevenness of the contraction tends to pull the kneecap to the outside, thanks to the greater pull of the outermost quadriceps (the vastus lateralis).
The innermost quadriceps (the vastus medialis) is most responsible for counteracting this pull. This muscle tends to be weak and underused, while the outer thigh muscle tends to be stronger from overuse. So, if you want to keep the knee healthy (i.e., tracking properly in its femoral groove), you need to learn to strengthen the vastus medialis. In fact, physical therapists consider exercises to strengthen this neglected muscle key in the rehabilitation of knee injuries.
The challenge of working with the inner quad
Sit or stand with your legs straight and your feet parallel to each other, then engage your thigh muscles so that your kneecaps "lift" or pull toward your hips. DO your kneecaps move up in a straight line, or do they move in an angle toward the outside of your knees? If the latter is the case then you need to strengthen the vastus medialis, the inner quad, and learn how to use it properly.
To do this, sit in dandasana (staff pose) with your legs extended forward. Support your upper back against as wall if that's more comfortable. Roll up a small blanket or sticky mat and place it under your knees to prevent hypertension while your quadriceps are contracted. Next, rotate your right leg out 10 to 15 degrees (if the sole of your foot were on a clock face, your toes would be pointing to one o'clock).
Hold the contraction for 8 to 10 seconds, then release. Repeat this for two more rounds. Repeat this exercise with the left leg.
Next, do the same exercise without rotating the leg out. Keep your leg aligned so that your kneecap faces straight up toward the ceiling. Extend your leg fully and see if you can engage the inner part of the quadriceps, where you're touching with your fingers. Repeat on the other leg. You can do these exercise several times a day.
The standing poses of hatha yoga provide powerful and effective means for strengthening and stabilizing our knees, helping us to overcome structural imbalances that might otherwise lead to chronic wear and tear (and ensuing pain) in your knees. A little extra mindfulness in aligning and working our legs in these poses will enhance the natural therapeutic benefits these poses have to offer.
Image: Shutterstock