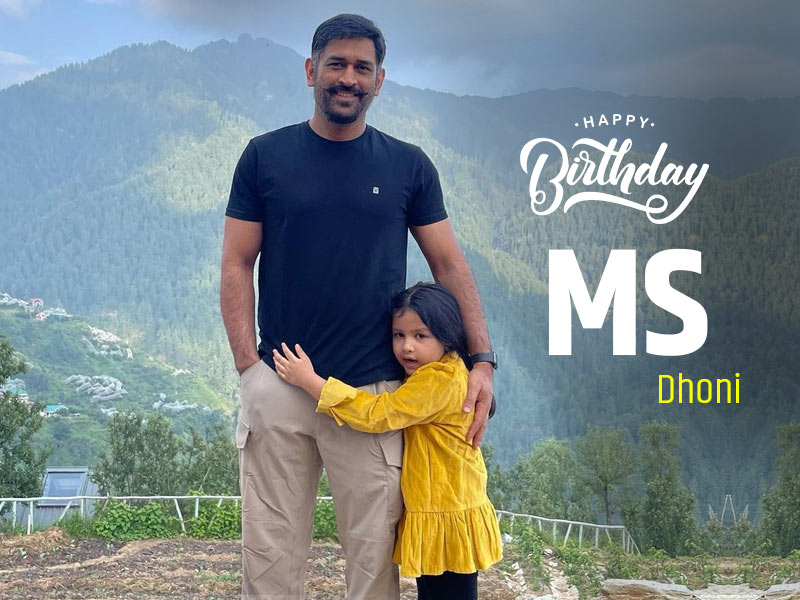 Mahendra Singh Dhoni is an inspiration for many fathers and guesses what we have proof! Do you know that he brings his daughter Ziva to work? Yes, and we have all seen little Ziva cheering for him. Besides pampering her, MS Dhoni gives her all the attention taking up his share of responsibilities. And today on the captain cool's 40th birthday, we are going to sneak peek through this loving relationship of MS Dhoni and Ziva Dhoni.
MS Dhoni and Fatherhood
View this post on Instagram
The 40-year-old former India skipper spoke on the rarely touched subject after fatherhood in a show for Star Sports. Dhoni said that he doesn't know whether it has changed him as a person, as a cricketer, and of course, because girls are very close to their dads. He added that in his case, the problem is when Ziva was born (6 years ago), he was not there, most of the time and was playing cricket, so everything wrong somehow is thrown at him (to deal with).
View this post on Instagram
He had to deal with many disturbing aspects, including, ensuring that Ziva falls in line by the mere mention of his name. "When Ziva is not eating, she is told that dad will come to have food" (Khana nahi kha rahi hai, papa aa jayenge khana khao), if she is doing something wrong, "papa aa jaeynge mat karo" (don't do it, papa will come). Dhoni said, so, in a way Ziva looks at him and she is slightly on the back-foot.
Also Read: What Is Breast Milk Jaundice? Know Causes, Symptoms and Prevention Tips
Ziva Dhoni and IPL tournaments
View this post on Instagram
We all know that being a part of his post-game celebrations and accompanying Dhoni to a lot of matches, Ziva was constant during this IPL. He had a wonderful time with Ziva, and it was one of her biggest requests to go to the ground, which is a lawn for her. And also she was there for the whole of IPL (there are a lot of kids on the team).
Also Read: Effective Natural Treatments For Heat Rash In Kids
View this post on Instagram
Ziva Dhoni's routine
Dhoni said that he would get up by 2 in the afternoon and Ziva is already up by that time (she gets up by 9, takes her breakfast, engages and starts playing with everyone...) He feels relaxed when he sees the kids playing with each other. Dhoni quipped that he doesn't know how much Ziva follows cricket, how much she understands, but he has to bring her one-day fo post-match match presentation, and she starts answering all the questions.
View this post on Instagram
MS Dhoni and rowing
Captain cool also revealed that he took to rowing exercises during the IPL. Dhoni also noted that, once the IPL tournament starts, he would not go in the gym anymore. Speaking of his routines, he just did his rowing, and in Chennai, she had a rowing machine in his room, he would get up, order his breakfast and before the breakfast came, he would start my rowing.
View this post on Instagram
So ladies, is your partner like the "daddy cool MS Dhoni?" Spending time with the kid is necessary, and for inspiration, you can share the videos of Ziva and Dhoni love!
Read More Articles in Tips for Parents