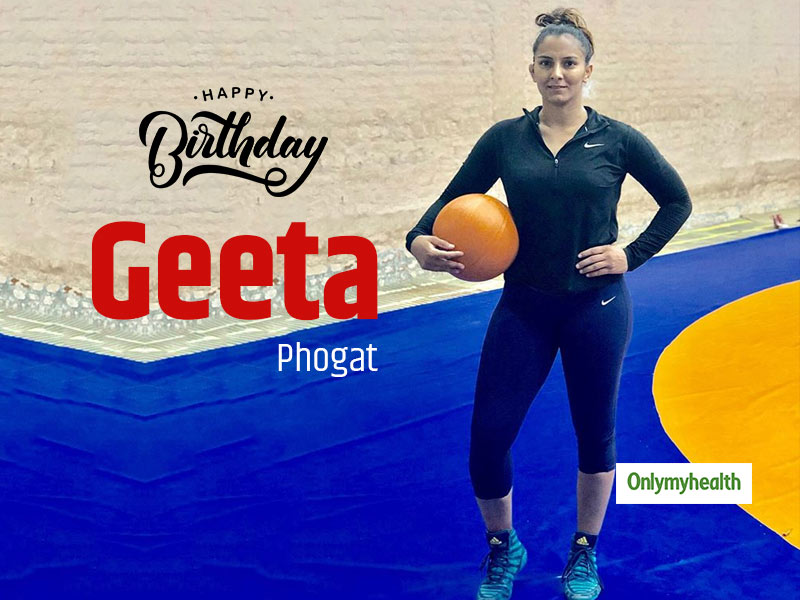 Happy Birthday, Geeta Phogat: On the occasion of Geeta Phogat's birthday, we are telling you the story of her struggle and hard work. Geeta Phogat is a freestyle wrestler, who is the first woman to win a gold medal in the Commonwealth Games from India and also the first woman wrestler to participate in the Olympics. On her birthday, here are some important things related to Geeta's life, i.e. the hard work behind her wrestling and her fitness secret.
Geeta Phogat's Workout Plan
Geeta Phogat and her sisters get up before sunrise at 4 am and spend at least 6 hours in their training, in which Geeta exercises a variety of workouts - weightlifting, wrestling, cardio, high-intensity interval training and plan.
Geeta does cardio exercises for her strength and body flexibility, which is necessary for wrestling.
At the same time, she considers high-intensity interval training to be an important part of her workout to strengthen muscles and increase stamina.
Besides, she does a variety of weight lifting (in weight training), which makes her legs and core muscles strong. This is an important part of her workout.
Let us show you some exercise videos of Geeta Phogat, which she has shared on her Instagram.
Geeta Phogat Diet Plan
Also, Read Jumping Jack Benefits: Do This Exercise Daily For The Heart, Weight Loss, Bone Health And Much More
Early Morning
Geeta Phogat starts her day with a glass of water. After this, she drinks healthy smoothie/shake/juice with nuts every morning.
View this post on Instagram
Breakfast
Geeta eats some fruits, green seasonal vegetables, sprouted grains and 1 glass of milk at breakfast. Besides, sometimes she eats Aloo Paratha with curd and drinks energy drinks or a fruit shake after a break.
Also Read: Muscle Training Over The Age Of 40? Do Not Commit These 4 Mistakes
Lunch
Geeta's lunch includes salad, chicken or paneer, lentils, vegetables, 4 rotis and yoghurt. Apart from this, in the evening she also drinks a milkshake or lassi of fresh fruit juice.
Dinner
For dinner, salad, chicken, lentils, vegetables, 4 rotis or 1 bowl of brown rice is eaten by her. Also, before sleeping, she drinks 1 small glass of milk with turmeric, saffron and cardamom.
Geeta's pre-workout diet
It includes seasonal fruits and milk, while in the workout diet she likes to drink soy protein. Geeta says that everyone in her family avoids fatty, oily and spicy foods. She eats nuts and sprouts in place of junk foods and takes a high protein diet. This is the secret behind the great Indian wrestler Geeta.
Read more articles on Exercise and Fitness