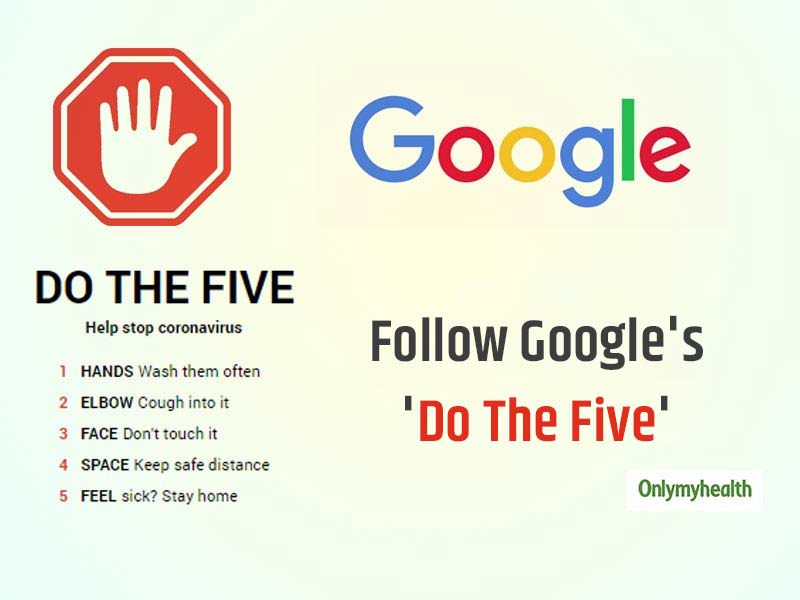 With more than 2 lakh patients and over 5,000 deaths, Coronavirus or COVID-19 has taken the world by storm. This virus originated from China but has now griped over 150 countries where China and Italy are most affected. Over 400 deaths in 24 hours are being recorded in Italy which is heart-breaking. The cases have increased significantly in Iran, Spain and America also. India is taking maximum protection to fight against this deadly virus which has controlled the figures here. We all need to abide by the advisory issued by health organizations to stay safe. Google, being a credible source of information also took the initiative to provide only correct information.
For this, Google has added a special button on its homepage, which is named 'Do the Five'. Along with this, it is also written that 'Help Stop CoronaVirus' i.e. help to prevent coronavirus. As soon as you click on this special button of Google, you see 5 important tips to prevent and prevent coronavirus. Let us tell you how according to Google you can stop coronavirus.
Google's Do the five
1. Hands- Wash them often
2. Elbow- Cough into it
3. Face- Do not touch it
4. Space- Keep safe distance
5. Feel- Stay at home
Below this, a button of 'More Info' has been created for additional information. On clicking on which you reach the website of Ministry of Health and Family Welfare, Government of India. Doctors and the government are also instructing to ignore the rumors related to the coronavirus and accept only what is written on reliable websites and portals. This is the reason why the Ministry of Health itself is constantly updating all the important tips, information and statistics related to the coronavirus on its website. According to the latest data released by the Ministry of Health, by 9 am on March 19, the total number of coronavirus patients in India reached 148. 14 of these patients have been cured and sent home and the rest are under treatment. So far 3 people have lost their lives due to this virus in India.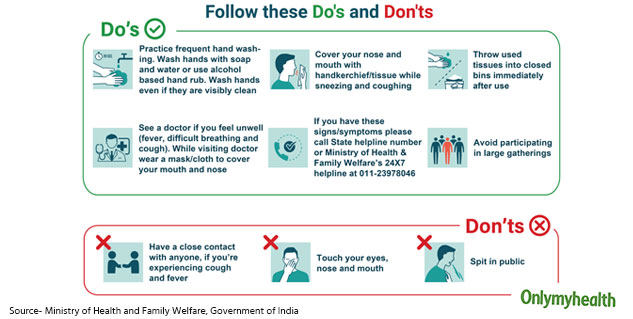 According to Dr. Ajay Rana, Dermatologist & Aesthetic Physician and Founder Director of ILAMED,"In the fight against the Coronavirus outbreak, people need to stop touching their faces. This can be an effective way of halting the spread of diseases because face is considered as the entry points for the virus. Also, wash your hands on a regular interval for at least 20 seconds with soap and water covering the palms, backs of hands, fingers, in between fingers, wrists and fingernails. Sanitize your hand after every few hours. It is the most effective way to prevent the transmission of infections."
Also Read: Do You Want to Know How Soap Kills Coronavirus?
What to do if you feel symptoms of corona virus?
To prevent the number of patients and to catch the coronavirus infected, the government is constantly testing the coronavirus of people. According to the Ministry of Health, about 14 lakh people have been screened at the airport so far. For information about coronavirus infection and to help the infected, the Indian government has also released special numbers.
#IndiaFightsCorona

A 24x7 toll free National Helpline Number 1075 has been activated for support, guidance, and response to health related queries on #COVID19.#SwasthaBharat#HealthForAll pic.twitter.com/8QOHrzbkzI

— Ministry of Health (@MoHFW_INDIA) March 18, 2020
These numbers are as follows - + 91-11-23978046 and toll free number- 1075
Also Read: WHO's Safe Hands Challenge For Coronavirus Prevention
If a person feels symptoms of coronavirus, he is being advised to stay at home. According to the Ministry of Health, if a person feels symptoms of coronavirus, then he should first stay home and stay away from other members of the house. After this, he should call the numbers issued by the government and explain his problems. If symptoms of coronavirus are found in the person, then the officer sitting in the call center will fully assist the patient and their isolation and treatment will be arranged in the proper manner.
Read More in Miscellaneous