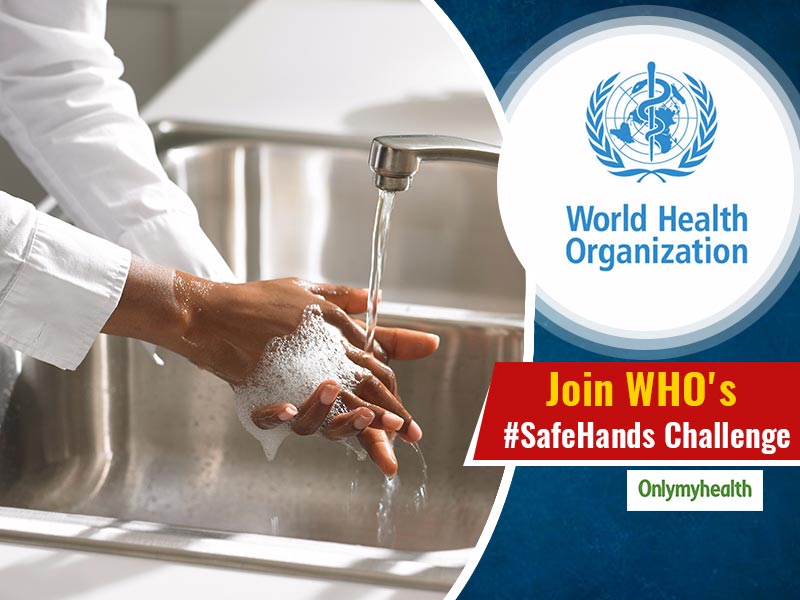 The grip of coronavirus is getting stronger day-by-day. Global health organizations like WHO have thus become proactive in tackling this epidemic in every possible manner. Recently, Director-General of WHO Tedros Adhanom Ghebreyesus launched the 'SafeHands' challenge through a video where he is telling the best handwashing techniques step-by-step. Not just that, he has asked celebrities around the globe to take up this challenge and promote handwashing to fight this pandemic. He also tagged Bollywood actresses Priyanka Chopra Jonas and Deepika Padukone in a social media post and nominated them to perform this challenge. Read more details in this article.
The #SafeHands Challenge
There are simple things we each must do to protect ourselves from #COVID19, including 👐 washing with 🧼 & 💦 or alcohol-based rub.
WHO is launching the #SafeHands Challenge to promote the power of clean 👐 to fight #coronavirus.
Join the challenge & share your 👐 washing video! pic.twitter.com/l7MDw1mwDl

— World Health Organization (WHO) (@WHO) March 13, 2020
This movement is started by the Director-general of the World Health Organisation where he is seen showing proper handwashing practices. It is known to one and all that prevention from Coronavirus is only possible with hygiene and sanitization. We are required to keep our hands clean and sanitized in order to avoid the infection to enter our body through the mouth. Also, maintaining at least one-meter distance from a person is necessary.
In the 2-minute video, Ghebreyesus is seen teaching good handwashing techniques including hand rubbing and hand washing. These are important to ward off the virus and stay safe from the fatal coronavirus attack.
Also Read: Some Positive News About Coronavirus
Priyanka Chopra Jonas and Deepika Padukone Nominated
I now nominate:@deepikapadukone@priyankachopra@Schwarzenegger@CTurlington
to take the #SafeHands challenge by sharing their video & calling on at least another 3 people to join us! Together, we can beat #COVID19!

— Tedros Adhanom Ghebreyesus (@DrTedros) March 13, 2020
Tedros Adhanom Ghebreyesus tagged Bollywood beauties Priyanka Chopra and Deepika Padukone to take up this challenge and join hands for the noble cause. None of them have responded to this though.
Arnold Schwarzenegger, the famed Hollywood actor was also in the list of nominated celebrities. He did take up the challenge and posted the video asking his fans to adopt these handwashing practices and stay safe. he captioned the post "Be safe. Wash your hands. Listen to scientists and experts, bit foreheads. Together, we can slow this down and protect each other.
Here you go @DrTedros! https://t.co/RT2RJzIaUi https://t.co/RT2RJzIaUi

— Arnold (@Schwarzenegger) March 13, 2020
Also Read: 5 Questions To Determine Whether Your Cold Is Coronavirus
Alisson Becker, Liverpool goalkeeper who was also amongst the nominated celebrities took up the challenge.
#COVID19 @DrNataliaBecker and I are happy to answer @DrTedros call to join @WHO 's #SafeHands challenge.
I challenge @mterstegen1 @tsilva3 @filipeluis pic.twitter.com/ClUS0T1ZaF

— Alisson Becker (@Alissonbecker) March 14, 2020
Natália Loewe Becker, WHO's goodwill ambassador also attempted the challenge after husband Alisson Becker.
I accepted the #SafeHands Challenge @DrTedros and @WHO . Agora, desafio meus amigos a fazerem o mesmo!! @isaiassaad @larissa_peereira @juan05jesus #WHO #COVIDー19 #HealthForAll pic.twitter.com/zgOu2yhAWW

— Natália Loewe Becker (@DrNataliaBecker) March 14, 2020
Read More in Health News