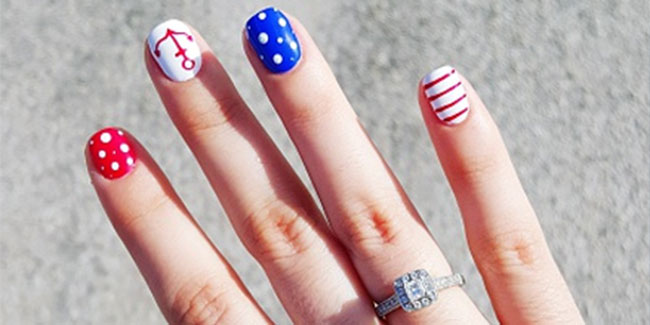 Nail art is full-on in vogue these days. It appears to be complicated but can be done at home easily. Read here for tips to do your nail art at home.
Gone are the days when a simple manicure was enough. Today, nail art has become a rage. From simple designs to funky ones, your nails will, quite simply, do all the talking!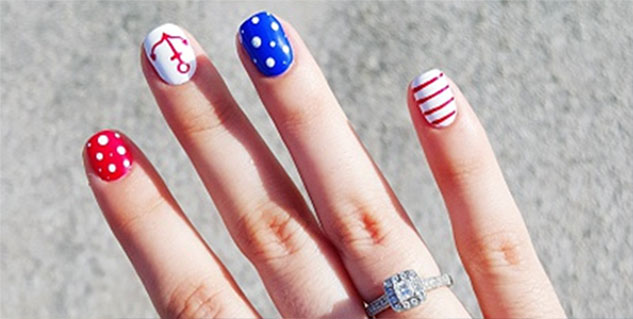 Nail art is the art of painting attractive designs on your fingernails to give them a classy look. In fact, it's a fun way to brighten up your everyday monotonous look or accessorise a special occasion outfit. There are a variety of nail art designs available, ranging from delicate and understated to funky and outrageous.


You can paint flowers on your nails for a special occasion or spell out the name of your fiancé or boyfriend when going on a date.


Every one of us can't go to a professional nail artist to get an art work done but it's possible to create simple nail art at home. Barbara Braeunlich, beauty expert with Oriflame, shares a few tips on how to get your nails in great shape in no time.
No matter what style you prefer, don't forget that the hottest trend is to groom your nails well.
Tip 1
Use base coat to give your nails white purity. Keep nails in perfect condition and top coat to fix manicure.
Tip 2
Classic oval shape, which makes fingers look graceful is very 'up-to-the-minute'.
Tip 3
Another hot trend is short, square nails.
French manicure
Creating a great lasting French manicure is easy if you have the right tools. Follow these steps for a perfect French look that lasts.
STEP 1 - Base coat
Apply the base coat to smoothen nail ridges for an even base.
STEP 2 - Nail tip colour
Apply nail tip guides then white nail tip colour. Wait till dry then remove guides for perfectly shaped tips.
STEP 3 - Coat in French manicure colour
Apply matching gorgeous glossy French manicure colour. Don't forget to finish with a coat of long wear gloss coat to make your colour last. Some simple tips to do nail art at home. Apply nail varnish remover before doing your nail art even if there's no nail colour on your nail. It's helpful in removing dust and grease so that your polish will last longer.
o If you're having trouble achieving the perfect French manicure, try using a white nail pencil underneath the nail tip instead of white polish.
o Let your nail varnish dry properly. Give time for each layer to dry to ensure a lasting finish.
o You can match up your nail colour with your apparel or lip colour to give a complete co-ordinated look.
o Always try to apply lots of thin layers rather than giving one thick layer. It not only dries quickly but also lasts for a longer time.
o Make sure each coat is dry before applying the next. Never mix colours together before application since it can give a messy look to your nails.
o If you love wearing rings, wear cool and attractive rings as your nails will attract attention to your hands, so dress them up a bit!
o Nail piercing can give a trendy look to your nails, but it can also weaken the nails.
o Nail piercing could, and preferably be done on the upper portion of a long nail so that the hole could be filed away without losing too much length.
o Don't remove or re-apply nail polish more than one or two times a week as it may dry your nails.
o Choose a remover with built in moisturisers that will limit the damage.
o Always keep your nails clean as it keeps them healthy and reduces chances of nail breakage.
o Don't clean your nails with hot water as it weakens them.
o If you have long nails, try painting the underside with a contrasting colour and paint the upper part with light coat.
o When polishing the underside of the nail, avoid polishing the 'hyponichium', the area where the skin and nail meet.
o You can also use fake tattoos for giving funky look to your nails. You just need to paint your nails normally as you do and then cut the design you want from the fake tattoo and paste it on your nails. Make sure you maintain your nails properly; as proper maintenance will help keep your nails in good condition for a longer period.
Top image source : Getty
Read more articles on Hand Care.
For more such stories, Download Onlymyhealth app