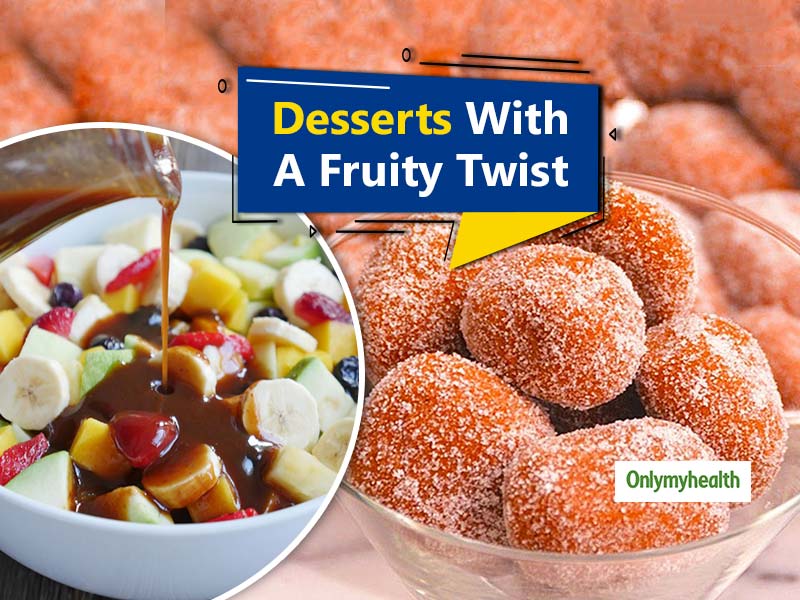 The festive season is here and we are all set to gorge on some relishing sweets and desserts. However, do you wish to go a little different than the usual barfis and kheers and try something with a fusion twist to it? Why not add a touch of fruits to your regular sweets. Festive season is complete without desserts and to help you give a touch of difference, below mentioned are some refreshing fruit-based dessert recipes that you can try out this festive season:
Fresh Fruit Custard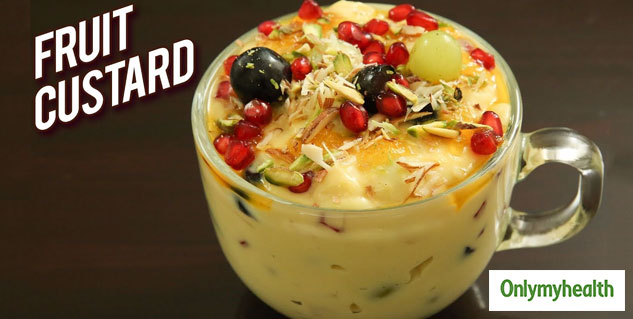 Get rid of the boring and the usual ice-cream scoops after dinner in parties. Serve this as a sweet dish after a full-course meal and gather all the extra praises! Moreover, it is as simple as it gets!
Key ingredients
Grapes - 200 grams
Pomegranate - 1
Mango - 1
Apple - 1
Cream - 1 cup (200 grams)
Sugar - 3/4 cup (150 grams)
Vanilla custard - more than 1/4 cup
Milk - 1 ltr (full cream)
Honey: 1 spoon
Procedure
Prepare thick custard from the custard powder. Cool it in the freezer. Cut all the fruits finely and distribute it proportionately into bowls. First, throw a dollop of the frozen custard in the bowls. Then add generous helpings of the cut fruits. Sprinkle the pomegranate seeds on the top and finally add a trail of honey on it. Let the guests cherish each bite they have.
Nutri-check
Fruits will provide immunity to the body and add resistance to fight the cold. Fruits are rich in anti-oxidants and vitamins and low in calories as well!
Also Read: Organic Sweets Vs Regular Sweets: A Healthy Twist This Festive Season
Kiwi Barfi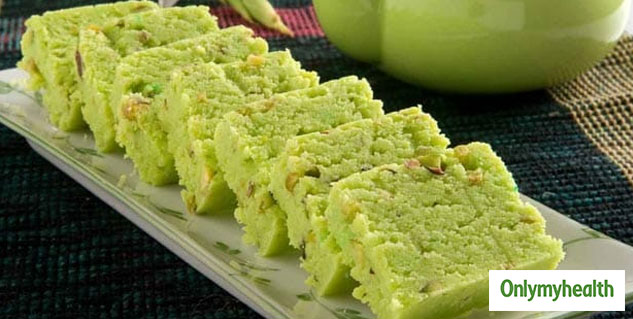 We all come across the usual flavours of barfis in most of the Indian festivals. However, one can give a good touch to any barfi recipe by adding a fruit to it. We bring to you a refreshing recipe of kiwi barfi, which is easy to make, great in taste and has the goodness of kiwi in it. The best part, you can add low calorie sugar sweetener to make it healthier.
Key ingredients
Kiwi Sauce - 5 kiwis, 1/3 cup sugar
Paneer - 1 Cup
Milk - 1 1/2 cups
Cardamom Powder - As per taste
Sugar - As per taste
Almonds (Sliced) - 8-10
Procedure
Make kiwi sauce by boiling sugar and kiwi together in a pan. Cook till in a thick consistency. Keep aside once ready.
Take another pan. Add sugar, paneer, milk powder and keep stirring till thick. Keep stirring the mixture to avoid burning
Add the kiwi sauce mixture in the milk pan and keep moving. Add sugar or any sugar sweetener as per taste. Cook till the mixture starts to come in a dough form.
Spread the dough on a flat surface. Grease the surface to avoid sticking of dough.
Let it cool, cut the dough in desired shapes and it is good to eat.
Garnish with sliced almonds.
Also Read: 5 Food Recipes To Try Out This Festive Season
Oats Ladoo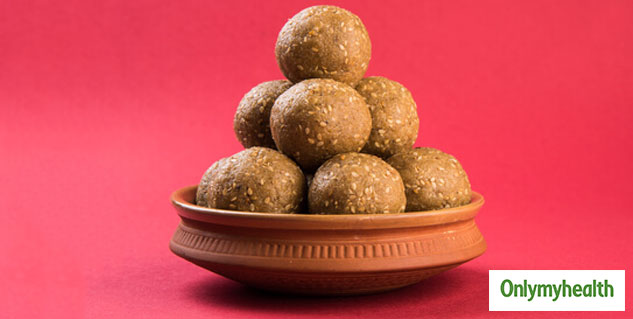 bored of besana nd boondi ladoos, try your hands at these healthy oats and sesame ladoos and know how healthy ladoos can be equally delicious:
Key ingredients
Organic oats - 1 cup
Sesame - 1 cup
Green Cardamom - 3-4
Jaggery - 1 1/2 cups
Procedure
Dry roast oats and sesame in a pan.
Powder both in a blender
Add half of the jaggery to the mixture and blend again. Do the same procedure with the remaining jaggery
Take the mixture in hands and roll in the shape of a ball.
Cool in fridge and they are good to go.
Read more articles on Healthy Diet