Not just weight loss, flaxseeds have myriad other health benefits. Know more about this superfood below
Flax, also referred to as common flax or linseed is grown as a flowering plant belonging to the family Linaceae. For its wide range of benefits, flax seeds acquired the name of Linum usitatissimum, meaning, "the most useful." Flax is chiefly cultivated as a fibre crop in cooler parts of the world. Textiles derived from flax in Western countries are known as linen, and have been traditionally acquired for making bed sheets, clothes and table linen. The term itself refers to the unwoven fibres gained from flax plant with several plant species of cultivated crops.
Historically, wild flax was used as a textile originating from present-day Republic of Georgia indicating evidence of spun, dyed and knotted wild flax fibres dating to Upper Paleolithic period, around thirty thousand years ago. Flax is known to reap richer benefits in terms of its seeds, which can be grounded to serve a meal or turned into linseed oil to be used as nutritional supplement and wood-finishing industries. Flax can be used as an ornamental crop too. Flax fibres derived from the stem are two to three times stronger as compared to cotton fibres and the crop is popularly grown on the prairies of Canada for linseed oil which serves well for drying in paints and varnishes including linoleum and printing inks.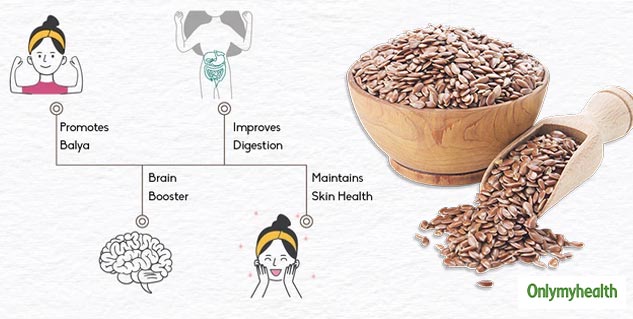 Also Read: 9 amazing ways to add flaxseeds in your diet
Let us delve deeper into the wide world of flaxseeds by analysing its properties, nutrition basics, benefits and more.
What are Flaxseeds?
Speaking on flaxseeds, Dr. Chetna V. Jain, Nutritionist, Bengaluru, highlights the various properties to Onlymyhealth, thus, "Flaxseeds contain high amounts of fibre in them, along with good oils in the form of Pusa and can be consumed on a regular basis, by sprinkling atop a salad, or separately in the form of 1 tablespoon per day. Consuming a concoction of flaxseeds by boiling the seeds and consuming the jelly part of it can help in weight loss. Minimum intake should include one or two tablespoons per day and people consuming them daily can benefit greatly."
Flaxseed is a nutritional plant-based food, a rich source of healthful fat, antioxidants and fibre. Commonly referred to as a "functional food," a person can rely on their consumption to boost health and lose weight effectively. Flaxseeds, also known as common flax or linseed are typically small oil seeds that originated in the Middle East thousands of years earlier.
The seeds occur in the form of two basic varieties, that is, brown and yellow (golden linseeds). Most types of the above varieties are loaded with similar nutritional features and equal quantities of short-chain omega-3 fatty acids. An exception includes that of yellow flax known as solin which follows a different oil structure and has low levels of omega-3s (alpha-linolenic acid). Flaxseeds, in modern times, have gained wide popularity as a healthy diet owing to their high content rich in omega-3 fats, fibre and other basic plant compounds. Flaxseeds can be easily included in diet by grinding and churning them to receive greater benefits.
Flax seeds have associated health benefits by improving your digestion, reducing risk of heart disease, type-2 diabetes and cancer. Flaxseeds can be used in factories to produce vegetable oil also known as linseed oil, one of the oldest commercial oils extracted from expeller pressing technique, followed by solvent extraction. Flaxseed oil obtained from solvent processing has been historically used as drying oil in painting and varnishing. Flaxseed oil has various health benefits, know here.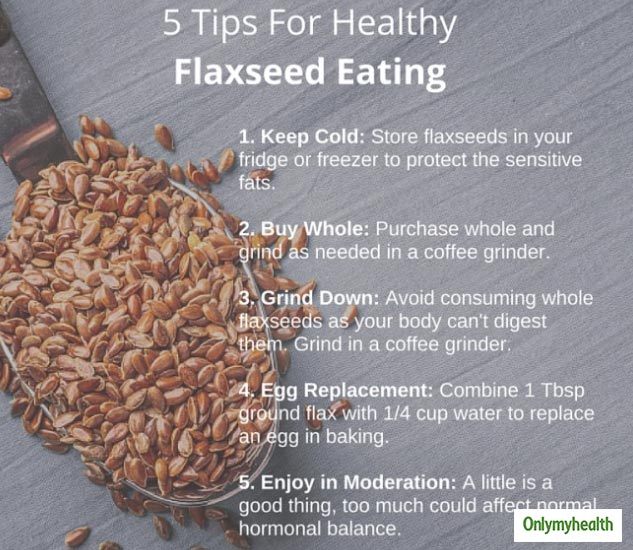 Flaxseeds: Nutrition Facts
Flaxseeds are constituted of 534 calories per 3.5 ounces. They are comprised of 42 percent fat, 29 percent carbohydrates and 18 percent proteins. Out of 29 percent carbs, a whopping 95 percent is fibre. The seeds are low in net digestible carbohydrates, by subtracting the number of total carbs by the amount of fibre, therefore, a low-carb diet.
The fibre compound in flaxseeds is composed of 20-40% of soluble fibre and 60-80% of insoluble fibre. Presence of soluble fibre helps balance blood sugar levels and cholesterol alongside promoting your digestive health.
Flax seeds are constituted of 18% protein. They are abundant in amino acids, with an exception of amino acid lysine. Flax seeds are also rich in amino acids such as arginine and glutamine essential for heart functioning and immune system.
A whopping 42% content in flax seeds is that of fat, with an average tablespoon of 10 grams providing 4.3 grams of fat. Fat content is roughly composed of 73% polyunsaturated fatty acids, such as omega-6 fatty acids and omega-3 fatty acid (ALA), and 27% monounsaturated and saturated fatty acids.
Flaxseed oil is known to contain the highest amount of alpha-linolenic acid followed by milled seeds. Presence of lower ratio of omega-6 to omega-3 fatty acids has been associated with reduced risk of chronic diseases. Flax seeds are a rich in essential vitamins and minerals in the form of:
Thiamine. Vitamin B1 is crucial for metabolism and nerve function.
Copper. Copper is essential for tissue growth, development and maintenance of body functions.
Molybdenum. Flax seeds are comprised of molybdenum. The trace mineral is found in seeds, grains and leguminous plants.
Magnesium. Fourth-most abundant mineral found in body, magnesium works as helper molecule to aid biochemical reactions performed by enzymes in our body.
Phosphorus. A mineral found abundantly in protein-rich foods, phosphorus is essential for bone health and tissue formation.
Also Read: Know What Makes Flaxseed A Wonderfood For All - Dt Swati Bathwal
Health Benefits of Flaxseeds:
1# Prevention of diseases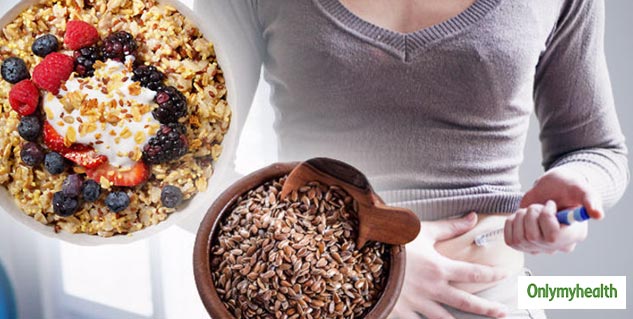 Similar to other plant-based foods, flaxseed is profuse in antioxidants. Antioxidants work wonders by removing molecules called free radicals from the body and prevention of diseases. Free radicals are compounds occurring due to natural processes and environmental constraints. Presence of excessive free radicals in body can lead to emergence of oxidative stress leading to cell damage and further diseases.
2# Improving Heart Health and Reducing Cholesterol
Flaxseeds consist of fibre, omega-3 compounds and lignans which improve heart health and prevent risk of cardiovascular diseases. A rich source of phytosterols similar in structure to that of cholesterol, the compounds help in absorption of cholesterol in the intestines. Health benefits of eating fibre are plenty.
Consumption of phytosterols therefore, help reduce levels of low-density lipoprotein or "bad" cholesterol in the body. Some scientists have linked presence of omega-3 oils present in oily fish to limit chances of cardiovascular diseases.
3# Flax Seeds are Abundant in Omega-3 Fats
Vegetarians or ones putting away from consumption of fish now have a healthy alternative to source of omega-3 fats. Flax seeds are a rich in alpha-linolenic acid, one of the two essential fatty acids obtained from the food we eat, not necessarily produced in the body.
Animal studies have indicated bouts of alpha-linolenic acid in flax seeds to prevent cholesterol from being accumulated in the blood vessels around heart, reduce inflammation in arteries and decrease the growth of tumours. A wide variety of studies have also linked ALA to reduced chances of stroke.
4# Aid in Weight Loss
Flax seeds are rich in fibre. Consuming diet rich in fibre components can make you feel fuller for long and suppress your hunger to eat more and cutting short calories for weight loss. Fibre present in food also helps to stimulate and energise your digestive tract.
Eating fibre allows for smooth movement of food through intestines and keeping your colon away from all obstructions in food channel. Fibre also contributes to stabilize blood sugar levels and thereby, reduce weight.
Flax seeds are also constituted with omega-3 chain fatty acids, which have proven and effective health benefits. They help reduce inflammation which can contribute to heart risks, fight autoimmune diseases and reduce chances of developing certain forms of cancer. However, it is not clear is these fatty acids have a direct connection to weight loss. Henceforth, more research is needed to support the fact that omega-r fatty acids can help to reduce or alter weight. Flax seeds are a source of lignin, a complex polymer located in cell walls of many plants responsible for a stiff and woody texture. Researchers are yet conducting studies to get acquainted with numerous benefits of lignin, previously undiscovered. However, lignins reduce blood pressure and may aid in weight loss, as per recent data. Flax seeds are rich in this compound.
5# Flax Seeds Ease Symptoms of Arthritis
Flaxseeds may help to reduce joint pain and stiffness, as per Arthritis Foundation. Though, there is lack of available evidence to support the use of flax seeds for purposes of arthritis, researchers add that the ALA compound present in flaxseeds may help lessen inflammation. People can consume grounded seeds (one tablespoon per day), as an oil (one to three tablespoons per day) or in capsules (1,300 to 3,000 mg per day).
Flaxseeds For Weight Loss
There are two popular ways one can experiment with flax seeds to reduce weight. However, it is essential to note that flax seeds aren't a magical potion and won't result in calorie deficit all by itself, without planning for a healthy diet and exercise.
RECIPE FOR Ground Flax Seed Weight Loss Drink
One can easily make a flaxseed weight loss drink by grinding flax seeds or directly purchasing ground flax seeds. The drink will help boost metabolism, make you feel less hungry and smoothen your digestion. To make this drink, we require:
1 tablespoon fresh ground flax seed
1 lemon wedge
6 to 8 ounces of hot water.
METHOD: We need to combine ground flax with hot water and stir well. Then we need to add some lemon wedge to the glass to add Vitamin C. Consuming this drink once in a day trying to lose weight will channelize the process.
Also Read: Soak These 5 Food Items Overnight, Stay Clear From Several Diseases
Conclusion
Flax seeds have a significant nutritional composition that not only assists one in losing weight, but, supplying richer health benefits in the form of improved digestion, lowered cholesterol and healthy kidneys. Flax seeds can be consumed in any form, but one must make sure to drink plenty of water. If our body is not well-hydrated while consuming flaxseed supplements, excess fibre in the body cannot be digested and utilised properly. This can lead to stomach cramps and constipation.
Hence, one should be careful to use flax seeds to lose weight as consumption of raw or unripe flax seeds will result in indigestion, apart from increasing toxicity.
(Written by Shivani Priyam, Sub Editor, Onlymyhealth)
Read more articles on Healthy Diet