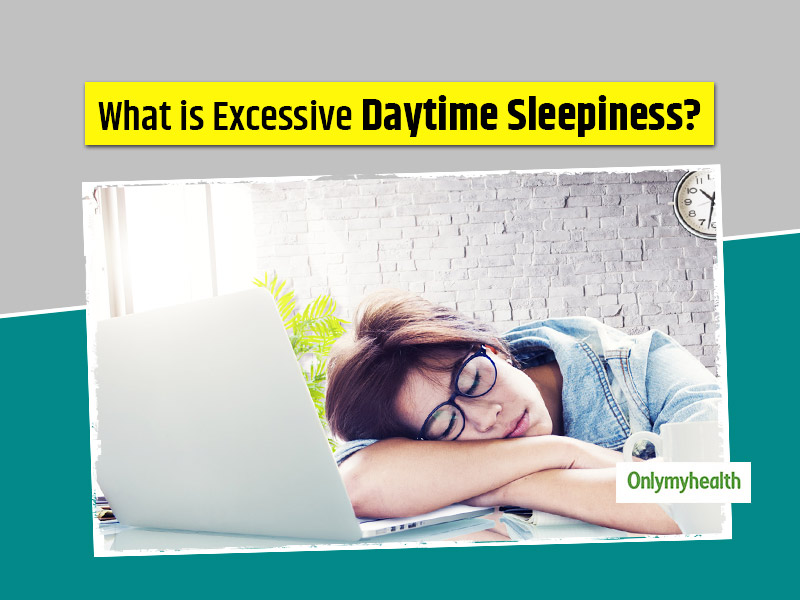 What is Excessive Daytime Sleepiness (EDS)? When Should One Seek Medical Advice? What are the medications and remedies?
What is Excessive Daytime Sleepiness (EDS)? The feeling of being consistently tired or drowsy during the day is typically characterised as excessive sleepiness. It includes being fatigued over long periods, but fatigue is about low energy, while Excessive Daytime Sleepiness is a high intensity of tiredness that interferes with day-to-day functioning and relationships, work and school. How EDS affects the quality of life? It is not a fatal condition for life, but it affects life quality and increases many diseases. Excessive Daytime Sleepiness (primary stage): This is caused by a malfunction in the brainstem that controls sleep and wakefulness. Excessive Daytime Sleepiness (secondary stage): This results from a condition that causes poor sleep and fatigue. Such as sleep apnea, it causes difficulty in breathing at night. Excessive intake of drugs, caffeine and alcohol can also cause it. This also happens in thyroid and kidney problems.
What are the signs and symptoms of Excessive Daytime Sleepiness?
There are multiple symptoms for Excessive Daytime Sleepiness, and people who experience this condition show symptoms such as:
Also read: Best Home Remedies to Relieve Chest Pain
having problems in getting out of bed and waking up in the morning
sleeping at inappropriate times like during meals and while driving
Physical activity has decreased compared to before
weak performance at work or in school activities
feeling unmotivated throughout the day
taking naps frequently during day time
memory and concentration problems
Irritability and lethargy
unfocused attention
inability to focus
sluggishness
appetite loss
grogginess
mental fog
fatigue
Here are some causes of Excessive Daytime Sleepiness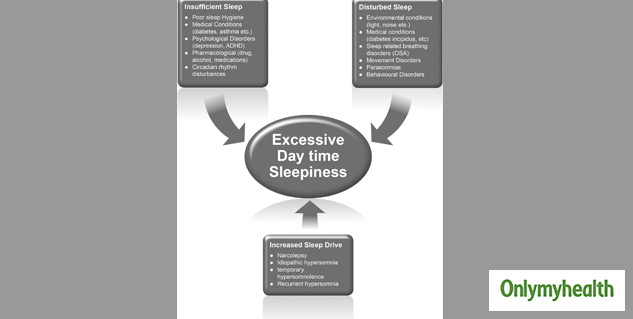 There are multiple reasons for Excessive Daytime Sleepiness. Inadequate or disturbed and poor quality of sleep can lead to this condition. In many cases, people may have a sleep disorder which can cause EDS. An underlying medical condition like anxiety or depression, severe illnesses or ailments of any sort can also cause EDS. A person should get around the optimum of 8-9 hours of sleep in the night in the absence of many face EDS. Apart from this, there may be the following reasons for excess sleep:
Also read: Scientifically Proved: E-Cigarettes Are Equally Detrimental As Tobacco Cigarettes
Drug, alcohol or cigarette use
Decreased physical activity
Not getting enough sleep
Lack of physical activity
Legs syndrome
Sleep Apnea
Narcolepsy
Depression
What is the diagnosis of Excessive Daytime Sleepiness?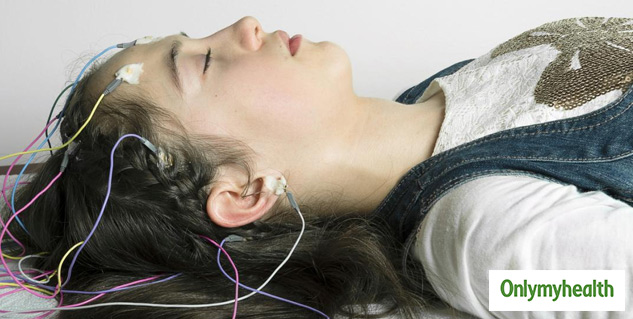 To ensure the best treatment for EDS, the right diagnosis has to be made. Diagnosis will include looking at lifestyle habits, frequency or absence of physical exercise, and the presence of mental health ailments such as anxiety and depression or other similar disorders. The level of fatigue, tiredness and exhaustion will also be examined. Again, doctors may ask for diagnostic tests like polysomnography to check on brain waves, body movement, and oxygen levels during sleep. Electrical activity in the brain will also be examined.
Also read: Dr Raman Tanwar Explains The Link Between Diabetes and Kidney Stones
Excessive Daytime Sleepiness: When Should One Seek Medical Advice?
Whenever a person experiences fatigue, exhaustion and tiredness, it is essential to seek medical advice for a possible EDS condition. If a person also experiences a high intensity of distracting thoughts, memory issues and diseases like hallucinations and other chronic ailments like diabetes or changing hormone levels, it is best to consult a doctor on whether these conditions lead to EDS.
Also read: What Are The Effects Of Smoking On The Brain And Nervous System?
Excessive Daytime Sleepiness: What are the medications and remedies?
There are many drugs that one can take and exercise after consultation with a doctor to handle EDS. Medications such as methylphenidate (Ritalin) or modafinil (Provigil) Antidepressants, such as fluoxetine (Prozac), citalopram (Celexa), paroxetine (Paxil), sertraline (Zoloft) Sodium oxybate (Xyrem) are used to treat excessive daytime sleepiness associated with narcolepsy. But doctors too are very cautious and would not frequently prescribe medications that are addictive. Only in extreme conditions would doctors treat EDS with medications.
Grinding nutmeg in ghee and applying it on the eyelids at bedtime will help you to sleep quickly.
Before going to bed, drinking some milk mixed with saffron fibre, relieves insomnia.
Drinking a pinch of nutmeg powder in warm milk before sleeping is beneficial.
Do medications cause fatal Excessive Daytime Sleepiness? Certain medications like those mentioned above can cause EDS. A doctor will have to be consulted before consuming such medicines, which could have a range of side-effects. Medication for severe physical and mental health problems can cause EDS.
Is there any self-treatment for Excessive Daytime Sleepiness (EDS)? Some lifestyle modifications (that are part of a self-treatment regimen) can help patients with better sleep. One has to ensure a balanced and healthy diet and consume lower alcohol and caffeine levels, regular exercise and a relaxed sleep schedule.
Preventive measures for Excessive Daytime Sleepiness (EDS)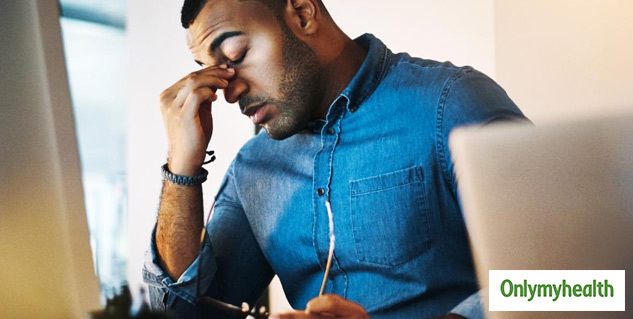 Always eat a healthy and balanced diet. Eat light food at night so that you can sleep deeply and wake up fresh the next day.
Wear comfortable nightwear while sleeping; otherwise, you will remain tired and lethargic the next day (due to lack of sleep).
According to the National Sleep Foundation report, good sleep increases your mental power and alertness. Health issues are also less. So get at least get 8 hours of sleep. You will not have to deal with a disorder like excessive daytime sleepiness.
In case of complaints of excessive daytime sleepiness, do yogasanas after consulting a doctor. Practising yoga asana will help in getting deep sleep at night.
If you cannot sleep at night, it won't be easy to wake up the next day. In such a situation, you can also do exercises for better sleep.
Stay away from alcohol and cigarettes as much as possible. Excessive use can also lead to sleeping problems.
Some people consume a lot of drugs. So use as few medicines as possible.
Physical activity leads to deep sleep, due to which you wake up fresh in the morning and remain energetic all day. Therefore, do some physical activity.
Excessive daytime sleepiness: How is it connected to diabetes, depression and obesity?
Diabetes: Persons with diabetic conditions can have problems as there is a strong connection between diabetes and EDS. People with diabetes face the risk of reporting two times more of the EDS condition than those who do not have diabetes. Even overweight people can have EDS, and there are a large number of people who are obese who have EDS condition. The probability of diabetes is 50% higher than those who sleep for seven hours.
Obesity: Studies say that people who sleep for 9–10 hours every night for six consecutive years have an increased risk of obesity by 21 per cent compared to those who get 7–8 hours of sleep. Apart from this, the problem of headache and back pain is more in those who sleep more. The risk of death also increases at an early age.
Depression: Excessive sleep can make symptoms of depression even more severe. Drowsiness during the day and not being able to concentrate on any work increases depression.
Conclusion
The researchers found that people who sleep more than 7-8 hours have a statistical graph of more than ordinary people towards death. This means that positively sleepy people can enjoy life less than ordinary people. Thus, we can say that we should neither sleep too much nor too much looking at these figures. Of course, there is a limit to everything, beyond which we have to face some problems. The same thing fits in the case of sleep as well.
(Inputs from Dr Srikantha J T, Consultant - Paediatric Pulmonology and Sleep Medicine, Aster CMI Hospital)
Read more articles on Other diseases