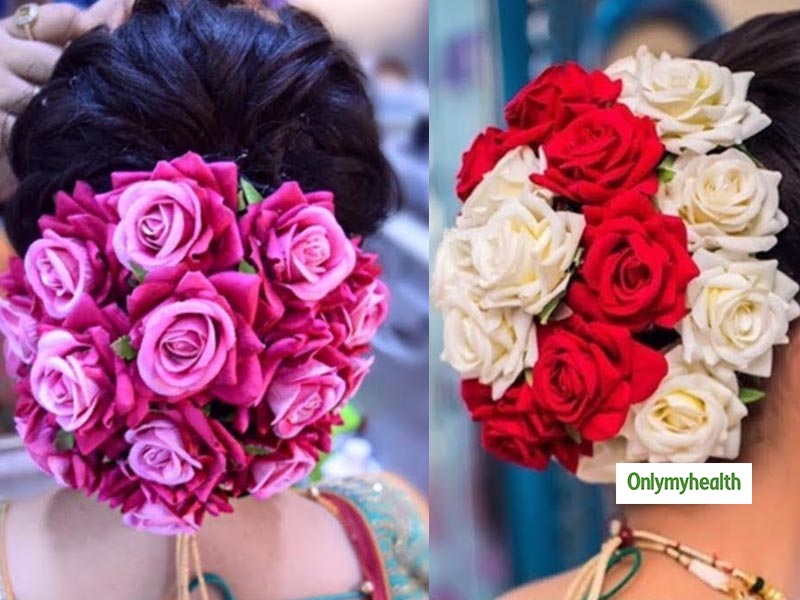 No matter what the occasion is, your look is incomplete without a perfect hairstyle. Do you want to try something new with your hair? Then you can try some new floral hairstyles (hair bun), which will enhance your look. These floral hairstyles will look beautiful on a saree or lehenga. Do you know that bun is the most preferred hairstyle by brides? However, if you want to look different then you need some special things to make it attractive. In such a situation, the first best option would be a bunch of flowers. Do you know that flowers are known as the best friends of a hair bun? Beautiful flowers can complete your look and will make you stunning. Let us tell you 5 types of hairstyles, which you can make using colourful flowers.
Jasmine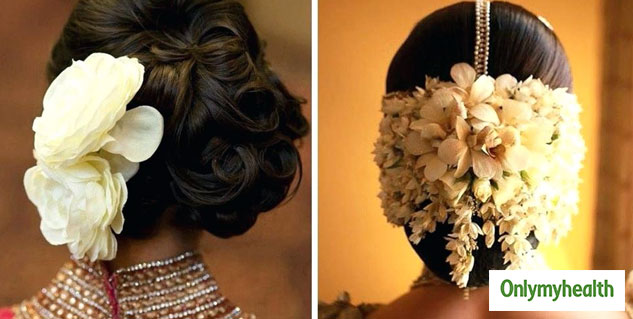 A bunch of woven jasmine flowers can give the perfect look to all. If you are thinking of some traditional look then this would be the right choice. You can choose to wear it with a lehenga or a sari, as jasmine flowers look beautiful with your hairdo. Especially when you are planning to wear a Kanchi Pattu Saree. You can also wrap them in around your the braid.
Also Read: Is Getting Artificial Nails Safe? Know The Health Risks Associated With Nail Enhancements
Marigold
While most women are not aware, marigold is the perfect ornament for your hair. It is bright and makes you equally vibrant. A thread of marigolds can be tied around your hair (this flower) which looks good with silk sarees and lehengas.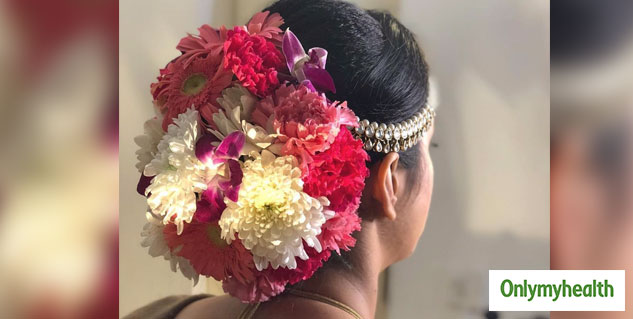 Orchid
Although being an international flower, orchid looks good with a desi outfit. If you are planning to wear a shimmering lehenga, then you can complete the look with a hairdo adorned with orchids. Unlike other flowers, use it on the edge of your bun.
Also Read: Remove Gel Nails At Home Without Damaging The Nails With These Simple Home Remedies
Roses
Rose is a personal favourite flower for many Indian women. Roses are a symbol of elegance, beauty and love. Especially red roses look gorgeous when worn with a lehenga or saree. You can create an amazing look by tying a bunch of roses on one side of the bun or the entire hair.
Hydrangea
Ever since people have seen Anushka Sharma adorned with these hydrangea flowers on her wedding day, women have gone mad over the hydrangeas flower. They look very different and beautiful, be it a lehenga, a traditional sari or an Anarkali suit. You can also enhance the overall look by covering your entire bun with hydrangea flowers.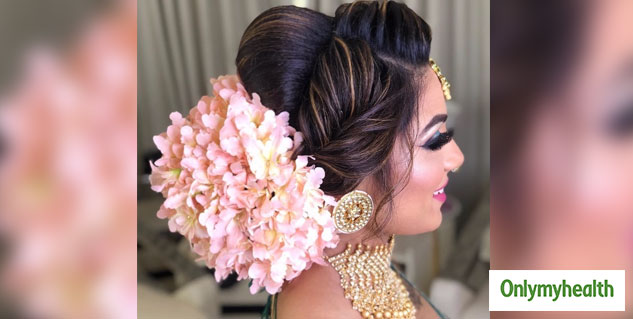 Mixed flowers
Why stick to only a type of flower when you have so many other options available? Women can look more beautiful if they use a mixture of flowers to tie their hair. You can use a couple of flowers, such as chrysanthemum, lily, daisy, Posy and even wildflowers.
Read more articles on Fashion And Beauty