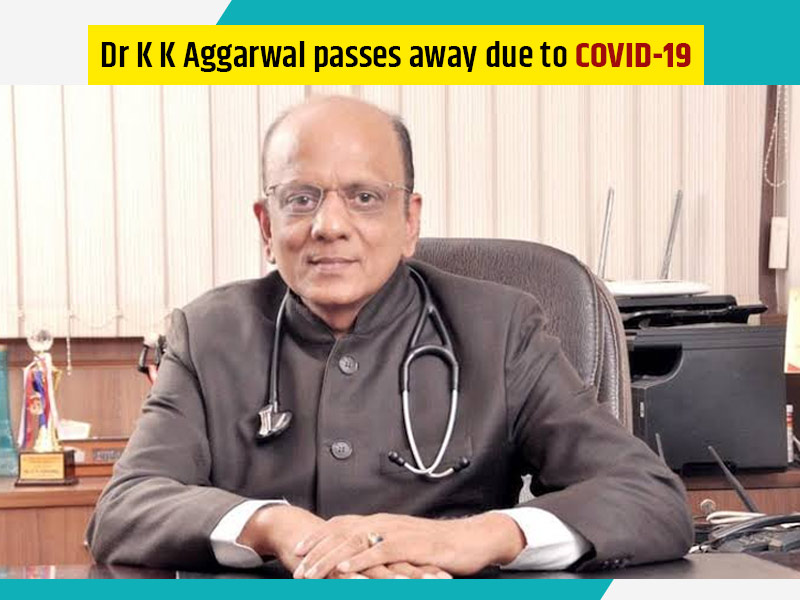 Dr. KK Aggarwal, who was a Padma Shri and the former IMA president passed away due to COVID-19. Read on to know more about it.
On Monday, Padma Shri awardee Dr. KK Aggarwal passed away after a long battle with COVID-19. The 62 year old was a known cardiologist and was awarded Padma Shri in 2010. Dr. Aggarwal, the President Confederation of Medical Associations of Asia and Oceania, HCFI and Former National President IMA, kept sharing his insights and advices for everyone amid the widespread deadly Coronavirus. He used to take press conferences and was active on social media in such difficult Covid times to share helpful tips to tackle this infection. Talking about his association with Onlymyhealth, when the first Healthcare Heroes Award was given by Onlymyhealth in the year 2020, Dr. KK Aggarwal was a jury member in the panel. He shared his insights and knowledge in writing a number of articles related to cardiology for Onlymyhealth. Many important points have been shared by Dr. KK Aggarwal in these articles, which are helpful for a lot of people even today.
Also read: Dialysis in COVID-19 Patients: Dr KK Aggarwal On Do's And Dont's For Dialysis During Coronavirus Pandemic
According to a statement released on his Twitter handle, he died on May 17 at 11.30 pm in New Delhi. The statement said, "Ever since he became a doctor, Padma Shri Dr KK Aggarwal has dedicated his life to the welfare of the public and raising health awareness. Even during the pandemic, he made constant efforts to educate the masses and was able to reach out to over 100 million people through numerous videos and educational programmes and saved countless lives." He was admitted in AIIMS, New Delhi, and was on ventilator support since last week, battling Coronavirus.
May 17, 2021
Since the COVID-19 pandemic hit the world last year, he had been quite vocal about different approaches towards Coronavirus and had also shared many videos and statements to raise public awareness. After Dr. Aggarwal took his second dose of vaccine in February and had posted a video on Facebook to share hesitancy and myths about vaccination. His family wrote, "He wanted his life to be celebrated and not mourned." A few days ago, his family had denied his death rumours saying, "We request you to avoid believing or sharing any such rumours, and pray for his speedy recovery". Earlier this year, a video of his wife scolding him went viral where he didn't take her with him for the COVID-19 vaccination.
Read more articles on Latest