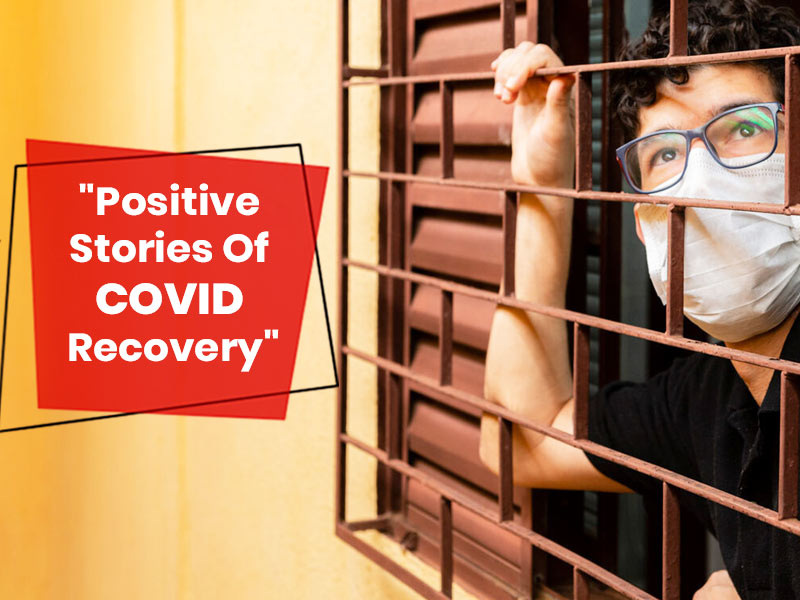 The pandemic has taken the world in such a shock that everyone has been complied to take a backseat. People and governments around the world are trying to cope up with the second wave of COVID. But as the number of cases is increasing, more is the scare of this virus. This has resulted in creating havoc among people. Even though the vaccination drive has kicked off, it is estimated that it is still time to reach the maximum population, so let us know what we need to do to prevent ourselves from this pandemic.
Success Stories of People Who Emerged COVID Negative
Hearing from people's experiences is beneficial because they share their true incidents and coped up with the virus. Recently, Pragya Tiwari, a well-known writer of culture and politics and director of 'Flintculture' tweeted requesting people to share their recovery stories of COVID. She also urged people to share how they fought it so that there is something positive to help people create a good mindset. Many people came forward for the cause, shared their perspective about COVID, and talked about their journey through COVID recovery. Here are some insights on the experiences shared by people on Pragya Tiwari's tweet-
Aakash Bharti, Sharing his experience of recovery from the COVID journey, said that it hits people more mentally than physically. He had body ache, cold, and was scared a lot but eventually, he game time for his recovery period, which helped. He says that it does take time to recover, but it is possible if you give your immune system time and indulge in positive thinking.
First time it took me like hack of load ct value was 15 Body ache, cold , scared. Still able to recover at home after 20days.
It hits mentally more which compromise our immune system to fight back.
To completely regain your strength it takes time.
Few takeaway's if allowed pic.twitter.com/fXgDuFYHpp

— Aakash Bharati (@AakashBharati_) April 17, 2021
Also Read: COVID-19 Second Wave: Delhi In One-Week Lockdown, CM Cites Healthcare System Struggles
Rohan Arora, one of those who replied to the tweet, said that he suffered from COVID and had to go to hospital 3-4 times just to check out the reason for his elevated heartbeat. He found that it was anxiety which happened to be due to a pandemic situation. He recommends people stay calm and listen to good music or engage in stuff that lightens their mood.
Another respondent sharing her COVID tale was Harleen Kaur. Nine family members were diagnosed with COVID, and one of them was in a severe condition. Fortunately, everyone recovered within a few days of isolation. She says that few medications provided by their family doctor helped them.
Joining in the cause was Sudarshan Pandey. He was diagnosed with fever on 25th March and took nimesulide tablets. He developed a throat infection and tried some home remedies for that. Within a week, he lost the sense of his smell and was diagnosed with COVID. He isolated himself and took vitamin and zinc tablets regularly, which helped him to recover.
Some even took to Twitter, sharing about the COVID battle of their family members. Gagan said that his dad tested positive. He had diabetes, HT and fibrosis in his right lung. He was admitted to the hospital, where the saturation remained at 95-100. Dexamethasone was given as a precaution, and eventually, he came out just fine without having many complications after eight days. He is obliged for the first dose of vaccination which helped.
Pervin Sanghvi, another respondent to the tweet, said that her daughter and husband had corona within one month. Even her 77 years old mother suffered from COVID, to which the doctors gave up much hope but her strong will helped her recover and regain her strength. Now everyone is back home and are doing well.
My daughter and husband had #COVID19 within a gap of a month. Both are doing well. A friend's 77-yo mom beat #COVID19 even tho' the doctors had given up on her. She's regaining her health and back home now. Most of our friends and family members have been equally lucky.#Grateful

— Pervin Sanghvi (@pervinsanghvi) April 17, 2021
Sneha Mohan Desai, in her tweet, said that her 87-year-old grandmother recovered from COVID without having to take many medicines. The doctor instructions were sufficient, and not getting panicked was the key to her recovery.
My 87-year old grand-mom recovered at home without having to pop as much as a paracetamol. A good doctor we trusted and no panic was key.

— Sneha Menon Desai (@MissusDesai) April 17, 2021
All these experiences of people tell a brief about the situation. The key to their recoveries remained in the positive mindset and determination to get healthy. Creating panic can affect your mental condition and the patient's recovery rate; hence, it is important to stay mentally positive and not let it come to your head. Also, taking medicines in panic without a doctor's advice can be dangerous hence any medication should be well prescribed by an expert.
Why Is It Important To Maintain Sanity During This Pandemic?
The most important part to prevent coronavirus, apart from taking precautions, is to maintain sanity. Precautions like using masks, keeping distance from people and sanitising your environment are crucial, but it is equally important to remain in a good state of mind to analyse the situation. Creating panic can worsen the situation at this time because it can somewhere affect your immunity.
There is a boom in social media and television about the rising cases and death tolls in the country, but that is for your information. People often get scared and create a panic bubble by reading everything available on social media and experimenting with themselves. But that is not the solution; it is a virus that needs to be handled very carefully. Hence maintaining sanity and reaching out to people (not physically) during their tough times is most important. The people who have recovered from this virus are the best people to help you out. Let us hear from them what they have to say.
Also Read: 1 Year of COVID in India, Here Is The Timeline Of Emergence and Spread of COVID in 2020
Symptoms of 1st Wave Vs the 2nd Wave of COVID
The symptoms of Second Wave of COVID are more severe than the first wave.
First Wave- Chills, fever, loss of smell and taste, body ache and respiratory conditions like difficulty in breathing etc.
Second Wave- Loose motions, hearing impairment, pin eyes and also the symptoms of first wave
How Is COVID Affecting People In Its Second Wave?
This pandemic is not just a medical condition, but it is also affecting people mentally this time. Individuals are more scared due to the dissemination of information about the virus and its rising cases in the country. It is causing them disruption, stress, anxiety, stigma and xenophobia. Isolation, social distancing, and strict guidelines against COVID make people feel trapped, leading to many disorders and health conditions. The second wave is showing more effects on the younger generation than the older one. The morality rate is also higher for younger people compared to the elderly above 45. It is forming a cluster and chain due to which particular areas are widely affected than the rest.
However, let us understand that the mortality rate is not significantly reduced than the previous wave. Hence, taking necessary precautions and maintaining physical health can help people overcome the situation more precisely.
Some Tips for COVID Second Wave
Wear double masks when you move out of your home for necessities.
Wash your hands frequently and sanitise items coming from outside.
Wash vegetables and other products thoroughly before consuming
Do not engage is too much count of cases on social media and only take the necessary information.
Do not panic at any stage even if someone is tested negative. Isolate that person but be there for him emotionally and connected.
Eat healthy home-cooked meals which are rich in nutrients.
Do not take any medicine without a doctor's advice.
Take care of mental health, stay connected with people and engage in mood lightening activities.
Also Read: Common And Prominent Symptoms Of Old And New Covid-19 Strain Vs Common Flu By An Expert
This is the second wave of COVID which is affecting us like never before. The worst part is that this time it is affecting the younger generation more than elderly. Apart from the fact that people took the virus for granted in past few months, the rise in the number of cases is scaring everyone and it is getting difficult for people to remain insane. Hence see what people who fought the coronavirus successfully has to say about their experience. Keeping mental health good and eating healthy home-cooked meals is a major key to fight it. Do not get scared as it affects your immune system. Vaccinations are available and soon, everything will be back to normal.
Read More Articles on Miscellaneous